Cannes: Alec Baldwin's 'Seduced and Abandoned' Provides 5 Hollywood Life Lessons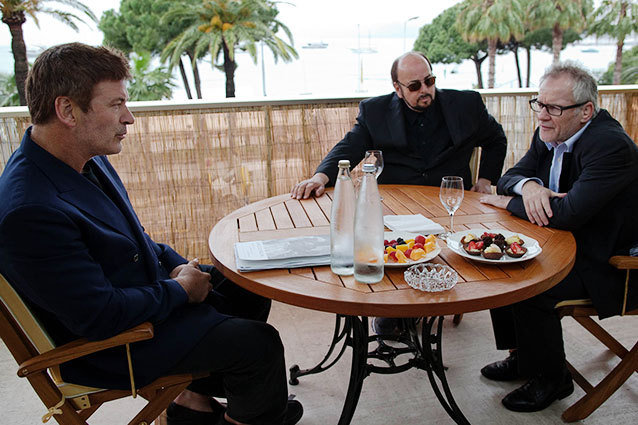 At the 2012 Cannes Film Festival, director James Toback and actor Alec Baldwin arrived with a team of cameramen set to chronicle their attempt to find financing for a new film project. One year later, the finished product Seduced and Abandoned debuts at Cannes, and the sardonic effort is a mixed bag.
The duo are naturally entertaining as they traverse the French Riviera, pitching their concept to production companies and yacht-riding billionaires. Peppered throughout are interviews with recognizable talent who are either waxing poetic on the sad state of the entertainment industry or are being courted by Toback and Baldwin to star in the proposed film, a $25 million riff on Last Tango in Paris set in Iraq. Martin Scorsese, Jessica Chastain, Ryan Gosling, Francis Ford Coppola, and every studio exec in town appear in the film, and they're insightful in a totally-inside-baseball way.
For those outside the Hollywood scene, Seduced and Abandoned may make little to no sense. With little context into what it actually takes to get a major film project off the ground and an echoed point that anything between $5 million and $100 million stands little chance of being made, the documentary's appeal to non-biz folks is mostly for the sightseeing tour of Cannes. Even that's hard to enjoy — perhaps because of its off-the-cuff nature, the technical qualities of Seduced and Abandoned are often rough and jarring.
HBO picked up the film for airing later this year, and if there's one reason to tune in, it's for Baldwin's vulgar musings. The man can turn a profane phrase like no other. Seduced and Abandoned is chock full of Baldwin one-liners.
To give you a taste, here are a few of the winners:
1. While explaining to Toback that he's had the unpleasant experience of working with clueless directors, Baldwin drops this metaphor on why you still have to listen to what they say: "Sidestepping a director is like sidestepping the birth canal when you're coming out of your mother."
2. Baldwin is blunt about success in Hollywood: "The way you make it is by being a really selfish motherf**ker."
3. A romantic at heart, Baldwin says of the laborious process of courting investors, "The movie biz is like the worst lover. You go back and back hoping to recreate the magic."
4. Considered by many of their potential backers as a "TV actor," Baldwin has a moment of sarcastic self-examination: "I'm going to reenter filmmaking as a career."
5. And circling back to his varied relationships with directors, Baldwin says of the legendary Woody Allen, "[He] has more talent in a toenail clipping than most of those motherf**kers have in their whole bodies."
So if anything, Seduced and Abandoned taught us Baldwin's favorite swear word.
Follow Matt Patches on Twitter @misterpatches
More:
Cannes: Hear the Music of 'Inside Llewyn Davis'
Cannes: Why an American Shouldn't Direct 'Fifty Shades'
Cannes: Emma Watson Rules in 'Bling Ring'
---
From Our Partners:


What Happened to 33 Child Stars (Celebuzz)


40 Most Revealing See-Through Red Carpet Looks (Vh1)