Alexandre Desplat on the Sounds of 'Zero Dark Thirty', Plus Preview the Music — LISTEN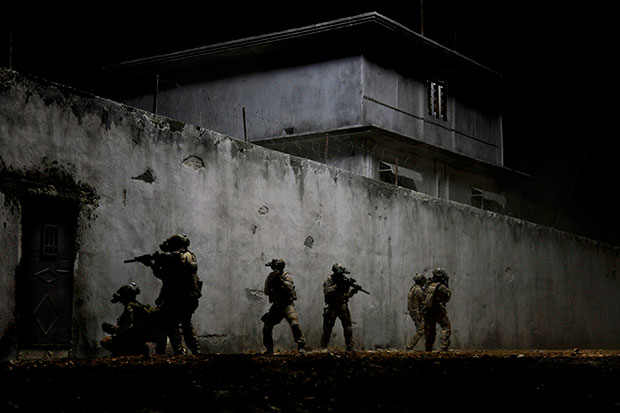 Hurt Locker director Kathryn Bigelow's followup Zero Dark Thirty has been wowing audiences left and right, taking Best Picture honors at a number of critic-driven awards in preparation for its run at the Academy Awards. To help bring her thriller to life, the gripping story of the team that tracked down and killed Osama bin Laden, Bigelow enlisted a number of top actors, as well as the best-of-the-best crew behind the camera. A key component to her Zero Dark Thirty is the prolific Alexandre Desplat, a four-time Oscar nominated composer who marks his eighth feature in 2012 alone (including Moonrise Kingdom, Rust and Bone, Argo, and Rise of the Guardians). The man is a movie music powerhouse.
"I'm a solo composer. I do it in my room myself," Desplat says, describing how he manages to squeeze in film after film in a given year. "I'm like a monk. I have a very organized, disciplined life. Drinking green tea, going to run, coming back to work. I work from 6:30 in the morning to midnight everyday."
Desplat's dedication and focus on each process has continually kept the composer's work fresh and vibrant, each score evoking the core of its story, despite what may seem like obvious similarities. Ben Affleck's Argo chronicled a caper that helped American embassy workers escape violent protests in Tehran, Iran. Although Affleck's film and Zero Dark Thirty remind us of the turbulent history of America and the Middle East, and could share a connection musically, Desplat took drastically different approaches in crafting the individual films' scores.
"It's like two different types of dramaturgy, type of filming," Desplat says. "The only link between them, in Zero Dark Thirty, the use of Middle Eastern instruments. But most of the time it has nothing [in common with it]. Because Zero Dark Thirty is a war movie. It's a war between two parties being at war and killing each other. While Argo is a suspense thriller."
If there's any connection between the two works, it's Desplat's confident use of quiet tones and percussive beats — not surprising considering the Paris native speaks with an equally hushed intensity. To create a soundscape for Zero Dark Thirty, Desplat went big and small, using sensibilities that were old and new. "To me, war is archaic," Desplat says. "So I suggest to Kathryn to write music that would be archaic. Very modern in the sounds — I've laid out the orchestra in a very special way. There are no violins. There are electronic loops, but not in a pop way. Again, archaic like a trance, something that keeps beating and hitting you." When Desplat wanted to go big, he relied on a strategically arranged room of brass instruments, his intention to create a "wall" of music. "We're more in Kurosawa world than anything else."
Along with Bigleow, Desplat cites Roman Polanski, Stephen Frears, Jacques Audiard (Rust & Bone), Wes Anderson, and George Clooney as the filmmakers he has worked with who are "excited by this moment of the creative process" and come to the table with ideas on the music for their films. "Great directors are the ones who want to collaborate the most," Desplat says. "If they like music in their films, they know it can bring a new dimension, something which was before, invisible. Bring it to life. They like to share that moment with a lot of passion, and a lot of desire."
And as much as Desplat loves to immerse himself day in and day out in the world of music, he also looks forward to the days he spends with the films themselves. "The main body of the job to me is when the movie is there. That's what gets me going. That's what turns me on. I like to watch."
Listen to an official preview of the Zero Dark Thirty score above. The film arrives in limited theaters Dec. 19 before expanding wide Jan. 11, 2013.
Follow Matt Patches on Twitter @misterpatches
[Photo Credit: Sony Pictures]
More:
'Zero Dark Thirty' Is an Action Movie Pulled from the Headlines — TRAILER
'Avengers' Composer Alan Silvestri: Bringing Heroes Together with Music — EXCLUSIVE
'Breaking Bad' Composer Dave Porter on Scoring Season 5, Movie Influences, and Cliffhangers

25 Things You Didn't Know About 'Aladdin' (Moviefone) 

50 Best Movies of 2012 — With Some Surprises! (Moviefone)