How Emma Stone and Andrew Garfield Brought Genuine Romance to 'The Amazing Spider-Man 2'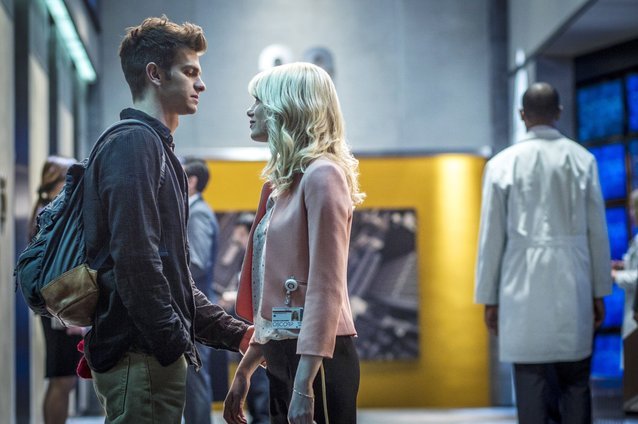 Columbia Pictures via Everett Collection
It's always risky when two costars spark up a romance behind the scenes (even riskier when it's more than two), but some of the greatest onscreen love affairs have been born from the practice. After playing a couple in 2012's The Amazing Spider-Man, the first chapter of Sony's ever-growing film series, Andrew Garfield and Emma Stone ventured into the tempestuous waters of real life dating, sustaining their relationship into and beyond the production of their Spidey sequel, which hits theaters this week. As such, The Amazing Spider-Man 2 showcases a notable spike in the duo's screen chemistry: as director Marc Webb, producers Matt Tolmach and Avi Arad, and Garfield and Stone themselves seem to feel, the second chapter of Peter Parker's story is where his love story with Gwen Stacey really blossoms into that special kind of love we only find around holidays, airport pickups, and cinema.
Stone and director Webb both chimed in about how much Peter and Gwen's relationship has grown since The Amazing Spider-Man:
Emma Stone: "I loved the way their relationship evolves in this second movie. The clarity and maturity that Gwen has achieved in this second movie [is] I think because of the death of her father, honestly. I think it's brought her life into sharp focus, and so she's really following her destiny. I think that's one of the most inspiring parts about their relationship, is that it's two incredibly equal parties."
Marc Webb: "I think their relationship has matured, but what both those characters are dealing with in at this point that they weren't dealing with last movie was self-actualization. Gwen in particular is finding her own path and her own destiny. Peter Parker starts the movie kind of having an idea of who he is on the inside, and Gwen is going to go to London, she's going to have a career, she's going to be a doctor, she's going to study molecular medicine, she's going to save people in her own right. That independent spirit, that pluck, that Nick and Nora, that Thin Man, Tracy/Hepburn dynamic that began in the first movie where each of them are giving each other s**t is emblematic of their independent spirit. Which is the thing that draws them to each other, and it's the thing that going to pull them apart. Anyone that's been in love for the first time, you know what that feels like. I think that's a different texture that we haven't seen before."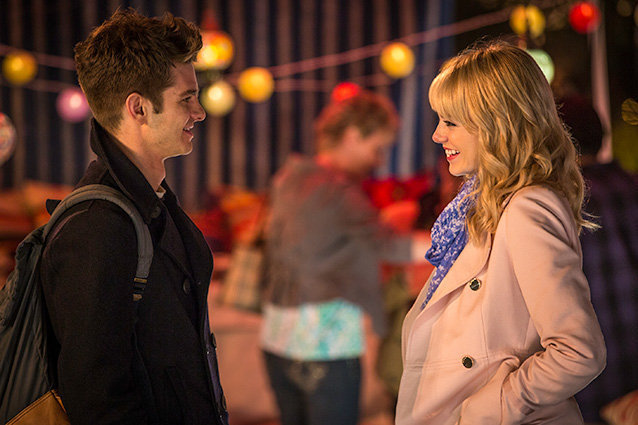 Columbia Pictures
All parties seem to agree that the sweeping Union Square scene is where that affection is showcased in earnest:
ES: "My favorite scene is [Peter and Gwen] reuniting after a year, in Union Square. That's pretty definitive of what Gwen and Peter do for each other. No matter how much hardship is happening in their lives, they tend to bring out the best in each other … and they just have some undefinable quality of magic between them, and love. That night and that scene."
Matt Tolmach: "Can I tell you something about that scene? We were in the middle of Union Square — Avi and I have said this over and over: we love shooting in New York, this movie is a love letter to New York, but you guys have got to change the weather. We were in the middle of Union Square and it was freezing, and it was the middle of the night, and I'm sure it was raining and snowing and all that stuff, and there were bags of garbage, and whatever, I'm going off on a tangent. And this scene was being shot and Marc made a decision, and a very smart one, to allow Andrew and Emma to have the freedom to play with the scene. We were huddled around these little heaters in our protective tents and everything and all of a sudden you just forgot everything. There was a magical quality to what happened that night in that scene. It's not a coincidence, I guess, that it shows up that way in the movie. There was something really incredible about these two actors, and that scene and what it meant in the movie. It was sort of spectacular."
Avi Arad: "When you have a great actress, and you give her the proper material, now you have a real scene."
MW: "In terms of things that were fun to play, that scene that started off in Union Square, I remember I got a deep case of the feels when I was watching those guys do that scene. They hadn't seen each other in a year, and it just felt so innocent and so pure. It was so weirdly simple, but I think it gives the relationship a really palpable foundation. [to Andrew Garfield:] I don't know what it was like to shoot for you guys…"
Andrew Garfield: "It was great, it was fantastic. Because she's such a great actor and you created a great space for us to breathe and really see each other, as opposed to being obligated to try and get anywhere. I felt like that was a really great night, because we were allowed to see where the scene went, so that was really exciting. I really like the crossing the street [shot]…"
MW: "That was your idea."
AG: "But the way it was executed was really fun."
MW: "You had an idea for the music… Garfield was describing that moment when he sees her. He's just walking through the street, totally oblivious to the traffic…"
AG: "As if my body was taking over. That was exactly how survival goes. My brain just goes, [robotically:] 'I have to be with that person.'"
MW: "And he talked about cartoons and how when the skunk gets a smell and just floats across. It was that kind of idea. But you had a very specific piece of music in your head from Punch-Drunk Love, the theme from Punch-Drunk Love. But that was really beautiful. Every once in a while when you're doing the movie, so many of the scenes are about building, the action in particular, it's about finding little moments, but creating them is not as pure as moments like that, where you're just like, 'Oh, this is cinema…'"
Catch true romance (and also a whole bunch of other bonkers things) in The Amazing Spider-Man 2, hitting theaters Friday.