The 'American Hustle' Cast's History of Superhero Movies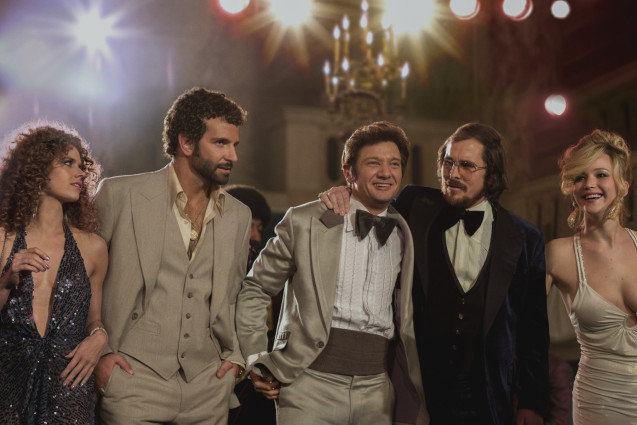 Columbia Pictures
January is a time for Top 10 lists of the previous year, for catching up on holiday releases that you somehow never got around to seeing, and for recommending the only flick that's just edgy enough for one of your parents but not too risque for the other (scratch Wolf of Wall Street off that list). In any of these practices, you're bound to consider American Hustle, director David O. Russell's 2013 follow-up to Oscar contenders Silver Linings Playbook and The Fighter. Surely, even if you've somehow put off seeing the film, you've happened upon some decidedly lavish advertisements. The very first thing you're likely to have noticed upon scanning the Hustle posters or watching the trailer: the hair. But a second glance might awaken quite an interesting realization about the movie's all-star cast… especially for fans of the superhero genre.
Not only have each of the main players taken high, if not top, billing in a major superhero release (or, in the case of Bradley Cooper, one on the way), but a good number of the supporting actors have history in the genre as well.
Superhero: Batman, natch. More synonymous with his DC character than any of the other American Hustle stars are with their respective comic book roles, Bale redesigned Bruce Wayne with filmmaker Christopher Nolan, graduating from the property after trilogy capper The Dark Knight Rises.
In American Hustle: Bale plays the schlubby but charismatic Irving Rosenfeld — a working class con artist who manages to work the magic of deceit with a strange air of earnestness.
Powers in Common: Deception. Bruce Wayne spends his days cavorting, schmoozing, hobnobbing, elbow-rubbing, and other gerunds exclusive to the very rich. All the while, he's masking his true identity. Irv obscures his hidden intentions all throughout Hustle, living up to a Wayne-like standard of secrecy.
Superhero: Lois Lane, who, though not a superhero in the traditional sense, is the de facto sidekick of the most iconic comic book legend of all time (Superman) and a force to be reckoned with in 2013's DC release Man of Steel. Adams will return as Lane in the forthcoming Batman vs. Superman, opposite Ben Affleck and Henry Cavill, respectively.
In American Hustle: Adams plays Sydney Prosser, a.k.a. Lady Edith Greensley — a colossally powerful con artist at frequent odds with her own quest to forget who she really is.
Powers in Common: Working people over. In Hustle Sydney/Edith is able to permeate the minds and hearts of everyone she meets. In Man of Steel, Lois Lane is the only Earthling (save maybe for a long deceased Jonathan Kent) who can get through to the lonely ol' Kryptonian Kal-El. Adams does have that charm.
Superhero: Rocket Raccoon. Technically Cooper hasn't played him yet, but he's slated to voice the animated live-wire in this summer's Marvel release Guardians of the Galaxy.
In American Hustle: Cooper deals in Russell's special brand of emotional volatility with FBI Agent Richie DiMaso, prone to explosive bouts of "passion" (let's call it what it is — lunacy), such as fussing with partner/rival Irv's immaculately prepared toupee or beating the hell out of his own boss at the agency.
Powers in Common: Unpredictability. Fans of the Guardians of the Galaxy comics recognize Rocket Raccoon as a bit of a wild card among the interplanetary heroes. You can easily say the same for DiMaso, whose hair-trigger temper gets him in a bit of (though not nearly enough) trouble.
Superhero: Mystique, the pupil-deficient X-Men villain. Lawrence plays Mystique and her alter ego, Raven Darkholme, in 2011's X-Men: First Class and the upcoming X-Men: Days of Future Past.
In American Hustle: Lawrence plays Rosalyn Rosenfeld, Irv's hot-tempered, "free spirit" wife who just can't quite seem to stop setting things on fire, and loves the smell of a good rotting nail polish.
Powers in Common: Funnily enough, Rosalyn is one of the only people in this movie not employing some metaphorical sort of shape-shifting (Mystique's signature ability). But the character's propensity for interloping the communities of kingpin criminals and persuading them to do her bidding does ring true for the X-Men villain.
Superhero: Hawkeye, the Zeppo Marx of the Avengers Initiative.
In American Hustle: Renner plays good-hearted politician (go figure) Carmine Polito, who bends the law in order to afford his New Jersey community the funds it needs to thrive.
Powers in Common: They're both straight-shooters!
It's not only the central five who have superheroic roots. Renner's screen wife Elisabeth Röhm was a recurring player on the fourth season of NBC's Heroes. Hustle mafioso Jack Huston had a role in the sci-fi epic Outlander. Cooper's FBI boss Louis C.K. wrote and directed Pootie Tang (it's kind of a superhero movie…). And Michael Peña has gone on record saying he'd like to work with Robert Rodriguez to develop a Mexican superhero flick. As you can see, Russell's movie runs deep with super powered blood… and the costumes are flashier than your standard cape-and-tights get-up to boot.
American Hustle is now open in theaters everywhere.