Tribeca Film Festival: 'Bluebird' Star Amy Morton On the Advantages of Working on Indies — EXCLUSIVE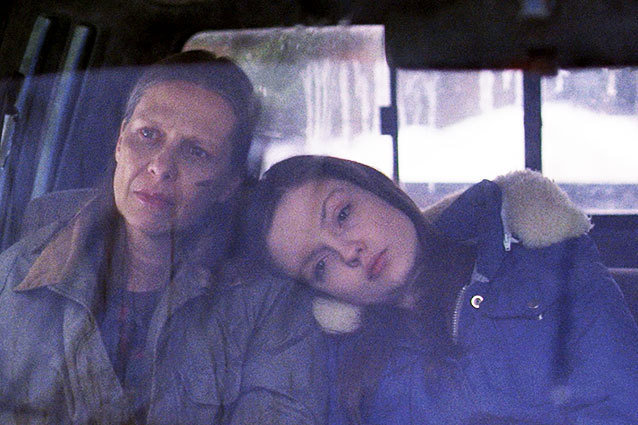 If the description of Amy Morton dealing with familial woes in the middle of a desolate, cold location sounds all too familiar, think again. The award-winning veteran stage actress' latest Bluebird, which premiered earlier this week at the 2013 Tribeca Film Festival, is a far cry from her role as George Clooney's sister who reunites with him in snowy Wisconsin in 2009's hit dramedy Up in the Air. In every way possible. 
In Bluebird, Morton plays Lesley, a school bus driver in a sleepy working class mining town in Maine whose life is turned upside down when one of the kids she picks up is accidentally left on the bus and is left clinging to life. Lesley begins to break down in the aftermath of the terrible accident, complicated by her own family issues, including having a distant husband who has carried on an affair (played by Mad Men's John Slattery, who Morton described as "very fun, straightforward and down to earth") and her teenage daughter Paula (Emily Meade) who's headed down a wrong path.
"In the beginning of the movie… everybody's trying to get through their day because everybody's in a certain amount of financial trouble because of our economy and it added to that is the isolation of each member of this family," Morton said during a chat with Hollywood.com. "You can tell they're kind of growing apart and after the tragic incident she just begins to unravel. It's a geographical place with the people from that area don't do a lot of talking. There's not a lot of 'This is how I feel' going on." 
Of course, it was that very geographical location that made Bluebird the slow-burn of a character study that it is. Morton said that she would drive an hour-and-a-half from Bangor to the small rural town where it was filmed because, as she put it, "there was no way I was gonna be stuck in that town without a car." 
"It was smack dab in the middle of Maine in the smack dab middle of winter. It was bleak," Morton continued. "There really was not much to do at all. Nobody wanted a day off, because there was nothing to do. That town was really small and it was a mill town and the mill closed so it had already lost half of its population so the one main street 85 percent of the businesses were closed." 
But that depressing isolation wasn't just a place, it was a state of mind for the actors. "Watching the movie I was like, 'Now I get it.' It would not be the same movie had we shot it in Northern New York trying to make it Maine. I think the location and the time of year is absolutely the other character in the movie. It's as important as anyone else in it." 
Though it most certainly wasn't the exotic filming location that drew Morton to the script, but the very human story that Lance Edmands' Bluebird tells. "I thought the character [of Lesley] was really good and I thought the story was kind of beautiful and I love the fact that Lance didn't really answer any questions for anybody. To me, it was very much like real life. That's why I liked it so much."
Morton added that Bluebird, which Edmands (making his full-length feature debut) spent three years working on before cameras (on 35mm film, to be precise) even started rolling, "Any progress that's made in the film — and once it's over how you imagine their lives after—  it's very true to life in that progress comes in inches. There aren't' huge revelations or changes from, 'I was this person and now I'm this person.' It's how people progress, it's usually very slowly." 
Getting to explore these characters and setting is something, Morton —who, in addition to Up in the Air has been seen on the big screen in movies like The Dilemma and on the small screen including shows such as Boss — says this is where being in a small indie has the advantage. "I haven't done a lot of films, so I don't have a whole lot to compare it to, but to compare this to a big budget movie with big stars in it, yeah there's a big difference," Morton explained. "You get paid more when you work with the stars but I guess what makes up for it when you're doing a low budget independent film is that you get more time."
"When you're doing a big budget film you feel the pressure to get your work done because time is so much money," she said, adding, "Whereas on this film you get the luxury of a little bit more rehearsal time and discussion time, so you feel a little bit more relaxed about exploring. You don't feel under the burden of the mighty dollar. It's a more relaxed set because you're not spending a gazillion dollars a day. They scraped and begged and worked very hard for every dollar that they raised for this thing, so it's not like they weren't aware [of money]. Everybody's on the same page, nobody is making more than anybody else or anything like that, so you have a more relaxed atmosphere." 
But for Morton, who recently wrapped up the Broadway revival of Who's Afraid of Virginia Woolf?, noted that there's no preference when it comes to creating art, big budget or otherwise. "I like it all," Morton told Hollywood.com. "I like stage work and I like film work and I also direct, so it's all really good. I feel very lucky that I get to work in this business in a couple of different ways." 
Follow Aly on Twitter @AlySemigran
More: 
Tribeca Finds the Quintessential New York Movie with 'Stand Clear of the Closing Doors'
Tribeca's Child Abuse Horror Movie 'Dark Touch' Bends the Genre, Is Legitimately Horrifying
10 Highlights from Ben Stiller and Jay Roach's Tribeca Film Festival Director Series Talk 
---
From Our Partners


15 Nude Photo Scandals (vh1)


33 Child Stars: Where Are They Now? (Celebuzz)