Is Brangelina Hollywood's Most Successful Couple?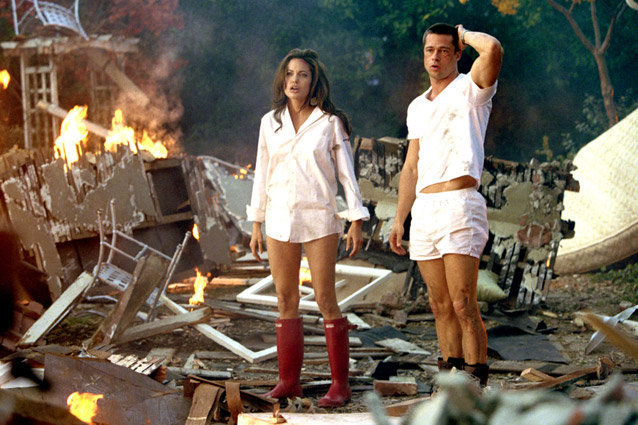 20th Century Fox Film via Everett Collection
Nearly 10 years after meeting on the set of 2005's romantic spy thriller Mr. and Ms. Smith, Hollywood's foremost power couple Angelina Jolie and Brad Pitt are set to team up once again. The duo is set to appear in a film written by Jolie herself, though it is still unkown whether she will also be directing the project. Jolie has written the war drama In the Land of Blood and Honey, and recently helmmed the WWII drama Unbroken, which is scheduled to be released this year.
While Brangelina is still the most prolific coupling in Hollywood, there's steady competition ready to take their crown. Other married Hollywood couples have proved to be just a successful over the years. So which romantic duo has had the most post-nuptial success, and which couples should have steered clear from the altar for the sake of their careers?
Brad Pitt and Angelina Jolie
Together Since: 2005
Post-Marriage Success: While they were successful apart, the union of these two Hollywood heavyweights has bolstered both of their careers. Since getting together with Jolie, Pitt silenced doubters with staring roles in  Inglorious Basterds, The Assassination of Jesse James, Moneyball  and the zombie blockbuster World War Z, and capped off the casino caper trilogy Ocean's Thirteen. Additionally, he has produced the Academy Award winner 12 Years a Slave. Jolie has also had a prosperous career since marriage, starring in films like Salt, Changeling, Kung Fu Panda, and the upcoming Maleficent. 
 Jennifer Garner and Ben Affleck
Together Since: 2005
Post-Marriage Success: After about a decade of jeering due to a string of failures like Gigli and Daredevil, Ben Affleck has had nothing short of a career renaissance, showing his true skills lay in directing. Affleck directed a trio of well-received thrillers, Gone Baby Gone, The Town, and Argo,  that won heaps of critical praise, netting the director his first Oscar for directing. Jennifer Garner, on the other hand, has cooled off career-wise since her marriage to Ben, starring in forgettable fodder like Ghosts of Girlfriend's Past, The Invention of Lying, and Arthur. She did have a prominent role in Dallas Buyers Club that won her critical praise and very mild awards buzz.
Ryan Reynolds and Blake Lively
Together Since: 2012
Post-Marriage Success: Despite his charm and leading man looks, Ryan's career struggles have followed him into married life. The actor has floundered in gargantuan summertime flops like The Change-up and Green Lantern, with last year's R.I.P.D. being his latest blockbuster misfire. Blake Lively has been mostly quiet since getting hitched. She starred in the forgettable crime-film, Savages and her star-making television show, Gossip Girl, wrapped up it's run. 
Javier Bardem and Penelope Cruz
Together Since: 2010
Post-Marriage Success: Post-marriage and post No Country for Old Men, life has been good for Bardem. The actor won raves for his role in Biutiful, and played the best Bond villain in recent memory in Skyfall. Penelope Cruz has been no slouch either. The actress reunited with Woody Allen in To Rome with Love, and co-starred with her husband in The Counselor, though were still not sure what to think of Ridley Scott's latest.
Daniel Craig and Rachel Weisz
Together Since: 2011
Post-Marriage Success: Craig's star power is as strong as ever. The actor's brutish and vulnerable version of Agent 007 continues to give the Bond saga a renewed sense of urgency. Beyond spying, Craig also put in great work into David Fincher's  Girl with the Dragon Tatoo. Rachel Weisz on the other hand, has had a mixed couple of years since 2011. she starred in the acclaimed spy mini-series Page Eight, but also in the largely forgettable Borne quasi-reboot, The Borne Legacy. She was also in Disney's Oz the Great and Powerful,  a film that failed to capture the magic of the original.
Chris Pratt and Anna Faris
Together Since: 2009
Post-Marriage Success: It's hard to think of anyone in Hollywood that's had a more diverse couple of years than Chris Pratt. The actor went from playing schlubby goof ball Andy Dwyer on NBC's Parks and Recreation to playing a fit baseball player in Moneyball and a gung-ho Navy Seal in Zero Dark Thirty. He also appeared in Spike Jonze's fantastic Her and had the starring role in The Lego Movie. Finally, the actor is set to star in the upcoming blockbusters Guardians of the Galaxy and Jurassic World.  Wife, Anna Faris hasn't enjoyed the same insane career trajectory, but who can blame her. Since 2009, she has stared in The Dictator, Alvin and the Chipmunks: Chipwrecked, and Cloudy with a Chance of Meatballs 2
Will Smith and Jada Pinkett-Smith
Together Since: 1997
Post-Marriage Success: Smith's reign as the king of summer was still in full effect in back in 1997. The actor closed out the 90's with films like Men in Black, Enemy of the State, and Wild Wild West, all Box-office hits. Since then however, the actor has been pretty hit or miss. For every Bad Boys II or Hitch, we'd get a Seven Pounds or Hancock. As strange as it is to say, Jada arguably had a better 2000's than her husband. She starred in the two Matrix sequels, the Madagascar films, and the Tom Cruise actioner, Collateral. Recently however, both seem more interested in creating careers for their children, rather than improving the state of their own careers.