'Anna Karenina' Director Joe Wright Loves Dance Films, But Hasn't Seen 'Step Up 3D'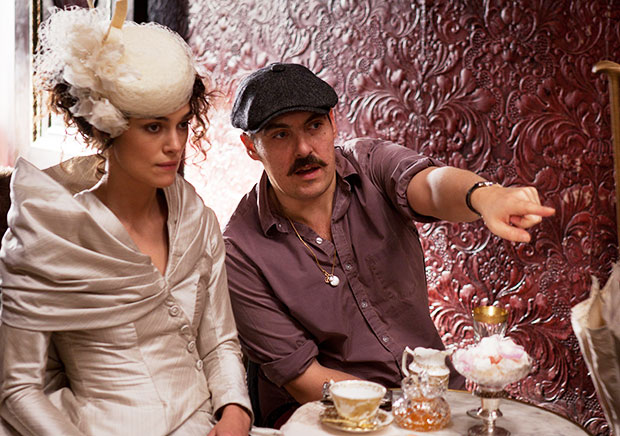 Joe Wright broke out in a big way with his adaptations of 2005's Pride and Prejudice and 2007's Atonement, the latter earning him BAFTA and Golden Globe nominations for Best Director. This year, Wright reunited with his cinematic muse Keira Knightley for a new period drama: the big screen version of the classic novel Anna Karenina.
Unlike his earlier films, Anna Karenina departs from stark reality with theatrical flair. Literally, Wright stages the film in a theater, where characters drift from one set to the next as scene changes and scenes of epic scope can be represented by sounds and simpler props. It's a wonder to behold and a daring choice, Anna wearing Wright's love for dance films and impressionistic filmmaking on its sleeve (even if he's never heard of the Step Up movies). Hollywood.com had a chance to sit down with director to discuss his latest filmmaking endeavor and working again with Keira, who he sees as reinvented actress:
What in the material of Anna Karenina made you choose a stylistic approach over a natural one?
Joe Wright: I took my lead from a book call Natasha's Dance by Orlando Figes, which is basically a history of Russian culture. In that he talks about Russian society of the period suffering from a kind of identity crisis. Not sure whether if they were Eastern or Western. Choosing Paris and becoming French, almost. They were really performing these roles, and as Orlando writes, they were living their lives on a stage. I found that to be a very interesting notion because it speaks to the sense of searching for an authentic expression of life and the roles we play. And Levin looking for a more authentic form of life, and Anna playing this role that doesn't really suit her and break free of that role. So it seemed like a good metaphor.
The dance thing — I'm interested in performance and finding a performance style that is less naturalistic, and yet, more expressive.
Pride and Prejudice and Atonement are presented realistically. Was the style change in this film a response to that?
Wright: I think I've always been wanting to do something like this and really, with this film, it was a matter of accepting that now is the time to do it. With Pride and Prejudice, it was my first movie, so it was a case of getting it in the can and just doing it. With Atonement I started to build and started to consider performance styles pre-Strasberg, the performance styles of British '30s and '40 cinema actors like Celia Johnson. Looking at the voice in particular in those films — how they used their voices. I'm very interested in styles of performance and not just taking it naturalism for granted it.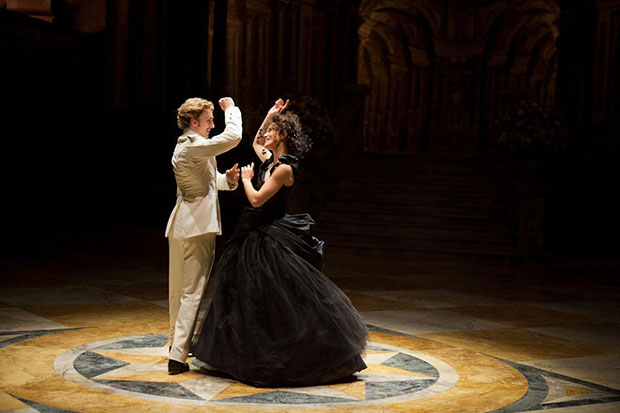 Was there a particular image in the book that made you realize that this approach would work in adapting the story?
Wright: I think it was really the ball scene and how much of a performance the whole thing feels. They used to have their ballrooms completely mirrored so they could watch themselves perform their roles. It seemed like the atmosphere of the ball really spread into the rest of society and the rest of their lives. So the ball scene was essential to it.
So this became your "dance film."
Wright: This is my dance film. It genuinely was, 'I want to make a dance film. I want to make a ballet with words.'
What dance films inspire you? I assume it's not Step Up 3D Revolution.
Wright: I have absolutely no idea what that is! But The Red Shoes. It's one of my favorite films of all times. I'm a huge Powell and Pressberger fan. That's the seminal dance film.
Do you think there's a naturalistic version of this film that would work? Or is the source material too 'epic' to be presented that way to modern audiences?
Wright: I think there's a naturalistic of this film. There's a naturalistic version of the script that Tom [Stoppard, screenwriter] wrote. But to me, I wanted to find some way of making the film more vital and a direct form of expression. I find period films, and the ones that carry the weight of Tolstory, can get so bogged down in the status of things and it becomes a passive experience for the audience. I wanted to create an experience that was active, even if the audience was called on to participate in the experience.
How did you know that Keira, who worked perfectly in the grounded worlds of your previous films, would fit in with Anna Karenina?
Wright: I hadn't seen Keira for a couple of years after making Atonement. Then we met up again on the last Chanel commercial we did together. And when she went in front of the camera I found she was completely different. Or, the same, but developed. She was stronger, powerful, more direct, focused. I think that was due to her having been through some darker times. She went through some stuff after Atonement. Not least the press intrusion, but also some stuff we all go through in our early twenties. She retreated from big mainstream cinema. She worked in the theater and didn't go to Hollywood for awhile. What doesn't kill you makes you stronger. And I wanted to bare witness to this incredibly powerful woman she had become.
Your previous film Hanna also took a wild departure stylistically, playing like an modern day fairy tale with psychedelic action. Do you see yourself going back to that type of filmmaking soon?
Wright: For me, Hanna was definitely a fantasy. There are some projects I'm looking at at the moment, including one based on Hans Christian Anderson's Little Mermaid. That involves a bit of action.
[Photo Credit: Focus Features (2)]
Follow Matt Patches on Twitter @misterpatches
More:
'Anna Karenina' Star Keira Knightley on Playing 'Morally Ambiguous' — EXCLUSIVE VIDEO
TIFF 2012: 'Anna Karenina' is Cinema, Theater, Opera, Ballet, and Brilliant
'Anna Karenina': Keira Knightley Starts the Oscar-Buzzing Early — VIDEO & POSTER

'Friday Night Lights' Movie Not Likely, Says Zach Gilford — EXCLUSIVE

'Les Mis,' 'Dark Knight,' and More: The Best Trailers of 2012