Anna Kendrick vs. Lea Michele: Who Would You Cast in Your Musical?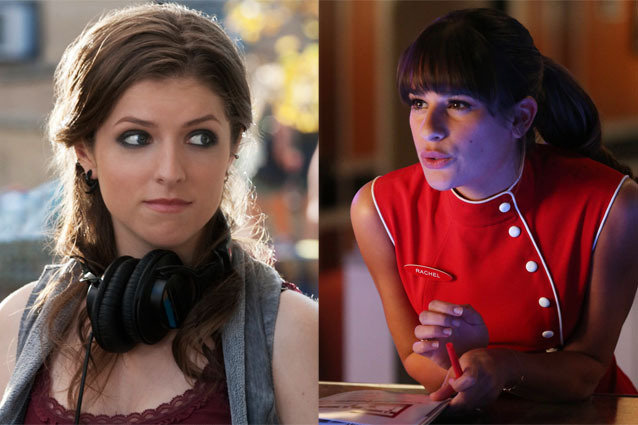 Universal Pictures via Everett Collection/FOX 
Both Anna Kendrick and Lea Michele began their careers as child stars on Broadway, each earning acclaim for their stage work before they hit puberty. Kendrick originally found success on film in movies like the Twilight saga before wowing audiences with her voice in Pitch Perfect. Michele won fame on television as the uber-ambitious Rachel Berry on Glee. Kendrick was nominated for an Academy Award for Up in the Air. Michele has a mantel full of People's Choice awards and has been nominated for an Emmy. Kendrick had a Top 10 hit with "Cups (When I'm Gone)" from Pitch Perfect. Michele just released her first solo album and has made numerous chart appearances thanks to the various Glee soundtracks.
Recently, it was announced that Kendrick has been cast as the lead in the film adaption of Jason Robert Brown's musical The Last Five Years, on the heels of playing Cinderella in the movie version of Stephen Sondheim's Into the Woods and reprising her character in Pitch Perfect 2. Michele, on the other hand, is still hard at work on Glee, promoting her album and fending off rumors that — in a storyline straight out of her TV show — she'll appear on Broadway in a revival of Funny Girl. If you were casting a musical, however, and had to choose one or the other, which would you pick?
The Case for Anna Kendrick
Most performers spend a career trying to build a resume as accomplished as the one that Kendrick has already compiled at 28. Trying to find someone that doesn't like Kendrick is next to impossible and she's proven that she can play sweet or snarky equally well. Her voice caught moviegoers off guard in Pitch Perfect, but now that everyone knows about it, she's got an audience eager for more. Sondheim fans might cringe at the thought of Johnny Depp as the Wolf or Meryl Streep as the Witch in Into the Woods, but Kendrick's casting was met with sighs of relief. There was a genuine buzz among musical lovers when Kendrick signed on to The Last Five Years, with people eager to see what she'll do with the Off-Broadway story of a novelist and actresses' failed relationship. Perhaps just as importantly, Kendrick comes across as someone that you would want to be friends with… not a bad thing with audiences or the people that have to work with her.
The Case for Lea Michele
Since the beginning of Glee, one of the dangers for Michele has been audiences associating her too closely with her on-screen alter ego, Rachel, who can belt with the best of them, but can also come across as demanding, needy and annoying. Part of the reason that Michele, 27, does so well with the role is that there are similarities between real life and fiction. Michele really does idolize Barbra Streisand, and it wouldn't be a stretch to see Rachel in a production of Les Miserables, just as Michele was as a youngster. What sets Michele apart is that she doesn't appear to have an issue with not being liked. She doesn't shy away from being a diva and doesn't seem to care who has an issue with it. There are a lot of roles that require that kind of chutzpah, particularly in musicals and especially when you have a voice as big as Michele's.
Verdict
There's a reason why Kendrick is the hot name for movie musicals right now and that status is completely deserved. Her presence alone would make a mediocre musical at least watchable. If you want someone that's going to be brassy and in-your-face, however, that's more Michele's forte. Perhaps audiences will get lucky and the two will pair up — as Kristin Chenoweth and Idina Menzel did on stage — in a film version of Wicked. There's a movie we'd pay to see.