Arnold Schwarzenegger Reunites with Sylvester Stallone for 'The Tomb'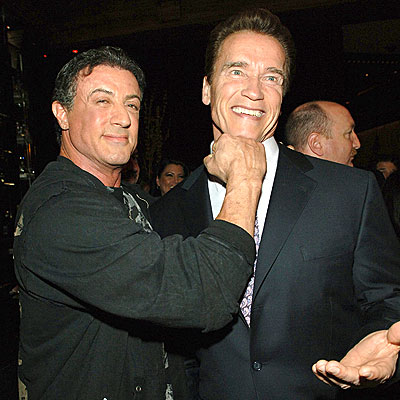 Life as an aging action star can't be easy.
Sure, Arnold Schwarzenegger and Sylvester Stallone are multi-millionaires, two muscled bros who dominated the action movie scene in the '80s and '90s. But as the two gents grew older and the audience demand shifted, their movie careers lost traction. Schwarzenegger took to the political scene, while Stallone struggled to land a hit (remember 2001's Driven? Neither do I). Fading doesn't feel good. Even for multi-millionaires.
But, perhaps because of our nostalgia for the simpler times of not-so-long-ago, Schwarzenegger and Stallone have seen a resurgence. With comeback installments like Rocky Balboa and Rambo, the dream-team, guy's guy franchise Expendables and a slew of upcoming, action-oriented roles, these former stars are now riding high.
One of Stallone's next projects is actually a movie Schwarzenegger had to pass on…that is, until he rejoined the movie. Stallone was already set to star in The Tomb, and now it appears he'll be joined by Schwarzenegger. The movie has lost director Antoine Fuqua and is now seeking a replacement—which shouldn't' be too difficult considering the names involved. The movie revolves around Stallone's character, Ray Breslin, a high security prison architect who finds himself trapped in one of his own penitentiaries. There's no word on Schwarzenegger's role, but we'll assume he's either the villain or a inmate with a heart of gold. Either way, he'll probably punch through a wall or two.
Can they pull it off? Do these two still have what it takes to lead a big screen action movie? The Expendables 2 is the test run, but The Tomb is all about Stallone and Schwarzenegger. Let's hope they still have it.
Source: AICN
="font-style:>