At Last a Social Network For Superheroes!
With all the talk about superhero movies lately it only seems appropriate to have a quick discussion about a superhero social network. Do heroes need their own social network? Should we just share ours?

A true superhero usually has a cape, a couple special powers and a big fan base. If Thor were to join Facebook right now he would immediately acquire too many friend requests and many fans would be denied. He would then have to set up a business page and manage two different accounts which can become very cumbersome when traveling between planetary dimensions and such. Maybe Thor wants to fly under the radar and prefers the anonymity?

If Loki added Thor to his family list would Thor ever confirm it?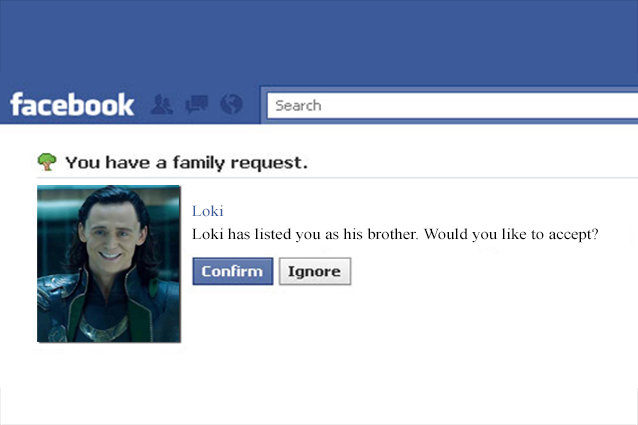 Since superheroes are always on the move it makes it difficult for them to keep in touch with their friends. It's also sometimes difficult to show off some of the great many achievements they make in daily life. So why wouldn't superheroes want a Facebook for themselves?
The mashup above uses footage from Green Lantern, X-Men First Class and The Social Network. Basically it appears Green Lantern (Ryan Reynolds) stole the Facebook idea from the X-Men gang. The X-Men and Sebastian Shaw (Kevin Bacon) are not going to sit back and let the Green Lantern take it from them and instead pose an all out war.
The moral of the story is Superheroes do need a social outlet to talk about who they saved or who they killed. They need to find Groupon deals for costumes and need an outlet to share memes when the Hulk acts up or just so Spider-man can click that "Like" button when Batman posts a cool shot of Gotham from the Bell Tower.
More:
Matthew McConaughey and Woody Harrelson are Heading to HBO
Boardwalk Empire TV Stills
Netflix is Now More Popular Than HBO
---
From Our Partners:


A Complete History Of Twerking (1993-2013) (Vh1)


20 Grisliest TV Deaths of 2012-2013 (Vulture)