Audiences Embrace 'No Strings Attached'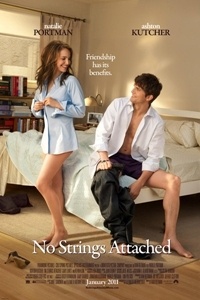 Audiences embraced Paramount's romantic comedy No Strings Attached starring Ashton Kutcher and Natalie Portman this weekend, giving it a $20.3 million debut.  Romantic comedies released in January since 2005 have opened in the range of $12.3 million (When in Rome) to $23 million (27 Dresses) so this was right in line with expectations and considering the R-rating was very solid.  Of course Portman is red hot right now with Black Swan dancing its way toward $100 million at the box office and her Golden Globe win for best actress last weekend adding even more heat to the actresses appeal and star power.  An R-rating and a solid marketing campaign which clearly asks the question "Can best friends, be sex friends?" proved to be catnip for the date crowd and those looking for a "girl's night out" type of movie-going experience. 
Second place goes to Sony's The Green Hornet which had a solid $33.5 million debut over the Martin Luther King Weekend.  The action-comedy hybrid held well with a 46% drop.  The lack of competition in the action realm and a marketplace full of Oscar contenders enabled the Hornet to bank some green to the tune of $18.1 million and a total cumulative of $63.4 million to date.
Ron Howard's The Dilemma which opened with $17.8 million over Martin
Luther King weekend had the edge for a third place finish with $9.7 million against a respectable 45% drop and a domestic total of $33.4 million. 
At number four with $9.2 million, The King's Speech benefiting from Golden Globes attention (including a
win for Best Actor for Colin Firth in Speech) and thus held strong with a gross virtually identical to last weekend and a total gross to date of $58.6 million.
No discussion of the top 5 could ignore that True Grit has been generating great buzz from the start, is currently the second highest grossing western of all-time (behind only 1990's Dances With Wolves at $184.2 million) and despite a solid snubbing at The Golden Globes, the film remains an audience favorite.  The Coen Brother's epic is closing in on the $140 million mark and grabbed another $8 million in loot this weekend.
Box-Office highlight: Jeff Bridges (True Grit, Tron:Legacy) and Natalie Portman (No Strings Attached, Black Swan) rule the top ten this weekend with two films each.
On the downside is the 11th consecutive "down" weekend vs. last year with the ghost of Avatar looming large and making comparisons tough as studio executives and box office bean counters suffer from collective indigestion.
Check out our exclusive movie-themed comic strip from Francesco Marciuliano.  Francesco writes the internationally-syndicated comic strip "Sally Forth" and the webcomic "Medium Large." He was the head writer for the PBS series "SeeMore's Playhouse," for which one of his episodes won two 2007 Daytime Emmys. He currently writes for the Onion News Network.

Weekend Box Office
Top 10 Movies – For Weekend of January 21, 2011 – Estimates
    Movie                  Weekend          Total
1 No Strings Attached (R) $20.3 M $20.3 M
2 The Green Hornet (PG-13) $18.1 M $63.4 M
3 The Dilemma (PG-13) $9.7 M $33.4 M
4 The King's Speech (R) $9.2 M $58.6 M
5 True Grit (PG-13) $8.0 M $138.6 M
6 Black Swan (R) $6.2 M $83.6 M
7 The Fighter (R) $4.5 M $73.0 M
8 Little Fockers (PG-13) $4.4 M $141.2 M
9 Yogi Bear (PG) $4.0 M $88.9 M
10 Tron: Legacy (PG) $3.7 M $163.3 M