James Cameron Just Blue Himself! Confirms 'Avatar' 2, 3, AND 4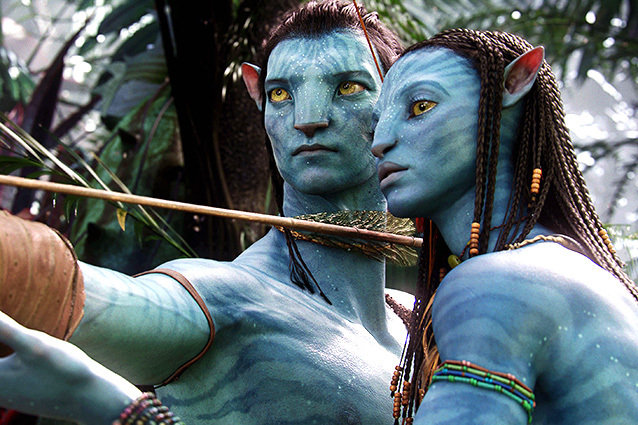 It's official! Avatar will be getting not one, not two, but three sequels. On Thursday, James Cameron and 20th Century Fox revealed that they had upped the planned number of Avatar films and that the three new installments will be shot simultaneously next year. According to Deadline, the first sequel is set to be released in December 2016, followed by the second in December 2017, and the third in December 2018. So basically, you can start planning your future family holiday festivities accordingly. (But really, you should start pre-ordering your tickets. You know how those Christmas Day movie crowds can be.)
Ever since the science fiction blockbuster took the world by storm just four short years ago, we've all been eagerly awaiting this announcement. But now that we've gotten the official confirmation, we can't help but ask, is three sequels a little excessive? It might be a tad premature to invest so much time and money in three huge blockbuster sequels. What if the second Avatar movie is a disappointment? Or the third? Or the fourth? Why not space them out more like Terminator? What if people start to lose interest in the breathtaking landscape of Pandora. Nah, that won't happen.
Still, Peter Jackson got some flack when he announced plans for a third Hobbit movie, and yet James Cameron is allowed to do whatever he wants with the Avatar movies? Is that the way the movie world works? 
Don't get us wrong — we saw Avatar in theaters. More than once. Hell, given its $2.8 billion gross, clearly some of us saw it upwards of 10 times. And it's true that sequels have the potential to outshine their predecessors, even beyond the second movie — Toy Story 3 and Iron Man 3 were possibly the best of their series. But how many X Movie 4 films do so well? 
Then again, James Cameron has stated that he envisions the fourth Avatar film to be more of a prequel, so that could bring some freshness to the series…down the line in 2018. Actually, maybe it's a little premature for us to even be talking about a movie that doesn't come out until December 2018. Wow, we feel old now — and we don't even want to know how old we'll feel when that date arrives.
Follow Caroline On Twitter @Carolinesb | Follow Hollywood.Com On Twitter @Hollywood_com
More:
'Avatar 2' Will Stick Its Actors in a Fish Tank for Underwater Performance Capture
'Avatar 4': James Cameron Is All In for His Sci-Fi Franchise
'Avatar 2': What We Know So Far
---
From Our Partners:


40 Most Revealing See-Through Red Carpet Looks (Vh1)


15 Stars Share Secrets of their Sex Lives (Celebuzz)