Which Member of the 'Avengers' Cast Is Having the Best Year?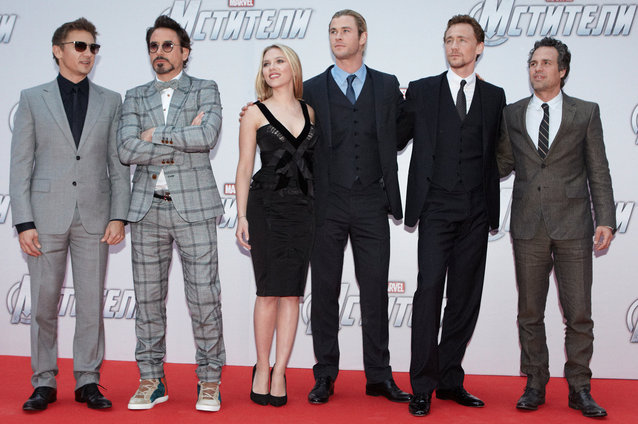 Getty Images/Gennadi Avramenko
The cast of The Avengers  are many things: talented, good-looking, charming and some of the biggest stars on the planet. It seems like everywhere you look lately there's always at least one member of the team in the news, on movie screens or on the cover of a magazine at any given moment. The buzz surrounding them hasn't diminished since Chris Evans and Scarlett Johansson wrapped up the Captain America: The Winter Soldier press tour, either. If anything, it's only gotten stronger as we reach the peak of blockbuster season and head into Oscar territory.
And with good reason: the cast of The Avengers  is having a pretty great year. But which one of them is having the best 2014 of them all? Is Johansson's second blockbuster of the year – this Friday's Lucy – enough to balance out Mark Ruffalo's awards buzz? Can Chris Hemsworth come out on top due to good looks alone? We've broken down the Year in Avengers: 
7. Robert Downey Jr. 
What He's Done: Played a supporting role in Jon Favreau's sleeper hit Chef; starring opposite Robert Duvall in The Judge, which will be released in October; named the highest-paid movie star in the world for the second year in a row 
How He's Doing: Pretty good. Not like, Tony Stark pre-arc-reactor-good, but pretty darn good.

6. Jeremy Renner
What He's Done: A guest stint on the epic two-part episode of Louie (the two-part episode "In The Woods"); receiving awards buzz for his starring role in Kill the Messenger, which hits theaters in October
How He's Doing: You know, sometimes you just have to take some time an build up your critical acclaim.
5. Chris Hemsworth 
What He's Done: Helped his wife, Elsa Pataky, raise their twin sons, who were born in March, as well as their 2 year-old daughter 
How He's Doing: Have you seen him? He's doing great.

4. Mark Ruffalo
What He's Done: Earned an Emmy nomination for his performance in A Normal Heart; starred in the charming but not-great Begin Again with Kiera Knightley; starred in the highly-anticipated Foxcatcher, which will finally open in November
How He's Doing: Aw, look at him riding a unicycle on a talk show! Isn't he charming? No, don't think about Begin Again, just focus on the charm.
3. Tom Hiddleston  
What He's Done: Earned an Olivier Award (the UK equivalent of the Tonys) for playing the title role in Coriolanus; starred opposite the mystical Tilda Swinton in Only Lovers Left Alive; had a cameo in Muppets Most Wanted; starred in a Jaguar commercial that was banned in the UK
How He's Doing: If the Loki fans say he's doing well, then we do too. (We'll say whatever they want, honestly, we're a little scared of them.)
2. Chris Evans 
What He's Done: Starred in the post-apocalyptic indie hit Snowpiercer; his directorial debut Before We Go is premiering at TIFF in September; filmed A Many Splintered Thing which is slated for release later this year
How He's Doing: He just spent four months hanging out with Anthony Mackie – he's having a great year. 
1. Scarlett Johansson 
What She's Done: Dated Jon Favreau in Chef; kicked serious butt as a super-powered party girl in Lucy; terrified men everywhere in Under the Skin; got engaged to a handsome Frenchman; got pregnant; will reportedly get married in August
How She's Doing: 2014 is pretty much Johansson's year. The rest of the Avengers are just living in it.