25th Anniversary of 'Beetlejuice': It Almost Wasn't a Tim Burton Movie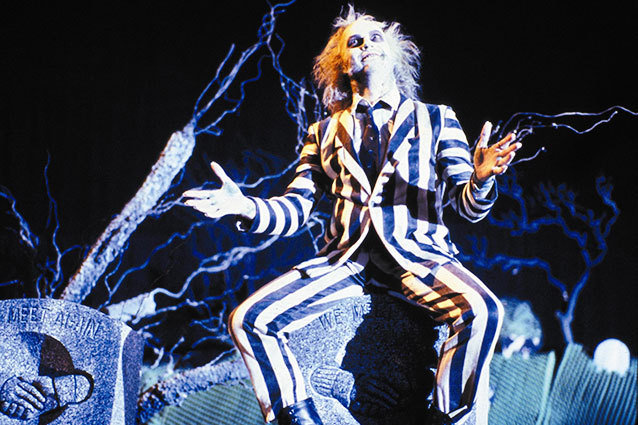 Twenty-five years ago, the world was introduced to a charming supernatural villain with impeccable fashion sense; truly the ghost with the most. Don't remember his name? We'll give you a hint. Beetlejuice, Beetlejuice…just for good measure, we're going to stop right there.
So many aspects of Beetlejuice have become iconic, and not the least of those is the direction and visual signature of Tim Burton. One can hardly imagine Beetlejuice without Burton's influence, but the fact of the matter is that Burton wasn't the first choice to direct the film.
It happens quite a bit in Hollywood; deals are made and deals fall through. A studio's first choice to helm a picture isn't always the best choice, nor does it pan out. So who was Beetlejuice's original director? What other horror properties experienced a change in the director's chair prior to release?
RELATED: Tim Burton's Big Fish Musical: Hear the First Track
1,2, Beetlejuice Is Coming For You
Prior to Tim Burton signing on to direct Beetlejuice, the studio was looking at someone who'd helmed far more intense horror titles up to that point. That's right, Mr. Nightmare on Elm Street himself, Wes Craven was originally attached to direct. It's hard to contemplate what a Craven Beetlejuice would have looked like, but considering an original draft of the script was far more horror-centric, with the titular character portrayed as a winged reptilian demon, one can see how Craven might have been a suitable candidate. If nothing else, Beetlejuice would've said "b**ch" a fair amount more.
Never Let Me Howl
The 2010 reboot of The Wolfman couldn't have suffered more setbacks if they were actually only able to shoot during full moons. It was slated for release in 2007, but a number of problems and a change in director mid-way through kept it out of theaters until 2010. Though Joe Johnston is credited on the poster, it was originally Mark Romanek who landed the gig. Romanek made a big splash with his independent sci-fi film Never Let Me Go, but after butting heads with Universal over the budget, he had no problem letting The Wolfman go. Among its many other production woes, The Wolfman replaced Beetlejuicecomposer Danny Elfman's entire score at the last minute.
Life Almost Found A Way
Jurassic Park doesn't really qualify as a horror film, and that was mostly because director Steven Spielberg wanted the movie to be an event the whole family could share. That's not to say it didn't give some of us younger viewers nightmares when it was first released, but given who came close to landing the job, Jurassic Park could qualify as a Disney film by comparison. It turns out James Cameron also had his eyes on the rights to Michael Crichton's novel, but Spielberg got there first. Cameron mentioned that his version would have been much, much nastier. Given some of the things that happen in the book, that wouldn't have been terribly difficult. The ironic thing here is that Cameron's first feature film directing gig was Piranha II: The Spawning, on which he was a replacement for Miller Drake.
RELATED: 'Jurassic Park 4' Has Found a Director
In Space, No One Can Hear You Cut Corners
Piranha II producer Roger Corman, is a legend in the film industry; for better or worse. On the one hand, he launched the careers of several highly notable artists including Cameron, Martin Scorsese, Jack Nicholson, and Francis Ford Coppola. On the other hand, he had a tendency toward focusing more on the bottom line than on artistic integrity. He was very much looking forward to capitalizing on the Star Wars craze by producing a script by Dan O'Bannon called Alien, but he cut one too many corners for O'Bannon's liking and the screenwriter ended up selling to, fittingly, 20th Century Fox. A year later, Corman would release instead Battle Beyond the Stars, a sci-fi retelling of The Seven Samurai, as his alternative Star Wars cash-in.
Possessed Of Many Options
Though The Exorcist is haled as one of the greatest and scariest horror movies of all time, the list of directors considered before William Friedkin is enough to make your head… well, you know. John Boorman (Deliverance) was initially approached, but thought the movie was too cruel towards children. He would however return to direct Exorcist II: The Heretic. Stanley Kubrick was interested, but balked when the studio wouldn't allow him to also produce the movie. The Last Picture Show's Peter Bogdonovich was also considered, but he too passed. Funny enough, when Morgan Creek tried to make an Exorcist prequel in 2004, they didn't just change directors midway through, they shelved initial filmmaker Paul Schader's version once it was completed and shot an entirely new film with Renny Harlin in charge. That's the reason you can now track down and watch Exorcist: The Beginning and Dominion: Prequel to the Exorcist.
We're Gonna Need A Better Director
We've heard about Cameron almost landing a gig that ultimately went to Steven Spielberg, i.e. Jurassic Park, but what about a Spielberg film that almost went to someone else? Originally, Tootsie producer Dick Richards was set to direct the big screen adaptation of Peter Benchley's novel Jaws. The reason for his dismissal from the project had to do with his affinity for marine mammals. He evidently wanted to change the antagonistic creature from a shark to a whale. While the parallels between Quint and Captain Ahab are striking, one could understand why the producers didn't want to go full Melville with the film.
[Photo Credit: Warner Bros. Pictures]
---
You Might Also Like:


15 Oscar-Winning Nude Scenes


10 Insane 'Star Wars' Moments You Didn't Notice