Good Things Come In Threes: Great Movie Trilogies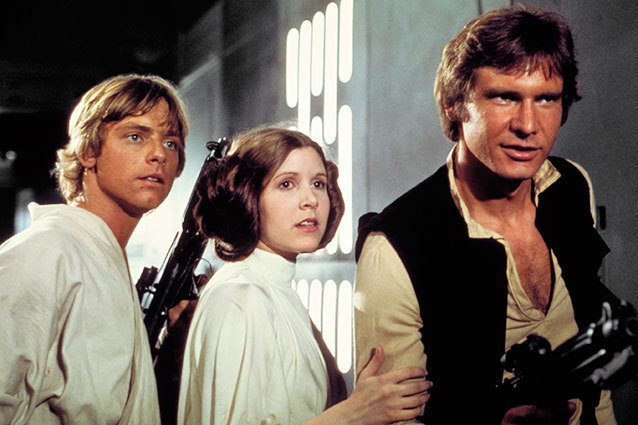 Lucasfilm
The saying is, "Good things come in threes." Or something close to it. That especially pertains to movies, thiough with the trilogies, with rare exceptions, there's usually two really really strong movies that then can stand a weak third one (that's one reason why The Matrix isn't here – the sequels greatly diminshed the original). Here's five of our favorite trilogies. What, you're only expecting three?
1. Original Star Wars
A New Hope, The Empire Strikes Back and Return of the Jedi far outclass the prequels – I'll take the Ewoks over Jar Jar Binks ANY day. Yub Yub. And any movie with the voice of James Earl Jones is bound to be awesome.
2. Indiana Jones
The Kingdom of the Crystal Skull NEVER HAPPENED. With Raiders of the Lost Ark, Temple of Doom and The Last Crusade, you have three nearly infinitely rewatchable movies. Also, what do you know, Harrison Ford appeared in the top two trilogies. That's definitely a great career. 
3. Lord of the Rings
Just completely epic work by Peter Jackson – and that was just on what he showed in the theaters, not what was on the extended edition DVDs. I think J.R.R. Tolkien  would have been proud of this adaptation of his classic books. Note: No, The Hobbit is NOT a trilogy.
4. Toy Story
Usually there's a weak link in one of the three movies – not so here. I'd consider any of them a classic. The first Toy Story was also one that showed that computers were just as capable of doing great animation as hands. 
5. The Godfather
The first two movies are SO good that they almost make me forget Sofia Coppola's bad acting in the third one. Who can forget the performances of Marlon Brando, Robert De Niro, Al Pacino and James Caan? Poor, poor Fredo.
More:
The 'Antman' Movie's Coming Out Early
Cher's Heading To 'The Voice'
'American Psycho' is coming to FX
---
From Our Partners:


40 Most Revealing See-Through Red Carpet Looks (Vh1)


15 Stars Share Secrets of their Sex Lives (Celebuzz)