The Best Music Moments in Blockbuster Films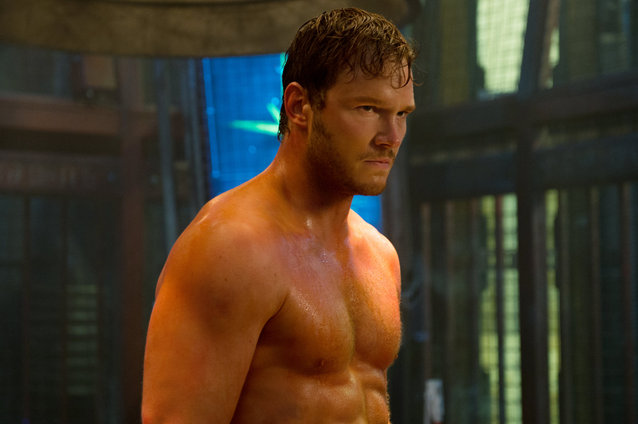 Walt Disney Pictures/Marvel
To a large extent, blockbuster movie soundtracks are all the same. There's probably some Kanye, a few dubstep tracks to keep things upbeat, maybe a classic rock song or two, and then some kind of instrumental score meant to add some tension or sentiment at the appropriate moments. And it makes sense — you're not paying for perfectly-scored moments of emotion, you're paying to watch people punch each other and blow things up. So when a blockbuster film manages to match the perfect song to the perfect scene, something special happens. Suddenly, it's not just about the effects. It's about the experience. And even though we've yet to see Guardians of the Galaxy, we can tell that it's going to be that kind of film, thanks to the cheesy classic rock featured in the trailer and the presence of the founding member of Mouserat. In honor of its August 1 release, we've rounded up some of the most iconic blockbuster movie moments in cinema history. After all, what's the point in saving the world if Kenny Loggins isn't singing about it? 
"Trouble Man" by Marvin Gaye, Captain America: The Winter Soldier
At the start of the film, Sam Wilson makes a tentative attempt at friendship with ol' Steve Rogers by recommending he check out Marvin Gaye's classic 1972 album; at the end of the film, Steve wakes up in a hospital bed with Sam by his side and the title track playing over the speakers. Because even if you're unconscious, Sam Wilson is going to ensure that your musical education is complete.
"Non Je ne Rigrette Rien" by Edith Piaf, Inception
Primarily used as a way to signal to the people in-dream that the kick is coming, "Non Je ne Rigreete Rien" also warned of a much more dangerous shock headed towards the team: Mal. Sure, it's a bit on the nose for the recurring dream-ghost of Leonardo DiCaprio's dead French ex-wife, but finding the perfect movie music moment isn't necessarily about being clever – it's about creating a mood. And besides, Christopher Nolan's not the subtle type.
"Eye of the Tiger" by Survivor, Rocky III
It doesn't matter that Rocky didn't start training to the sweet, sweet sounds of '80s rock until the third installment of the franchise. When you think Rocky, "Eye of the Tiger" automatically starts playing in your head. It might not have been the original music moment of the series, but it's the most enduring; even the Broadway production couldn't resist working it into the score. You should hear it in five-part harmony.
"Danger Zone" by Kenny Loggins, Top Gun
The love scene scored to Berlin might be a bit more iconic, thanks to its awesomely cheesy use of backlighting, but the best musical moment in Top Gun is, without a doubt, the montage of fighter pilots taking off, scored to what is perhaps Kenny Loggins' most ridiculous hit of all. Did Berlin give us one of the best running jokes of all time? No. No they did not.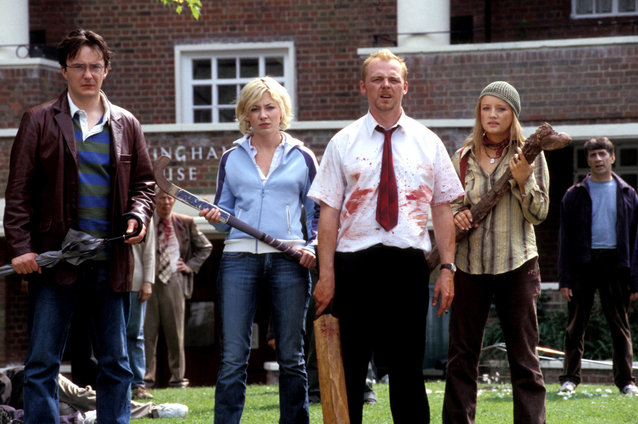 Rogue Pictures via Everett Collection
"Don't Stop Me Now" by Queen, Shaun of the Dead
Edgar Wright's Cornetto Trilogy is filled with hilarious gags and perfectly-timed music cues but none are more elaborate, ridiculous or more pitch-perfect than the gang's choreographed attacks on the zombies in the bar, using an assortment of pool cues, a fire extinguisher and a last-minute rifle. The fact that everyone in the film acknowledges the insanity of the situation – and even dance along! – makes it unforgettable.
"Where Is My Mind" by Pixies, Fight Club
Fight Club is a weird, twisted psychological thriller that leaves you questioning what was real and what was hallucinated. Therefore, the only appropriate song to end it with is one that asks the core question of the film: "Where Is My Mind?" Just melancholy enough to fit the tone, and just obvious enough to help even the slowest members of the audience make the connection. 
"Johnny B. Goode" by Chuck Berry, Back to the Future
When you're tasked with reviving the party at your parents prom, you could go the safe route and play something everyone would be familiar with, or you could invent rock and roll by busting out some Chuck Berry… before he's even heard it. And then you can make everything awkward by extending a guitar solo for far too long and freaking everyone out, but hey, Marty McFly was ahead of his time. It's not his fault they didn't get it.
"You're the Best" by Joe Esposito, The Karate Kid
In the '80s, wimpy kids everywhere were inspired to stand up for themselves and find their inner Karate Kid thanks to Mr. Miyagi. But his "wax on, wax off" philosophy would be nothing without the encouraging synth-pop of Joe Esposito telling them that nothing could ever bring them down. How else were they supposed to get pumped up for the biggest karate competition of their life? Or you know, the playground. Both are intimidating.
"Born to Be Wild" by Steppenwolf, Easy Rider
Since its release in 1968, "Born to Be Wild" has been the second favorite song of music supervisors looking to indicate someone as a "bad boy" without actually forcing the other characters to say it. (The first, of course, is "Bad to the Bone.") It might be cliché now, but it all dates back to 1969, when Dennis Hopper and Peter Fonda set off on a road trip and ensuring that any time someone bought a motorcycle, a Steppenwolf reference would be made.