The Best New Horror Movies To Watch At Home On Halloween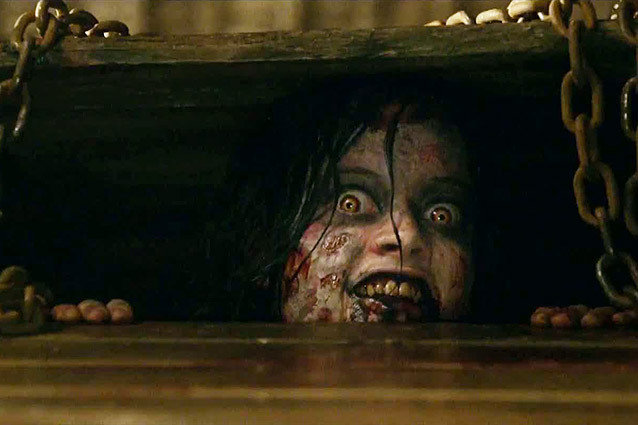 Tristar Pictures
With the Saw franchise coming to an end in 2010 and the Paranormal Activity series now waiting until January to premiere its fifth instalment, there's a distinct lack of horror at the cinemas this Halloween. Indeed, Hollywood bosses appear to have been running scared this October with only the unnecessary and underperforming remake of Carrie flying the flag for the genre. With those wanting new thrills and spills having to get their fix elsewhere, here's a look at five of the best horror films released earlier this year that are now available to view on the small screen.
Evil Dead

Many groaned when it was announced that Sam Raimi's cult classic was to get the reboot treatment. But although Fede Alvarez' gorefest lacked the dark humor of the original, it's arguably one of the most relentless assaults on the senses in years.
Warm Bodies

Perhaps more gently amusing and unexpectedly touching than downright scary, Warm Bodies breathed new life into the stale zombie genre with its post-apocalyptic tale of a human survivor falling for a member of the grunting undead.
The Conjuring

Fast becoming the master of mainstream horror, James Wan's haunted house story might have brought little new to the table. But like last year's The Woman In Black, its old-school shocks still packed a punch.
Mama

Based on a 2008 short film, Spanish-Canadian horror Mama also wore its influences firmly on its sleeve but its spooky visual flair, constant sense of unease and Jessica Chastain's performance lifted it above the usual hokey supernatural chillers.
V/H/S/2
Like last year's original, this second series of found-footage shorts certainly varies in quality. But Gareth Evans' Safe Haven, which sees a group of film-makers interview an Indonesian cult leader before all hell breaks loose, is possibly the best piece of horror you'll see this year.
Follow @Hollywood_com