The Best New Year's Eve Scenes from TV & Film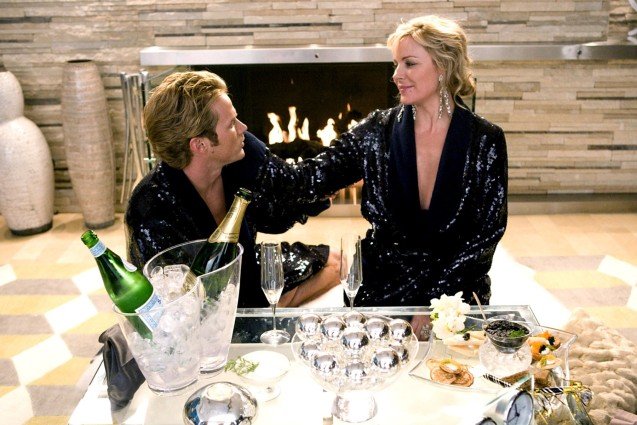 New Line Cinema via Everett Collection
It's definitely that time of year folks. Time to figure out what to get your Game Of Thrones-loving friends. Time to make out your own personal wish list (which may or may not be filled with Scandal-related paraphernalia), and time to enjoy the hell out of your favorite Christmas and New Year's Eve TV and film moments. But, perhaps most importantly, this is the time of year when we all come to terms with the fact that we still do no know the actual lyrics to (and meaning of) Auld Lang Syne. Let's celebrate all  this good stuff with a look back at some of the best New Year's Eve scenes in TV and Film.
Mad Men, "The Doorway"
The season six premiere showed us a coming new year, with a new Don Draper. Except it was really the old Don Draper. We'd all been waiting to find out if Don was actually, really going to go back to his adulterous ways after some difficulties with his new wife Megan. And sure enough, a New Year's Eve blizzard hits sending Don's neighbor Dr. Rosen to the hospital, and leaving Don to sleep with Mrs. Rosen. As 1968 rings in Don's new lover asks him what he wants for the New Year and he answers — as only Don could — "I want to stop doing this." 
Family Guy, "Da Boom"
Oh, the epicness of this episode! The world comes to an end and the Griffins are among a handful of survivors. We all learned that when the apocolypse is upon us, it's best to head for the nearest Twinkie factory… oh, and never trust a chicken with a coupon.
Everybody Hates Chris, "Everybody Hates New Year's Eve"
In which young Chris tries to do the impossible and spend New Year's Eve in Times Square after getting a flat-out, unconditional 'NO" from his mother. An epic adventure ensues. 
South Park, "Are You There God, It's Me Jesus?"
Cartman gets his "period," Jesus returns to Earth and throws an epic New Year's Eve bashment, and — of course — God finally shows himself.
Sex And The City
If you didn't cry when Carrie made it to Miranda's house in time, then you are a soul-less human being and we can't be friends. Or, you just hate Sex And The City. But seriously, how are you not crying watching this?!
About A Boy
There are so many unforgettable scenes from this movie, and when you're finished reading this list you have our permission to go watch the whole thing on Neflix. But first, here's where it all began. A simple New Year's Eve lie (about a boy … who is not his son) lands Will in a tricky situation that eventually makes for an awesome new family of sorts. 
When Harry Met Sally
All these years later, and this is still probably the best New Year's Eve scene ever.