Marion Cotillard's Top 10 Performances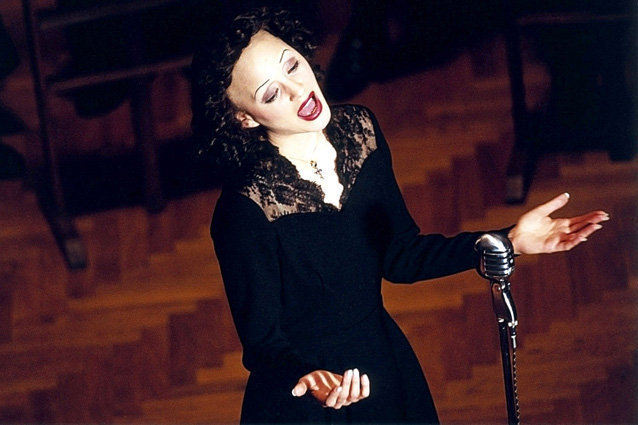 Picturehouse via Everett Collection
If you've ever seen Marion Cotillard in a film and asked yourself, "Is that the same actress from ____?" we are here to help. As the French film star-turned-American film star is preparing for the upcoming release of The Immigrant — her highly-anticipated film with Joaquin Phoenix and Jeremy Renner — we look back at 10 of her many amazing performances and attempt to rank them. This is a near-impossible task when they're all so brilliant, and Cotillard has taken on a myriad unforgettable characters over the years. For those not entirely familiar with the name, here are 10 reasons to get to know her, and for her biggest fans, feel free to disagree and share your own ranking in the comments.
10. Public Enemies
In the 2009 film from director Michael Mann, Cotillard played John Dillinger's lover, Billie Frechette. She beat out a slew of American actresses to play the singer/waitress who stole the outlaw's heart.
In the fantastic French comedy directed by her partner Guillaume Canet, Cotillard delivers a memorable performance as Marie. After a good friend is critically injured, she and a group of pals have a complicated and drama-filled vacation during which Marie smokes pot, takes a lover, and offers true support to the ones who need it most. It's a rebellious sort of character that we often see Cotillard playing, but it never gets old.
Another beloved French film star takes the lead in this one, but even alongside Audrey Tautou's standout performance, Cotillard holds her own as Tina Lombardi. She gives a thrilling performance as a vengeful prostitute, taking down the men responsible for her lover's death. Her story functions as a great parallel to Audrey's character Mathilde, who is also searching for answers about her missing lover, but goes about it in a far less violent way.
"You have just about one of the best faces ever" — truer words were never spoken. Cotillard as Picasso's lover and muse (Adriana) is probably one of the most perfectly cast roles. She embodied all of the nostalgia and Parisian enchantment we associate with this amazing film.
6. Nine
As the wife of Italian filmmaker Guido Contini, Cotillard slays all in this epic revenge, burlesque scene that took her out of her housewife role and brought her back to the stage. The film adaptation of Maury Yeston's musical centered around a host of talented actresses as Guido's women — Penélope Cruz, Kate Hudson, and Nicole Kidman all delivered strong performances. But it's Cotillard as Mrs. Contini who manages to cut her husband down and bring the director to his knees.
Moviegoers everywhere got the shock of their cinematic lives back in 2012 when Cotillard, initially thought to be the sweet and lovely philanthropist Miranda Tate, revealed herself as the daughter of Ra's al Guhl. That slow knife, and the story of her childhood escape from hell on earth made her one of the most excellent villains we'd ever met.
4. Inception
After her role in Christopher Nolan's Oscar-winning film, Cotillard finally started to become more of a household name for American audiences. She shocked, swayed, and frightened us as Mal — a woman, a dream, a projection of the subconscious of her husband, protagonist Cobb (Leonardo DiCaprio). Stuck between reality and limbo, her haunting and violent presence brought much of the tragic beauty to this powerful narrative.
Over 10 years ago Cotillard found love on the film set of Love Me If You Dare. She and Guilluame Canet now have a little boy together, but they started out in a brilliantly dark story about young love and a game of dare gone terribly wrong (or terribly right, depending on how you like your film endings).
A troubled boxer and an orca trainer who suffers a terrible accident develop an intense bond in this dark and brilliant tale based on the short stories of Craig Davidson. In one of her finest hours, Cotillard plays Stéphanie and her onscreen transformation from one type of woman, to another, to another is thrilling to witness. Her powerful chemistry with Matthias Schoenhaerts (who also delivers a knockout performance) makes the film a heartbreaking, spectacular experience in love, pain, and family.
As amazing as she has been in all of these other performances, nothing compares to Cotillard's turn as beloved French singer and performer Édith Piaf in the 2007 biopic La Vie en Rose. The actress became the first to win a Best Actress Academy Award for a French-language role, as the powerhouse performance simply could not be compared to anything else that came out that year. Cotillard was unrecognizable as Piaf, and brought to life one of the most compelling true stories of our time.
Follow @Hollywood_com Follow @shannonmhouston