Biggest Memorial Weekend Ever!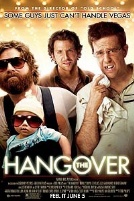 With Memorial Weekend guaranteed to eclipse the $255 million Friday through Monday record set in 2007 with around $280 million plus, the Summer movie season of 2011 is racking up big numbers at a breakneck pace.  Warner Bros.' The Hangover: Part II led the charge with an incredible $86.5 million Friday through Sunday gross that is the biggest comedy debut ever beating 2007's The Simpsons Movie ($74.0M) and shattering the previous R-rated comedy debut set for 2008's Sex and the City: The Movie and its $56.8 million first weekend.
Memorial weekend is one of the biggest movie-going periods of the year and 2011 gets us back on track after a dismal showing in 2010 that had revenues dipping to 4th lowest level in nearly 20 years with $192.2 million. 
Warner Bros.' The Hangover: Part II is the much-anticipated follow up to the beloved first installment released in 2009 that went on to become the highest grossing R-rated comedy of all-time and the 6th highest grossing film released that year.  Bringing together the original cast including Bradley Cooper and Zach Galifianakis, director Todd Phillips has transplanted the fun to Thailand and has taken the R-rated situations to a whole new level. After a huge opening Thursday as bolstered by record R-rated midnight screenings, the film has earned $118.1 million in its first 4days and is will take in around $140 million for the first 5 days of release.
Animated films have provided many of the success stories of the first quarter with Gnomeo and Juliet, Hop, Rango and Rio all drawing huge audiences looking for family appropriate entertainment.  Dreamworks Animation's Kung Fu Panda 2 in 3-D from Paramount Pictures is the second installment in the franchise and follows the 2008 original which earned over $630 million in global revenue. Opening on Thursday, the film has kicked its way to $48 million for the for the Friday through Sunday period and $53.8 million in its first 4 days.  Expect a 5 day total of around $68.2 million.  In China the film was a smash in IMAX, opening Saturday in 22 locations and generating over $300,000 on that day alone!
Disney's global juggernaut Pirates of the Caribbean: On Stranger Tides was in perfect position to grab up the PG-13 crowd that will be left out of "The Hangover" or too old for "Kung Fu Panda.  A holiday-powered second weekend gross of $48 million for the Friday through Sunday portion of the weekend lands it in 3rd place this weekend.  An international opening weekend record gave this pirate a mighty bounty and much momentum as it sailed into its second weekend.  IMAX has provided a major global boost to the film generating over $30 million in big screen bucks in just 11 days with $9 million this weekend alone.  The film has earned $152.9 million in North America after 10 days of release.
Bridesmaids from Universal has enjoyed an incredible run at the multi-plex.  In its second weekend the film dropped a mere 20% and Memorial Weekend has proven to be yet another stellar one for the R-rated comedy.  In this, its 3rd weekend the raunchy bridesmaids took 4th place at the box office buffet table with a gross of $16.4 million and a domestic cumulative to date of $85 million.
Rounding out the top 5 is Paramount's Thor which has been generating solid word-of-mouth since its debut when it kicked off the summer season.  Memorial weekend gave the superhero a 3-day haul of $9.3 million as it easily crosses the $150 million mark at the domestic box office.  Of course Universal's Fast Five found itself in the mix in 6th place with $6.6 million as its brand of popcorn entertainment is particularly well suited to Memorial weekend movie-going.
Four-Day weekend figures will be released on Monday.
Memorial Weekend Box-Office Estimates
Top Movies – For Weekend of May 27, 2011
    Movie     F-S-S Weekend     Total to Date
1     The Hangover Part II (R)     $86.5M     $118.1M
2     Kung Fu Panda 2 (PG)     $48.0M     $53.8M
3     Pirates of the Caribbean: On Stranger Tides (PG-13)     $39.3M     $152.9M
4     Bridesmaids (R)     $16.4M     $85.0M