Bill Murray Joins Cast of 'B.O.O.' and Brings the Film From Nay to Yay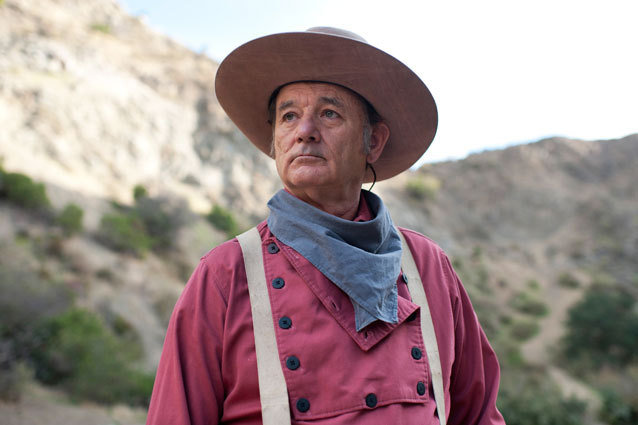 A24 via Everett Collection
Bill Murray is about to ghost it up… again. The Ghostbuster veteran is set to join the cast of B.O.O.: Bureau of Otherworldly Operations, according to a tweet from DreamWorks Animation.
The animated supernatural flick will follow "two bumbling apparitions who find themselves in an extraordinary after-life adventure when they join the Bureau of Otherworldly Operations (B.O.O.) – the ghost world's elite counter-haunting unit – and ultimately must face off against the planet's greatest haunter." Murray will voice a villainous ghost named Addison Drake (and we can only hope that he's the "greatest haunter" that the plot speaks of).
While the cast includes a star-powered line-up – Seth Rogen, Melissa McCarthy, Rashida Jones, Matt Bomer, and the recently announced Jennifer Coolidge and Octavia Spencer will all voice the comedy – the film didn't seem like it was going to be any different from various other star-packed animations… that is, until Murray signed on. The film's director Tony Leondis (Igor) said: "Bill Murray is the perfect actor to bring this character to life — or should I say 'after-life?'", and we couldn't agree more.
Adding Murray to any movie instantly ups its appeal and makes it standout from the crowd, mostly because Murray stands out from the crowd himself. From Zombieland to Charlie's Angels to Get Smart, Murray manages to turn movies that have the potential to be complete duds into movies that, well, feature Bill Murray, and that makes the film more attractive. He's like the spicy kick of herbs that a bland dish needs. Adding him into the mix almost makes you forget what's going on behind him. So when in doubt, make sure Murray is in your movie.
20th Century Fox will release B.O.O. on June 5, 2015.