Blu-ray Exclusive: Why 'West Side Story' Was Almost About Catholics Vs. Jews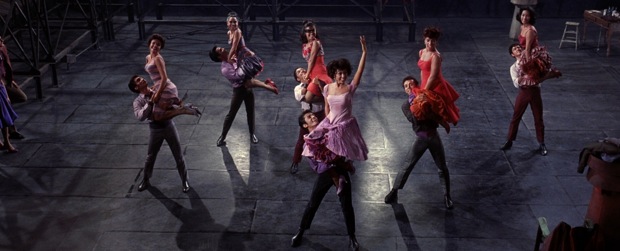 Even fifty years later, the cinematic adaptation of Leonard Bernstein and Stephen Sondheim's New York City-set, racially-infused Romeo & Juliet riff West Side Story still feels edgy, visceral and ripe (even with Glee trying its best to modernize it). Director Robert Wise made full use of his backlot production value, crafting dance sequences with more energy than most of today's blockbuster action scenes and an eye-popping color palette to match. Tomorrow the film is will hit Blu-ray for the first time, and there are few films so deserved for the format as West Side.
As a big fan of the movie, I was startled when I learned that the original conception of the musical did not begin with the Puerto Rican Sharks and the White American Jets, but instead focused on the clash between New York Catholics and Jews. In this exclusive Blu-ray clip, from the special feature "A Place For Us: West Side Story's Legacy – Creation and Innovation," Bernstein's daughter explains what triggered the famed composer to switch gears and develop West Side Story into the classic it is today. A fascinating look into the creative process.
West Side Story hits Blu-ray tomorrow, November 15.
="font-style:>