'2 Guns' Shoots Ahead of 'Wolverine & 'Smurfs' at Box Office
Denzel Washington and Mark Wahlberg loaded up their weapons in Universal's 2 Guns and topped the chart with $27.4 million while taking on a formidable Wolverine and some very popular Smurfs in this weekend's box office derby.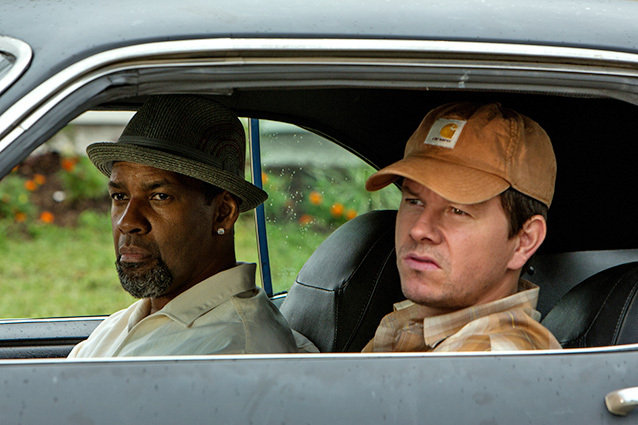 Universal got right back in the box office fight and erased the memory of the lackluster performance last weekend of R.I.P.D. with the R-rated action comedy 2 Guns. Baltasar Kormakur who directed Wahlberg in the early 2012 hit Contraband ratchets up the action even further and pairs two of the most popular stars in cinema today to great effect. A great marketing campaign and effective trailer didn't hurt either. This film marks the seventh time Universal has claimed the No. 1 spot at the North American box office in 2013.
Fox's The Wolverine took the second spot with $21.7 million and brings its 10 day total to $95 million. In the film's favor is that Hugh Jackman has gotten solid reviews from critics and additionally the film is doing well overseas.
On the complete other end of the genre spectrum is the debut of the sequel to the 13th highest grossing film of the summer of 2011 as The Smurfs 2 gathers together the cute little blue guys for another run at the big money this weekend. During virtually the same weekend in 2011 (opening 7/29), the first installment opened in second place with an impressive $35.6 million (Friday through Sunday) and went on to a North American total of $142.6 million. These sequel Smurfs generated less dollars with $18.2 million for the weekend and $27.76 million in its first five days, but had a great performance overseas banking $52.5 million in 43 territories for an impressive $80.3 million global opening.
Warner Bros. R-rated horror profit making machine The Conjuring in its third weekend exorcised its way into the $100 million club this weekend with a gross of $13.66 million good enough for fourth place.
Fifth place goes to the Minions of Despicable Me 2, which in its fifth weekend took in $10.4 million and crossed the $325 million mark in North America alone. The film has now earned a whopping $713 million worldwide.
Sony Pictures Classics added 44 theaters for a total of 50 to Woody Allen's per-theater average hero Blue Jasmine and again impresses as the great reviews and continued solid word-of-mouth make this the "must see" specialized film in the marketplace. Notably, the weekend numbers for Blue Jasmine ($2,022,074) are comparatively higher than those for the second weekend of Midnight In Paris, which grossed $1,924,038 on 58 screens.
As we enter the final month of the summer movie season, revenues are looking good overall as we remain around 11% ahead of last year's pace.
Top Movies for Weekend of August 2 – August 4 (Estimates)
Rank     Movie     Gross     Theaters     Avg.Per     YTD     Distributor
01     2 Guns     $27.4M     3,025     $9,045     $27.4M     Universal
02     The Wolverine     $21.7M     3,924     $5,536     $95.03M     Fox
03     The Smurfs 2     $18.2M     3,866     $4,708     $27.8M     Sony
04     The Conjuring     $13.66M     3,115     $4,385     $108.6M     Warner Bros.
05     Despicable Me 2     $10.39M     3,207     $3,240     $326.7M     Universal
06     Grown Ups 2     $8.1M     3,075     $2,634     $116.4M     Sony
07     Turbo     $6.4M     2,985     $2,144     $69.5M     Fox
08     Red 2     $5.65M     2,755     $2,051     $45.15M     Lionsgate
09     The Heat     $4.7M     2,074     $2,278     $149.6M     Fox
10     Pacific Rim     $4.57M     1,803     $2,535     $92.96M     Warner Bros.