'Lee Daniels' The Butler Kicks Ass at the Box Office!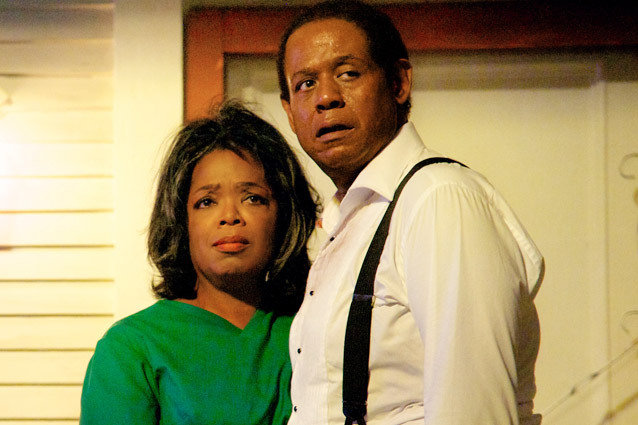 Oprah Winfrey is a marketing machine and the evidence is clear as the true life biopic Lee Daniels' The Butler tops the chart this weekend with an impressive $25.01 million. The film is already generating Oscar buzz with Forest Whitaker's portrayal of a butler who served under numerous U.S. Presidents for 34 years garnering much praise from audiences and critics alike. This is the first number one opening weekend for The Weinstein Co. since 2009's Inglourious Basterds and proves that when Oprah endorses anything, whether a book or a movie, audiences listen.
In second place with $17.78 million is Warner Bros.' R-rated comedy We're the Millers which impressively of all the wide release films for this Summer, had the best second weekend at hold at just 33%. The film is just shy of the $70 million mark in North America.
Third place goes to Sony's R-rated sci-fi thriller Elysium which in its second weekend blasted up another $13.6 million against a 54% drop after a first place debut last weekend and $55.9 million to date in North America. The Matt Damon film directed by District 9's Neil Blomkamp earned an estimated $22 million overseas this weekend, bringing its cume to $37.7 million internationally and $93.6 million worldwide.
Universal's Kick Ass 2 came in much lower than expected for a fourth place debut of $13.568 million,  the original Kick Ass opened in April of 2010 with a number one debut of $19.8 million and many were expecting a number in that range for the R-rated action sequel this weekend.  Internationally the film fared better opening in 17 territories this weekend and grossed an estimated $6.3M at 1,500 dates.
The Top 5 is rounded out by Disney's animated Planes in its second weekend with $13.14 million and $45.09 million to date while Open Road's Steve Jobs biopic Jobs starring Ashton Kutcher in the titular role also opened to a less than expected $6.7 million in seventh place as did the Harrison Ford film Paranoia from Relativity Media in the number 13 spot with $3.5 million.
Only two more weekends left in the summer movie season and we are running nearly 11% ahead of the season at the same point last year.
Top Movies for Weekend of August 16 – August 18 (Estimates)
Rank     Movie     Gross     Theaters     Avg.Per     YTD     Distributor
01     Lee Daniel's The Butler     $25.01M     2,933     $8,527     $25.01M     TWC
02     We're the Millers     $17.78M     3,325     $5,347     $69.5M     Warner Bros.
03     Elysium     $13.6M     3,284     $4,141     $55.9M     Sony/Tri-Star
04     Kick-Ass 2     $13.568M     2,940     $4,615     $13.568M     Universal
05     Planes     $13.14M     3,716     $3,536     $45.09M     Disney
06     Percy Jackson: Sea of Monsters     $8.375M     3,080     $2,719     $38.9M     Fox
07     Jobs     $6.7M     2,381     $2,814     $6.7M     Open Road
08     2 Guns     $5.572M     2,471     $2,255     $59.2M     Universal
09     The Smurfs 2     $4.6M     2,349     $1,958     $56.9M     Sony
10     The Wolverine     $4.425M     2,058     $2,150     $120.45M     Fox