'The Conjuring' Performs Box Office Exorcism!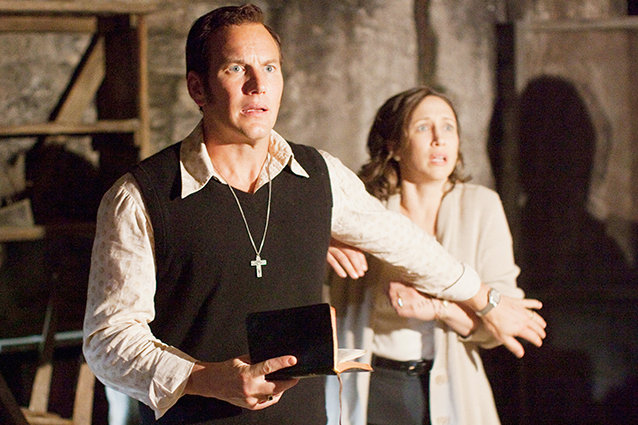 Warner Bros. R-rated scare-fest The Conjuring takes a heaping helping of The Exorcist, a dash of Amityville Horror and a sprinkling of The Birds, mixes in a terrific cast and comes out on top with a much better-than-expected $41.5 million at very crowded multi-plexes this weekend. A great marketing campaign, counter-programming strategy and an impressive A- CinemaScore certainly paid big dividends. Patrick Wilson and Vera Farmiga star as Ed and Lorraine Warren in the "based on a true story" account of particularly nasty demon that inhabits the newly purchsed home of a married couple (Ron Livingston and Lili Taylor) and how it begins to terrorize them and their young daughters. Packed with great tension and solid performances, director James Wan (Saw, Insidious, Saw III) is one of the most effective helmers working in the genre today and delivered at a $19.5 million production cost, a profit making hit.
Universal's Despicable Me 2 continues to charge toward the $300 million mark in North America and $600 million worldwide while taking the second spot after two weeks at number one with $25 million for the weekend.
In third place as perfect counter-programming to the scary R-rated The Conjuring, Fox and Dreamworks animation unleashed the animated Turbo. When it opened on Wednesday it grabbed the pole position with a gross of $5.5 million. A five day (Wed. through Sunday) total of just over $31.2 million and a three day weekend of $21.5 million made this a solid debut for a non-sequel animated family film. A remarkable CinemaScore of A+ will ensure the film's success in the coming weeks. According to Fox, internationally Turbo punched it off the line, earning $22.6m from 6,203 screens in 28 markets. The film is #1 in 19 countries. Strong openings in Europe (Russia, Portugal, Greece), Asia (Philippines, Malaysia and Thailand) and Latin America (everywhere) find the film thriving across all cultures and countries.
Sony's Grown Ups 2 put in a respectable second weekend performance landing in fourth place with $20 million against a 52% drop and $79.5 million in North America after just 10 days of release.
Debuting in fifth place with an expected $18.5 million is the PG-13 rated Red 2 from Summit Entertainment/Lionsgate that shot its way back into 3016 theaters this weekend. Following up on the success of October 2010's first installment which opened with $21.8 million and went on to earn just over $90 million at the North American box office, this latest version features the terrific cast that made the first film an action packed comedy hoot. Bruce Willis, Helen Mirren, John Malkovich & Mary-Louise Parker return as mostly-retired black-ops agents who return for yet another over the top mission. Directed by Dean Parisot (Galaxy Quest), Red 2 should landed just shy of the box office territory of the first film as it attracted older audiences back to the summer movie marketplace.
Sixth place goes to Warner Bros.' Pacific Rim earning nearly $16 million in its second weekend and $68.2 million to date.
Universal's R.I.P.D. (Rest in Peace Department) opened in 2,849 theaters and managed a mere $12.762 million for a seventh place debut. The film was directed by Robert Schwentke (who also directed the first Red film) and features Jeff Bridges and Ryan Reynolds in this $130 million production. As an action crime comedy with a supernatural premise, the film had a tough time finding an audience in this very crowded marketplace.
The summer movie season of 2013 at this point is performing well despite some high profile big budget flops of late and has managed to outpace every summer since 2010 at the same point and maintain an impressive 10% revenue advantage over last year.
Top Movies for Weekend of July 19 – July 21 (Estimates)
Rank     Movie     Gross     Theaters     Avg.Per     YTD     Distributor
01     The Conjuring     $41.53M     2,903     $14,306     $41.53M     Universal
02     Despicable Me 2     $25.0M     3,820     $6,560     $276.1M     Universal
03     Turbo     $21.5M     3,806     $5,649     $31.2M     Fox
04     Grown Ups 2     $20.0M     3,491     $5,729     $79.5M     Sony
05     Red 2     $18.5M     3,016     $6,134     $18.5M     Lionsgate
06     Pacific Rim     $15.95M     3,285     $4,857     $68.2M     Warner Bros.
07     R.I.P.D.     $12.76M     2,852     $4,475     $12.76M     Universal
08     The Heat     $9.32M     2,689     $3,468     $129.3M     Fox
09     World War Z     $5.2M     2,006     $2,592     $186.9M     Paramount
10     Monsters University     $5.0M     2,186     $2290     $249.0M     Disn