'The Wolverine' Scores Big Weekend at Box Office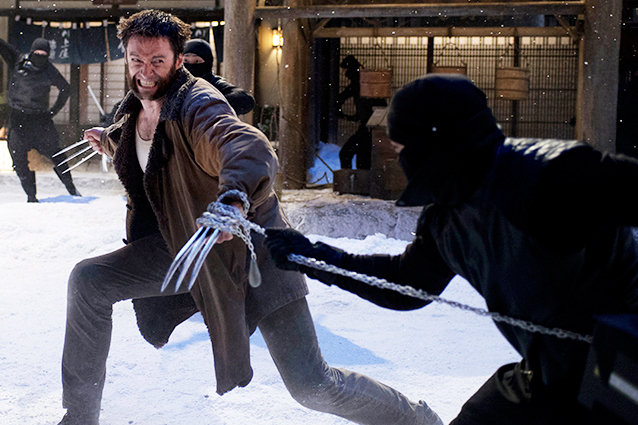 Hugh Jackman returns as Twentieth Century Fox unleashed Marvel's The Wolverine in 3,924 theaters and as expected topped the weekend with a debut of $55 million. Notably, this is the sixth film in X-Men film franchise which has to this point generated a massive worldwide theatrical box office total of $1.9 billion! Strong word-of-mouth and solid reviews will keep this one strong in the weeks ahead. The film had a great start internationally:
The Wolverine
Weekend International Gross estimate=$86.1M
101 territories, 15,152 screens
Total Worldwide Gross Estimate= $141.1M
Budget was just under $120M
A- CinemaScore
Notably, this is the sixth film in X-Men film franchise which has to this point generated a massive worldwide theatrical box office total of $1.9 billion!
As no surprise, second place goes to Warner Bros.' R-rated horror hit The Conjuring which scared up a devilish $41.8 million in its debut last weekend and was the mid-week champ possessing over $60 million as it  started the weekend. With great reviews and solid word-of-mouth, this particular horror movie had a much less severe second weekend drop than is typical for the genre at only 47% and therefore was able to scare up another $22.13 million in further profits during the Friday through Sunday period and $83.867 million to date.
Universal's Despicable Me 2 is now the second highest grossing film released so far this year with over $306 million in North America (second now only to Disney's Iron Man 3 which reigns at the top with $407.1 million) as it winds up its fourth weekend in theaters. With another $16 million this weekend it lands in third place and brings its global cumulative gross to an impressive $660.9 million.
Fourth place belongs to Fox's animated Turbo which powered its way past the $50 million mark this weekend with a Friday through Sunday gross of $13.325 million in its second weekend.
The Top 5 is rounded out by Sony's Adam Sandler comedy Grown Ups 2 with $11.5 million it its third weekend and crossing the $100 million mark by Sunday night.
In its first wide expansion The Weinstein Co.'s Fruitvale Station added 1030 theaters this weekend and impresses with a 10th place finish overall for the weekend with $4.657 million and $6.3 million to date.
Woody Allen's latest film, Blue Jasmine from Sony Pictures Classics performed incredibly well this weekend taking in a massive $612,767 in just 6 theaters and posted the highest opening per-theater average of any film released this year and one of the best of all-time with $102,128.
Summer revenues remain strong as we head toward final month of the most important movie-going season of the year. This week look out for The Smurfs 2 from Sony which debuts on Wednesday and 2 Guns from Universal which opens Friday.
Top Movies for Weekend of July 26 – July 28 (Estimates)
Rank     Movie     Gross     Theaters     Avg.Per     YTD     Distributor
01     The Wolverine     $55.0M     3,924     $14,016     $55.0M     Fox
02     The Conjuring     $22.13M     3,022     $7,323     $83.86M     Warner Bros.
03     Despicable Me 2     $16.0M     3,476     $4,610     $306.4M     Universal
04     Turbo     $13.32M     3,809     $3,498     $55.76M     Fox
05     Grown Ups 2     $11.5M     3,258     $3,530     $101.66M     Sony Pictures
06     Red 2     $9.4M     3,016     $3,117     $35.1M     Lionsgate
07     Pacific Rim     $7.54M     2,602     $2,898     $84.0M     Warner Bros.
08     The Heat     $6.85M     2,384     $2,873     $141.2M     Fox
09     R.I.P.D.     $5.85M     2,850     $2,055     $24.3M     Universal
10     Fruitvale Station     $4.657M     1,064     $4,377     $6.33M     Weinstein Co.