Bradley Cooper for Lance Armstrong? The Awkward History of Actors Campaigning for Roles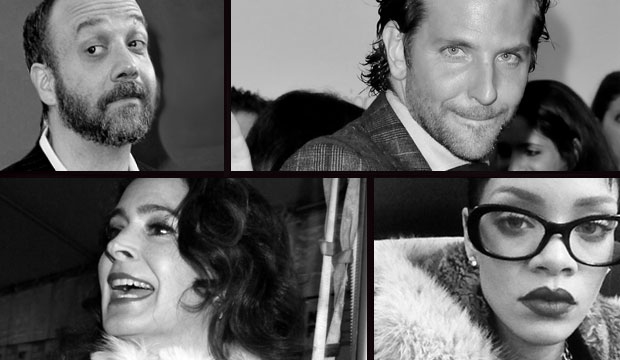 To effectively stake their claim in the wild, animals spray their urine on trees, plants, and patches of ground surrounding their desired territory. The acting community uses a similar tactic to nab roles, swapping out pee for a well-timed red carpet quote.
In the jungle of Hollywood, landing a major part is a survival of the fittest competition. Even the men and women at the top of the food chain have to leave their mark.
Bradley Cooper is the latest actor to enter into the tricky world of public role campaigning, connecting himself to an upcoming Lance Armstrong biopic produced by J.J. Abrams. Unlike a cougar tinkling on a nearby bush, slipping casting suggestions into the swirling rumor pool is a subtle art.
Cooper originally told the BBC that he would love to play the controversial biker, only later to state that he wasn't even aware that Abrams was producing a film based on the athlete's life. Unfortunately, the matter complicated itself for Cooper when Abrams revealed at the Producer's Guild Awards that Cooper had sent him a personal e-mail regarding the movie. Cooper may insist he's not chasing the part, but you can bet the other A-List badgers smell his scent all over it.
RELATED: Bradley Cooper Wants To Play Lance Armstrong: Why He's Perfect
When it comes to publicly courting roles, it's all about recognizability. Actors and actresses aren't making a big to-do about nabbing the the lead in a drug addiction indie film or the most recent adaptation of that 18th century novel everyone read in high school. No, they want the part audiences have already heard of; in Hollywood, that's either the biopic or the superhero blockbuster.
Thanks to the wonders of Internet, speculative campaigning can spread like wildfire. Rihanna says she wants to play Whitney Houston in a non-existent biopic instantly begins fueling the idea of Rihanna playing Whitney Houston in a biopic.
Last year, Drake told the NY Post that he'd love to play Obama. He was even preparing for the role, one that no one is asking him to take on. "I watch all the addresses. Any time I see him on TV, I don't change the channel. I definitely pay attention and listen to the inflections of his voice. If you ask anyone who knows me, I'm pretty good at impressions."
The self-campaigning doesn't end at mere suggestion. To put himself in front of F. Gary Gray's eyes in hopes of landing the lead in the NWA biopic Straight Outta Compton, up-and-comer Ephraim Benton filmed a 13-minute video where he impersonates the group's frontman Eazy E. Will it work? Or rather, is it good enough to help his chances?
Attempting to spin exposure into a real life audition rarely works. Most memorably was Sean Young's failed attempts at courting Tim Burton to cast her as Catwoman in Batman Returns.
After being cast as Vicki Vale in the original Batman and losing the role after a horse riding incident, it was Young's prerogative to rejoin the franchise. She even dressed up in costume and making the media rounds to catch Burton's attention. Here she is discussing the role on Joan Rivers' talk show in 1992:
With comic book movies dominating the multiplexes, it's no surprise that famous faces continue to publicly declare themselves fans of caped crusaders in hopes of sparking interest in their casting.
RELATED: Lance Armstrong Confesses to Doping — Could He Face a Perjury Charge?
In 2011, at the height of Marvel fever (and a year out from Avengers), Patrick Dempsey told the LA Times he was anxious to take the lead in a proposed Doctor Strange film. "I've been lobbying for that. There's a whole bunch of people [among the Grey's crew] who are into comics and Marvel, too, on the set and they're like, 'Doctor Strange, that's the one you should do.' It would be fantastic."
The movie has been teased as a potential post-Avengers 2 project — will Dempsey still be marketable by 2016? Joining the actor in his Marvel praise is Friday Night Lights and Hart of Dixie star Scott Porter, who he recently threw himself into the ring for the role of Nova in Guardians of the Galaxy. He may not get his wish, as the character was not even included in Marvel's announced line-up. That's serious display of ambition on Porter's part.
Some actors go the extra step. Isaiah Mustafa, aka the "Old Spice commercial guy," was so driven to bring Marvel's genetically enhanced hero Luke Cage to screen, he went ahead and used his deodorant money to fund a fake trailer for the movie. Now, casting agents know what Mustafa looks like with glowing eyes:
Hung star Thomas Jane was vocal about his diehard passion for comic books and The Punisher character before taking on the role in the 2004 adaptation. So it's not surprising that when he wasn't asked to return for the sequel, 2008's Punisher: War Zone, he left with a chip on his shoulder.
Hoping to prove himself Hollywood's one and only Punisher, Jane reprised the character in a self-produced short film that he premiered under the radar at the 2012 San Diego Comic-Con. The film boldly tells Hollywood to screw themselves… but also to consider rehiring him for a new Punisher feature.
This isn't to say that publicly campaigning for a coveted role never works. Monday may have been an example of the strategic move blowing up in one actor's face, but it also proved that it can work in the right hands. In 2011, Paul Giamatti told Conan O'Brien that he was dying to star in a Spider-Man movie as the over-the-top villain The Rhino.
RELATED: Andrew Garfield on 'Spider-Man' Costume Changes, Superhero Responsibilities
Late Monday afternoon, we confirmed that Giamatti's wish has indeed been granted: the actor will suit up for Amazing Spider-Man 2. Giamatti is one Hollywood wolf who knows how to mark his territory… proving once and for all that rhino urine leaves the harshest stench.
Follow Matt Patches on Twitter @misterpatches
[Photo Credit: WENN]
---
You Might Also Like:

Biden? Ford? Surprisingly Hot Young Pics of Politicians

Who Wore This Crazy Hat?

Stars Who Changed Their Look After Love