Bradley Cooper Wants To Play Lance Armstrong In Biopic: Why He's The Perfect Choice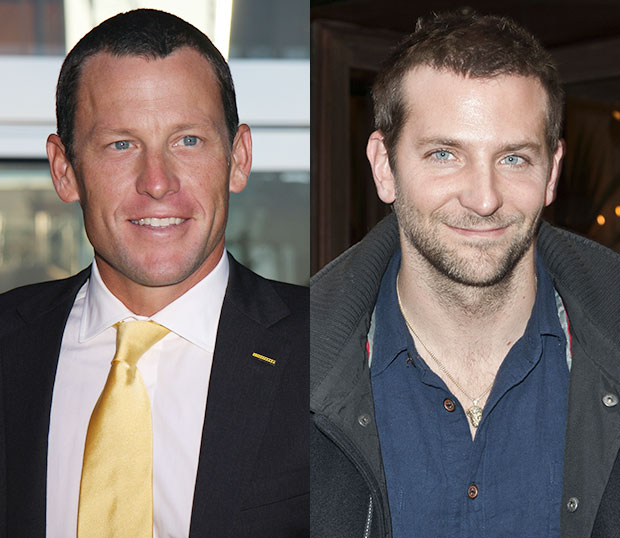 Playing Lance Armstrong in J.J. Abrams' upcoming biopic of the disgraced athlete must be every actor's dream. Not only would it require the star to get in peak physical shape, but it's bona fide Oscar catnip material. Triumph, defeat, cancer, drugs, international scandal, Oprah interviews, borderline sociopathy, it's all there. In fact, it might be even more challenging getting into the mind of someone as complex as Armstrong than it would be getting into his spandex bike shorts… and the former would at least be a venture that might pay off. 
So it's no surprise that
Bradley Cooper
is trying to jump on that train (or bike, rather) as early as possible. During an interview with
BBC News
, the 38-year-old actor said he'd be "interested in" playing the 41-year-old seven-time Tour de France "winner". "I remember thinking, that would be a great character, I'd love to play that character," Cooper said, adding, "I would love to do something, I think he's pretty fascinating."
Cooper noted that
Matt Damon
is among the names of Hollywood listers who have been pegged to taking on the task of playing the most criticized man in sports (don't get too comfy, Tiger Woods, they'll make a movie about you someday, too). But Damon wants no part in the film, as he told
MTV
back in November: "That ship sailed a while ago because of how old I was. I still think that story is remarkable and I'm sorry for what's happened, but I have to say he's done incredible things and he's given a lot of people a lot of hope, he's made a hell of an impact on a lot of lives and he raised a ton of money for cancer research. I love the guy."
With Damon out of the running, other top-notch actors such as Michael Fassbender, Jake Gyllenhaal, and Christian Bale have all had their names thrown into the mix. And while they'd all be stellar choices in their own right (Fassbender and Bale certainly know how to play tortured souls, while Gyllenhaal is a bicycling enthusiast) here's why the former Sexiest Man Alive is the best man for the job. 
While Cooper may not be the spitting image of the person he's portraying (when has that ever stopped Hollywood before?), he's more than proven himself as a versatile actor, and the Armstrong role would most certainly run the gamut of skills needed. Onscreen he's experienced the side effects of drugs in both
Limitless
and his powerful, Oscar-nominated turn in
Silver Linings Playbook
; he's trained to achieve an athlete's body (
The A-Team
); he's played the bad guy so well he kept getting typecast as one (
Wedding Crashers
,
The Hangover
,
He's Just Not That Into You
); and he's even played someone whose trail of lies and deceit eventually caught up with him (
The Words
). 
But, more than anything else, Cooper has proven himself as a pretty great actor, especially with Silver Linings Playbook. For someone who seemed doomed to play the same parts as a jock lunkhead or, worse, fall victim to too much tabloid fodder for his dating life, Cooper has proven his skeptics wrong. His breakout performance — in which he balanced beautifully upon the high wire of playing someone with bipolar disorder — likely won't earn him an Oscar next month (that's pretty much Lincoln star Daniel Day-Lewis' to lose), but it doesn't mean it won't set him on the path toward even greater roles. Maybe, in the end, that will turn out to be the small silver lining of this scandal. 
[Photo credits: Chris Connor/WENN; INFPhoto]
More: 
What Lance Armstrong Can Learn From 'Homeland's Disgraced Hero

100 Hottest Women of the Century: PICS