Bright Lights of Hanukkah: 'An American Tail'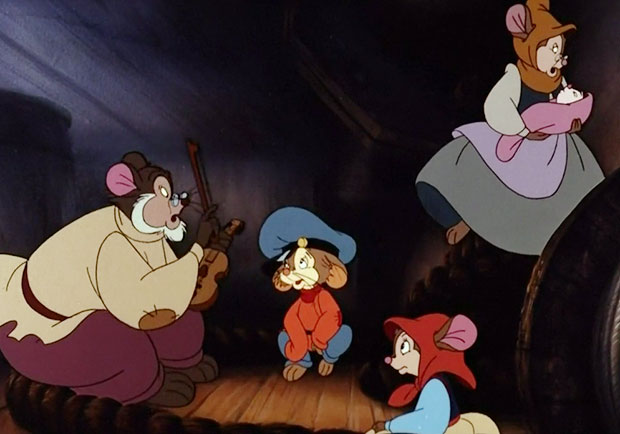 Somewhere, out there, beneath the pale moonlight… someone's thinking of us — that is, the Jewish population — and making a children's movie to celebrate our often somber but wholly rich heritage and historical background. Today's installment of Hollywood.com's The Bright Lights of Hanukkah came about in 1986, predating most of our treasured benchmarks of the recognition of Judaism in mainstream pop culture: before The Maccabeats, Ross Geller's Holiday Armadillo, the Rugrats Hanukkah special, Sesame Street's sixth installment of Shalom Sesame, or Saturday Night Live's Hanukkah Harry, there was the animated Universal Pictures movie An American Tail: the very first example I can remember of seeing my religion and its solstice holiday acknowledged in a movie or on a television show.
An American Tail, a parable for the Holocaust, opens in a dank hole in Nazi/cat-occupied Russia, with the Jewish Mousekewitz family celebrating a bittersweet Hanukkah, gripping their customs with ardor despite the danger in said practice. When Papa Mousekewitz bestows upon his young son Fievel — a derivative (or misspelling) of the masculine Yiddish nickname Feivel, which comes from Feibush — an oversized blue cap that would rest upon the latter's head eternally, it was the first time, in a long history of watching moving scenes of Christmas gifts transpose from parent to child, that many of us got to see a heartfelt Hanukkah moment on the big screen.
When you're a child whose culture hasn't gotten much of the cinematic spotlight, it's an emotional thrill, and quite possibly a self-esteem boost, to see it center stage in an animated adventure film — one that all of your friends would be seeing and quoting well into their nostalgic adulthoods. The great thing about An American Tail is that it isn't at all a movie directed at Jewish children. Without knowing a lick about Judaism, you can appreciate and relate to the unbelievably exciting, sad, and funny journey of Fievel, who vows to reunite with his family after being separated from the rest of them on their quest to the safe haven of America. But to young members of the tribe, the movie (Steven Spielberg's first animated production, in fact) offers that bonus that this hero, beloved and admired by all, is one of us: someone with whom we share a special common bond.
[Photo Credit: Universal Pictures]
More:
The Bright Lights of Hanukkah: Saturday Night Live's Hanukkah Harry
Bright Lights of Hanukkah: Shalom Sesame, Featuring Dreidel… of… Fortune!
Hanukkah Begins: A Lesson From The Holiday Armadillo On 'Friends'

'The Hobbit' Cast: A Who's Who New Character Guide (Moviefone)