'Oz' Still Enchants While 'Burt Wonderstone' Makes No Magic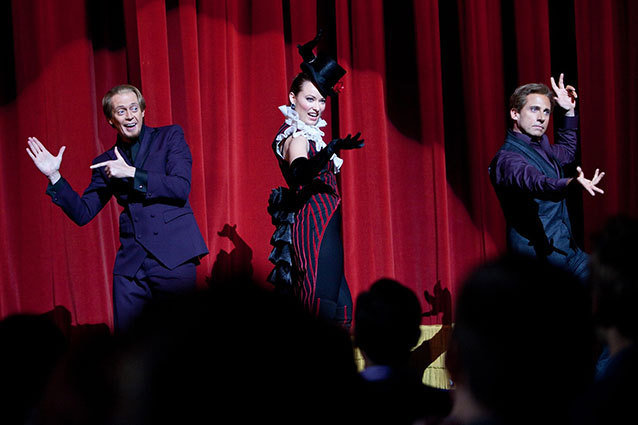 March's blockbuster hit Oz the Great and Powerful proved that audiences are still willing to believe in magic — that enchantment and whimsy are dazzling feats we're all happy to rush to the theaters to witness. But unfortunately for Warner Bros' new release The Incredible Burt Wonderstone, this doesn't exactly seem to be a phenomenon you can always bank on. The opening weekend for Steve Carell's Vegas magician comedy Burt Wonderstone saw a meager $10.3 million intake, against Disney's still-flying-high James Franco fantasy adventure picture's $42.2 million weekend gross (bringing its total earnings to over $145 million).
Additionally, Oz fared particularly well in the realm of IMAX. For its second weekend in theaters, the Disney film only suffered a 49% drop in IMAX ticket sales (far better than average, especially considering Oz's strong opening weekend), earning $4 million this weekend on 308 screens. This brings the film's IMAX total to $14.1 million.
Meanwhile, another newcomer fared a bit better than Wonderstone: Halle Berry's crime thriller The Call, a Sony/Tristar production, took in $17.1 million, exceeding expectations for the underdog picture.
RELATED: 18 Reasons It's Impossible to Root for Burt Wonderstone
With no other new wide releases this weekend, another fantasy adventure Jack the Giant Slayer and screwball comedy Identity Thief followed Wonderstone with $6.2 million and $4.5 million, respectively. Check below for the box office reports, all data courtesy of Hollywood.com Box Office Analyst Paul Dergarabedian.
1. Oz the Great and Powerful: $42,222,000, with $145,026,000 to date
2. The Call: $17,100,000
3. The Incredible Burt Wonderstone: $10,305,000
4. Jack the Giant Slayer: $6,220,000, with $53,913,000 to date
5. Identity Thief: $4,518,780, with $123,705,645 to date
Follow Michael Arbeiter on Twitter @MichaelArbeiter
[Photo Credit: Warner Bros.]
---
You Might Also Like:


Topanga's Revealing Lingerie Shoot: Hello '90s!


Disney Stars Gone Wild in 'Spring Breakers'