'Cabin in the Woods' Star Kristen Connolly Discusses Being The New Scream Queen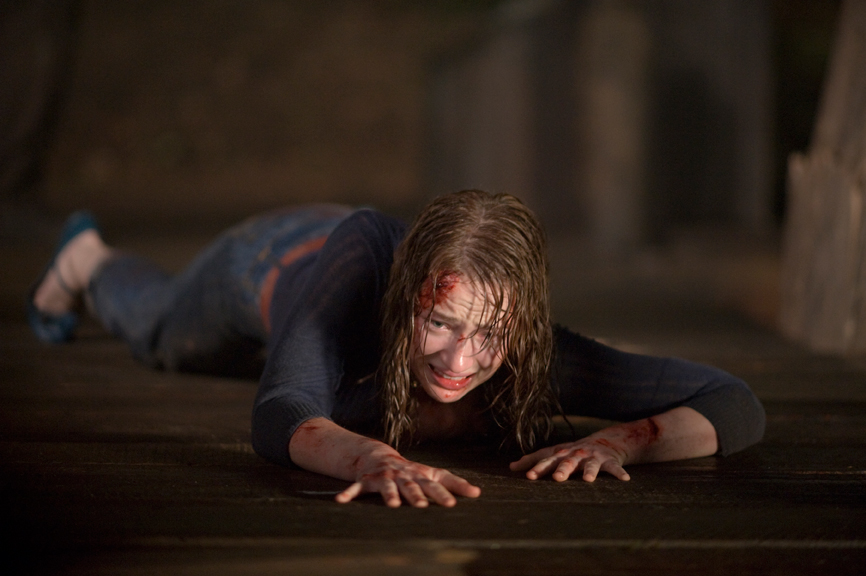 Horror can be an awfully scary place for women. If you're not a butt-kicking heroine in the tradition of Ellen Ripley or Laurie Strode, there's a good chance you'll be nothing more than a skewered, scantily clad teenager or, worst case scenario, a forgotten victim of a bleak, exploitative horror cliché.
But, as fate would have it for Kristen Connolly, she's one of the lucky ones. Well, as lucky as a gal who finds herself in the midst of a vacation-gone-terrifyingly-awry can be.  In the genre-bending horror comedy The Cabin in the Woods, which hits theaters today, Connolly — who recently chatted with Hollywood.com about her work on the film — plays Dana, sweet and smart college co-ed who is forced to find her inner horror movie heroine under some pretty twisted circumstances.
Of course, it helps your chances of being a big screen horror heroine if you're in the safe hands of Drew Goddard and Joss Whedon, who directed and wrote Cabin, respectively. "Joss and Drew are so smart, and such feminists really," Connolly said during our chat, "They are so respectful of women and so smart in writing their female characters. It was such an amazing set to be on and all of us felt really respected and taken care of. We weren't just like some of the teenagers you see in these horror movies where its like, 'Yeah, chop em up!'"
That's not to say Goddard and Whedon didn't draw inspiration from the classic slasher flicks of classic horror history. In fact, Connolly attributes Cabin's clever take on the classic horror archetype on their appreciation and respect for the genre. "Joss and Drew really love horror movies, and I think you can feel that in [Cabin.] It's not ironic , it's more of a love letter to the genre." And while Whedon-savvy moviegoers should immediately recognize how Cabin is a horror tribute with an ultra-meta twist, Goddard made sure his stars played it straight. "Drew would talk to us all the time about not winking at the camera, not acting like we knew we were in on it. You read the script and you go, 'Oh, clearly this is the jock, this is the virgin.' But they really didn't want us to act like that.  Drew just wanted us to play the scenes as truthfully as we could and to really go there as far as the terror of it."
But as anyone who has seen Connolly's star-making turn as the savvy Dana can attest, there was no lack of commitment on the actress' part when it came to taking viewers along for the shriek-filled ride. In fact, Connolly, whose pre-Cabin credits include soap operas (As the World Turns, Guiding Light), stage (King Lear at New York City's Public Theater), and screen (Revolutionary Road, The Happening), is already drawing comparisons to some legendary scream queens. A comparison the rising star takes no issue with. "People keep mentioning Jamie Lee Curtis and Sigourney Weaver and all these classic bad-ass women and I'm like 'Hey, if my name is in that company that's rad!'," said Connolly, who will appear in Barry Levinson's Bay ("It's a scary movie and I can tell you even less about this than Cabin in the Woods" she teased) and David Fincher's Netflix series House of Cards.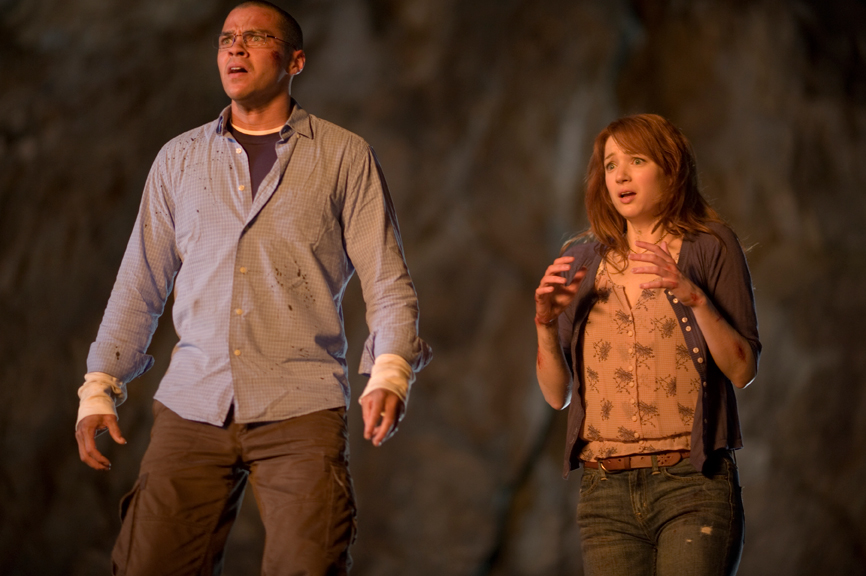 Still, it's praise Connolly (pictured here in a scene with her Cabin co-star Jesse Williams) doesn't take lightly considering Cabin's long and arduous road to the big screen. Greenlit in 2008, filmed in 2009 and shelved until 2011 after Lionsgate had picked it up from a struggling MGM, for some time it looked as though Cabin would never see the light of day. "It was frustrating while it was happening," Connolly admitted, "You shoot something and you want people to see it and we all loved making it and we all felt really proud of it, and for it to not be out and to not be able to talk about it was really hard. But I think the timing is actually perfect now."
Well, timing and some tremendous buzz surrounding the SXSW crowd-pleaser and its wild, shrouded-in-secrecy third act. Keeping in line with Cabin's rule-breaker attitude, genuine excitement for the film has even turned the unyielding culture of Internet spoilers on its head. Those who have experienced Cabin have diligently stuck to a no-spoil honor system, a feat almost unheard of for a buzzy project.
"I think that what's been so, really kind of touching actually, is to see these reviews and read stuff online and people who have seen the movie really aren't giving it away," Connolly acknowledged,  "and I think that's sort of a tribute to Joss and Drew and to people loving the movie. They know the fun of it is to go in not knowing anything. People are taking care of our movie."
So if you've managed to avoid the tempting spoilers, Connolly wants you to at least know this, when it comes to Cabin, the only thing you can expect is the unexpected. As the newly anointed scream queen, who described the movie as a "roller coaster," explained, "You see the same expression on people's faces when they come out and they're like, 'Whoa! That was crazy!'" Strap in, ladies and gents.
The Cabin in the Woods opens nationwide in theaters today.
[Photo credits: Lionsgate]
Follow Aly on Twitter @AlySemigran
More:
Joss Whedon Talks Cabin in the Woods
Cabin in the Woods Star Fran Kranz Talks Horror, Broadway, and Joss Whedon
Cabin in the Woods Director Drew Goddard: "I Wish People Would Just Go to the Theater and Be Surprised"