Can 'A Million Ways to Die in the West' Be This Summer's 'Hangover'?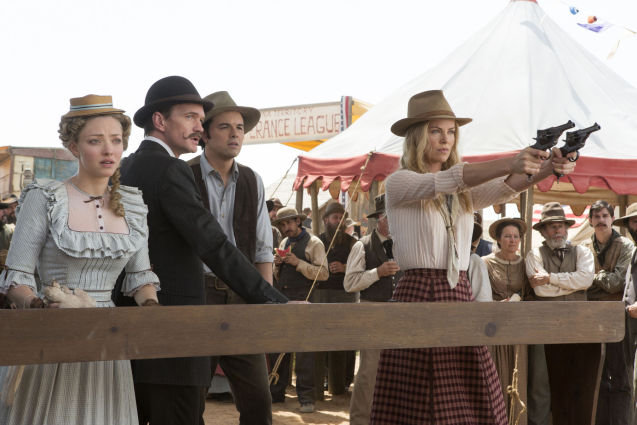 Universal
Can A Million Ways to Die in the West is easily the most anticipated comedy of the summer. It's a big budget, high-concept, R-rated exploit lining up a slew of actors whose comedic wiles we've enjoyed on the small screen. In short, it sounds a lot like this year's The Hangover. But will the Old West parody do for 2014 what the bachelor party laffer did back in 2009? Director, writer and star Seth MacFarlane sure has to be hoping so.
When MacFarlane's movie is released on May 30 — right at the beginning of the summer movie season — it will have much higher expectations than The Hangover did at the outset. Todd Phillips comedy of inspired debauchery had three leads (Bradley Cooper, Zach Galifianakis, and Ed Helms) with very little big screen success between them. The movie relied on a slick advertising campaign that set-up the premise along with positive word of mouth from reviewers and people that had seen preview screenings to post just under $45 million its opening weekend — way above expectations — and start a run that would end with it grossing over $467 million worldwide.
If A Million Ways to Die doesn't open just as strongly, it will be seen as a disappointment. Thanks to Family Guy, MacFarlane has a built-in audience that knows his comedy style and he showed with Ted that he can translate that to big screen success. This might be MacFarlane's first starring role, but he's been in front of the camera just enough — most famously as host of the Academy Awards — that he's a familiar face.
But the question remains: are MacFarlane's fans just as willing to go along with him as an onscreen actor instead of just having his voice coming out of an animated character? Perhaps just as importantly, are they willing to do it in a Western comedy?
The last time a comedy set in the Old West was considered cutting edge was Mel Brooks' Blazing Saddles… in 1974. MacFarlane's comedy borrows Saddles' zaniness, some of the plot from Bob Hope's The Paleface (or, since it's MacFarlane, maybe the Don Knotts remake The Shakiest Gun in the West), and mixes it with some Family Guy scatological touches to arrive at something new. In the trailer, there are plenty of people dying in various cartoonish ways, but there's also Sarah Silverman's saloon prostitute graphically detailing the odd request of her last client.
As a director, MacFarlane has surrounded himself with A-list talent. Charlize Theron is the mysterious woman that has to teach MacFarlane how to shoot a gun and be a man. Liam Neeson is the scary gunfighter he has to face off with. Amanda Seyfried plays MacFarlane's ex-girlfriend, with Neil Patrick Harris as the mustachioed man who stole her away. And then there's Silverman, with her sing-songy potty mouth and willingness to say anything for a laugh. There's an allure to watching big name actors say the sort of warped and profane dialogue that MacFarlane can dream up.
If audiences can get past the comedy's setting — which really is a big "if" — MacFarlane's second directing effort has all of the ingredients to be the comedy blockbuster of the summer… and quite possibly turn him into a bona fide movie star.