Cannes Chatter: Kirsten Stewart's 'On the Road' Premieres, We Get Two New Clips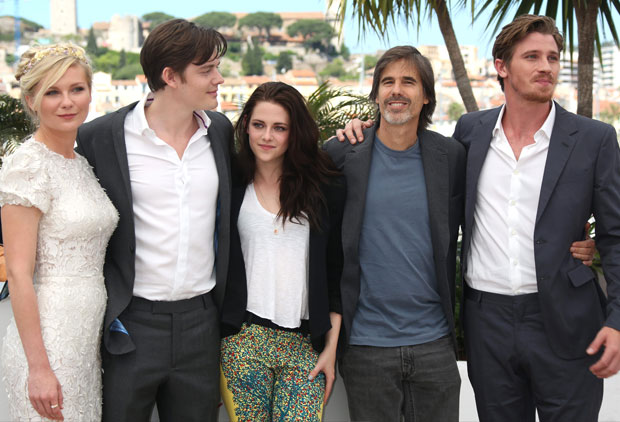 The 65th Annual Cannes Film Festival is officially in full swing, with nearly everyone in Hollywood transported to the prestigious French fest for a week and a half of wheeling and dealing. Catch up on all the goings-on with Cannes Chatter.
For a new mother, Natalie Portman shows no sign of slowing down. Along with roles in the upcoming Thor 2, the Terrence Malick double feature Knight of Cup and To the Wonder and a possible part in the next movie from the Wachowskis, Portman is now attached to star in Jane Got a Gun, a Western from We Need to Talk About Kevin director Lynne Ramsay. Deals for the film, which would see Portman playing a woman who must protect her home from the gangsters who killed her husband, are currently being pitched at Cannes. The script for Jane made the 2011 Black List, a compilation of the best unproduced scripts in Hollywood. Sounds like a winner already. [Deadline]
One of the bigger premieres of the festival went down Tuesday evening, the long-gestating adaptation of On the Road. Sporting Kristen Stewart, Garrett Headland, Sam Riley, Kirsten Dunst and a host of others, the Walter Salles-directed film was highly anticipated by attendees and film buffs alike. Did it satisfy?
The quintessential tome of the beat generation is loose and expressive, and The Hollywood Reporter suggests the filmmakers found a way to visualize the tone: "the colors are intense, looks and gestures are fleetingly caught, rhythms are varied to convey highs and lows of perception and sensation." HitFix is positive, giving props to Stewart who gives "good work…further indication that as soon as she puts the Twilight series in her rearview mirror, she's got a promising career ahead of her." Indiewire is less enthusiastic, suggesting that "after a while the film feels like any other roadtrip — no matter how beautiful the scenery flickering by through the window, eventually you just want to get out of the goddamn car," while Film School Rejects points out the clunky nature of the film as a whole — including the placement of its all-star cast. "The film also features lunatic cameos from Viggo Mortensen, Amy Adams and Steve Buscemi, which are all accomplished, but are dropped into the narrative too clumsily to make them feel like anything but ill-fitting jigsaw pieces." The movie will be released by IFC in the Fall, and now there are two new looks riding the coattails of the Cannes debut:
Is Cannes turning into Comic-Con? Following in the footsteps of the Weinstein Company's Django Unchained/The Master/Silver Lingings Playbook footage showcase, rumors are swirling that the festival will hold its own secret presentation, a selection of cinematic snippets from films on the horizon. Movies rumored to be involved with the screening include The Impossible, a Naomi Watts/Ewan McGregor drama revolving around the 2004 Indian Ocean tsunami, and legendary Chinese filmmaker Wong Kar Wai's martial arts epic The Grandmasters. What, no Dark Knight Rises? [Deadline]
Follow Matt Patches on Twitter @misterpatches
More:
Why the Cannes Film Festival Should Matter to You
Cannes Chatter: Early 'Django' Footage, 'Plenty of Blood, Plenty of Laughs'
Cannes Chatter: Brad Pitt Takes a Shotgun to U.S. Politics in 'Killing Them Softly'
[Photo Credit: WENN.com]