This Week In Cannes Reviews: 'Two Days, One Night,' 'Goodbye to Language 3D' and More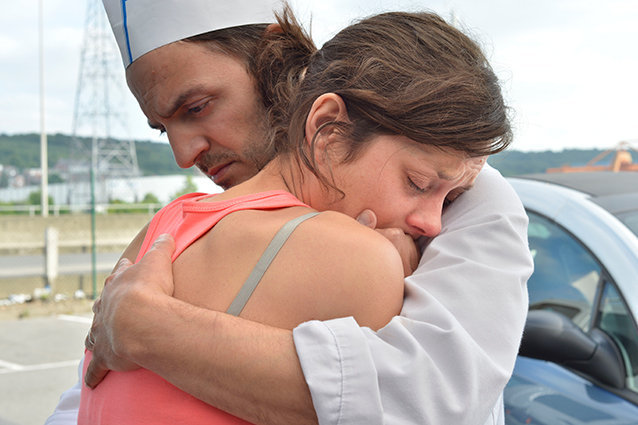 Cinéart
It's the beginning of the summer, which means it's time for Hollywood's biggest and brightest stars to make their way to the French Riviera for the Cannes Film Festival, while the rest of us look on with jealousy. But just because you didn't snag a ticket to the most glamorous film event of the year, that doesn't mean you can't keep up with all of the big films premiering over the next two weeks. To help you stay on top of things, we're running down the biggest films that premiered in competition at the festival, including Michel Hazanavicius' gritty follow up to The Artist, a strange, metaphorical film from Jean-Luc Godard, and a possible Palme D'Or winner. 

Two Days, One Night 
The latest film from Cannes fixtures Jean-Pierre and Luc Dardenne, Two Days, One Night stars Oscar-winner Marion Cotillard as a woman who has one weekend to convince her co-workers to give up their annual bonuses so that she can keep her job. Assisted by her husband, played by Fabrizio Rongione, she must find someone to help her convince her boss to reconsider, and to give her another chance despite the time she had to take off for depression. The film premiered to positive reviews, and it's considered one of the frontrunners for the Palme D'Or. 
"Cotillard's best work since La Vie En Rose unquestionably ranks as her most credible turn, as the actress demonstrates a fragility that never veers into the realm of overstatement. Despite its basic trajectory, her actions are littered with surprising moments, and each new co-worker she encounters adds another layer of texture to this delicate portrait of personal and professional priorities clashing with awkward results." – Eric Kohn, Variety
"The Dardennes have made a brilliant social-realist drama with a real narrative tension which is something of a novelty in their work. […] As for this solar-panel company, it appears to have a union in that a vote has been forced which the management will abide by, but it is a union which manages and regulates the decisions of those above them, and they are certainly not united enough to reject out of hand the insidious Bonus/Sandra choice. Yet movingly, solidarity is what the film is about; solidarity is what Sandra is trying to achieve as her emotional state comes to pieces, through a majority vote in a democratic election." – Peter Bradshaw, The Guardian 
The Search
After winning a Best Picture Oscar for The Artist, director Michel Hazanavicius went in a different direction for his follow-up, The Search. Set during the Second Chechnyan War, an NGO worker (played by Berenice Bejo) cares for an orphan boy, Hadji, who refuses to speak or open up to her in any way. Hazanavicius describes his film, which is based on the 1948 movie with Montgomery Clift, as a "picture of dignity" and "a true canvas of the suffering of humanity."
"It's ambitious of Hazanavicius to cram so many of war's horrors into one film, but it makes that film a slow-moving, bloated one. And once you've got used to the way he cuts between three different strands, it becomes apparent that not much is actually happening in any of them. There are shockingly credible depictions of firefights and bombings, and there are more shots of corpses than you'd see in a typical zombie movie. […] For a war movie, The Search is curiously short of conflict." – Nicholas Barber, BBC Culture 
"Coincidentally quite timely in the wake of recent Russian moves on its neighbors, the writer-director's first full-on drama attempts to present a mosaic portrait of the suffering in a region little-known or understood by the world, hence the perceived lack of concern. The result is vivid when focusing on those directly involved in the war but laborious when devoted to the fretful hand-wringing of do-gooder outsider characters, which is a lot of the time." – Todd McCarthy, The Hollywood Reporter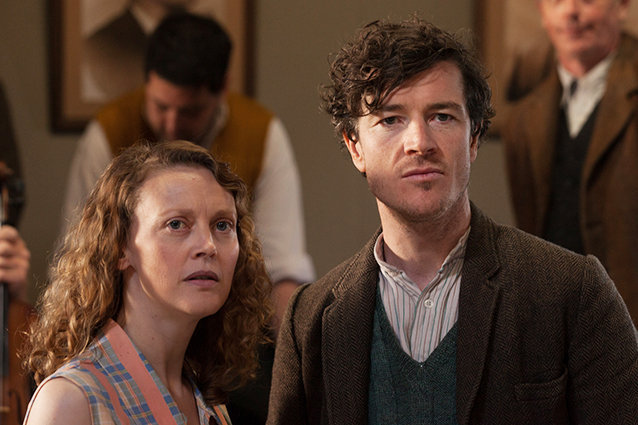 Joss Barratt/Sixteen Films
Jimmy's Hall 
Irish director Ken Loach's latest film tells the story of activist Jimmy Gralton, who was deported from the country during the Red Scare of the 1930s. Gralton was the founder of the Pearse-Connolly community hall, where people from the town gathered to learn about art, music, and literature. However, his actions upset the Catholic priests and town leaders, who opposed to his teachings and practices. 
"Ken Loach has taken a despicable episode of modern Irish history — the 1933 deportation without trial of one of its own citizens, James Gralton — and made a surprisingly lovely, heartfelt film from it with Jimmy's Hall. A thematic sequel of sorts to his Cannes-winning The Wind That Shakes the Barley, Loach's 24th fiction feature finds the activist-minded director trafficking in familiar themes of individual liberties, institutional oppression and the power of collective organizing, here infused with a gentle romanticism that buoys the film without cheapening the gravity of its subject." – Scott Foundas, Variety 
"Loach has made a sumptuous period piece, beautifully photographed by Robbie Ryan, using many local people in the crowd scenes, wearing wonderful tweeds, slipovers and wrap dresses, riding on antique bikes and in donkey-drawn carts through the green hills and boggy valleys, dancing merrily. It all looks great, a dream of Ireland before the blissful bungalows. The characterful faces are a treat too, above all that of Jimmy's aged mum (Aileen Henry, new to acting)." – David Sexton, London Evening Standard
Goodbye To Language 3D 
Legendary director Jean-Luc Godard's newest project takes a relatively straightforward story – a couple reflect on their relationship, life and the world around them – and through the use of voice-over, imagery and non-linear storylines, turns it into a confusing, entrancing "film essay." Starring Heloise Godet and Kamel Abdeli, the film has been described as everything from "hilarious" to "frustrating." 
"Goodbye to Language" is in 3D, and a very challenging 3D at that. The film is structured in numbered sections that repeat themselves with different or overlapping content, and there are brain-scrambling superimpositions, texts, clips from old films, solarized images, and footage shot with low-res cameras. There's even a costume-drama sequence depicting Mary Shelley and Lord Byron. The sense of experimentation is extravagant, and the 3D effect achieves such notable depth of field that this little movie puts mainstream mega-bucks productions like "The Great Gatsby" to shame." – Barbara Scharres, Roger Ebert.com 
"To some degree, the overwhelming montage taps into the over-saturation of today's media climate, a point that Godard makes explicit several times: the recurring shot of a flat-screen television broadcasting static speaks for itself, as does a more comical bit in which two strangers continually tap away on their iPhones and exchange them, repeating the action. […]  It doesn't take a lot of analysis to determine Godard's intentions: He portrays the information age as the dying breath of consciousness before intellectual thought becomes homogenized by digital advancements." – Eric Kohn, IndieWire