Cannes: Robin Wright in 'The Congress' Predicts Your Inevitable Demise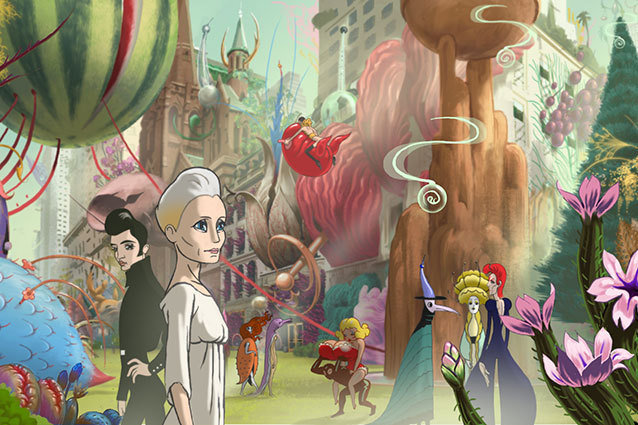 How to describe The Congress? It's like Paul Verhoeven's RoboCop set in Hollywood. It's like a Ralph Bakshi adaptation of Sardi's wall art. It's like The Matrix meets Who Framed Roger Rabbit meets Being John Malkovich meets Enter the Void. Basically, it's wonderfully indescribable.
The latest film from Ari Folman (Waltz with Bashir) adapts Stanislaw Lem's The Futurlogical Congress into a ferocious dissection of mass media, celebrity, and the role of technology in our daily lives. The movie stars House of Cards actress Robin Wright as "Robin Wright," an actress fondly remembered for her roles in movies like Princess Bride and all but "washed up" thanks to a career of lousy choices. But a new offer is on the table for Robin — Miramount Studios wants to buy her image for the next 20 years. With state of the art scanning technology, studio executive Jeff Green (Danny Huston) can capture a range of Robin's facial features and reprocess them into new performances. Princess Bride-era Robin Wright can return and once again wow audiences in movies of every color… as long as real Robin Wright signs on the dotted line, promising to never act again.
With motion capture animation and actor resurrection already a thing (see: the super duper creepy Audrey Hepburn chocolate commercial from last year), the opening moments of The Congress are all too real and all too disturbing. Robin is strong-armed into signing the deal — and with today's legal loopholes, who wouldn't be? — finding herself in the middle of a sensor dome ready to capture her smiles, frowns, and everything in-between. If there was any doubt that Wright continues to be one of the best working actresses in Hollywood (as the diabolical Miramount would make you think), The Congress works her every muscle for a truly profound turn. Case in point: Twenty years after selling her image, Robin is summoned by Miramount to re-up her contraction. But now, Miramount is located in a slice of the world that lives in a Matrix-esque cartoon proxy universe forcing Wright to go under the guise of animated avatar.
Believe it or not, The Congress gets crazier.
Folman previously used 2D animation to realize the horrors of war in Waltz with Bashir, but the style loosens up for The Congress, a spectacle of hallucinogenic imagery and sardonic interpretations of famous faces. In this future, the likenesses of celebrities are no longer being used to churn out blockbusters. Now they can be extracted into drinks, foods, smells, feelings. Green doesn't want Robin to sign on for more movies. He wants her to become a milkshake. In the world of The Congress, we see Pablo Picasso walking arm and arm with Beyonce. Tom Cruise and John Wayne down drinks at a bar. And Robin Wright is just another in an army of Robin Wrights — people admire her, so they become her.
The Congress is a blunt film. Folman has a clear disdain for the current direction of the mainstream and the audiences who willingly digest the factory-produced fluff. It feels autobiographical for Wright too, combating a lifetime of objectification over her looks and discriminating process of picking projects (in the movie, she states that she'll never do a science fiction picture which is true based on her resume.) The movie has a heart — Robin's main goal is rip through the glossy clutter of the animated universe to find her son, Aaron (Kodi Smit-McPhee) — but every conversation, every profession, and every elegant word spoken by Robin's cartoon cohort Dylan (Jon Hamm) speaks to a bigger picture. In short: we're indulging to the point of self-destruction. But hey, if looking like Grace Jones as our brains are slowly fried into oblivion sounds like a silver lining, don't sweat it.
Like last year's Cloud Atlas, The Congress is  epic science fiction for the thinking crowd. It's big, bold, and beautiful, with somber tunes from composer Max Richter and an overdose of imagination. It's a movie about how we watch that must be watched. So watch it — if only to prove to the bigwigs in Hollywood that Robin Wright has still got it.
[Photo Credit: Sony Pictures]
Follow Matt Patches on Twitter @misterpatches
More:
Watch the First Trailer for 'The Congress'
Should Hollywood Resurrect Dead Celebrities?
See the Full Cannes Film Festival Lineup