Career Lessons from Matthew McConaughey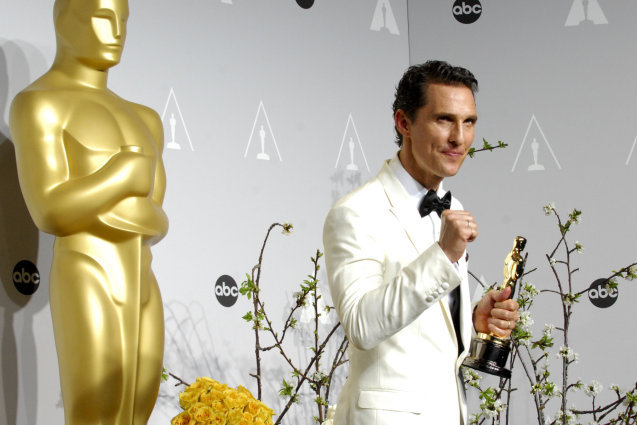 Apega/WENN
Matthew McConaughey is suddenly a role model. While the McConaissance exploded into full view at the Academy Awards with the actor taking home the Best Actor Oscar for Dallas Buyers Club (and providing a gift to late night comedians everywhere with his rambling speech), the truth is that was a clear build-up to that moment.
Starting with 2011's The Lincoln Lawyer, McConaughey crafted an impressive run of characters, going from the psycho cop of Killer Joe to the fugitive in Mud and then onto the cocksure trader in The Wolf of Wall Street. Buyers Club's AIDS-stricken Ron Woodruff was just the icing on the proverbial cake.
Just before that run, however, McConaughey had fallen into a rut of starring in lightweight fare like Failure to Launch and Ghosts of Girlfriends Past, after showing promise early in his career in films like Lone Star and Armistad. The Texas-born actor never went away for very long, yet he managed to reinvent his image by choosing roles that offered a challenge… while still mixing in projects like Magic Mike to pay the bills. Loopy as he may be, there's a method to the madness.
That's a lesson that some of McConaughey's contemporaries should take to heart, even ones that are cashing nice paychecks for their work. Here's a look at some of his peers (in pairs) that could do with a little bit of that McConaissance magic.
Owen Wilson and Vince Vaughn
The Internship and Wedding Crashers costars both have a tendency to cash a check for any role that's thrown their way. There's nothing wrong with that — Robert De Niro and Meryl Streep aren't always choosy either — but there comes a time when an actor needs to commit to doing some strong work the way that McConaughey did. Wilson, thanks to his association with Wes Anderson, always has the opportunity to put a run together. It's even possible that he's already started after earning an Oscar nomination for Woody Allen's Midnight in Paris. Just like with his work with Anderson, however, the performance was credited more to Allen than Wilson. He needs to step away from the persona that audiences have come to expect from him and find a small movie to dazzle in.
Vaughn came through the indie ranks early on same as Wilson, so we know that he's capable. With his slightly dark manic streak, he could shine in supporting roles as McConaughey did in The Wolf of Wall Street. It also might not be a bad idea to get his buddy Jon Favreau to direct him in something hand-picked to let him flex some different acting muscles.
Adam Sandler and Will Ferrell
Much like Sandler and Ferrell's sophomoric comedies, McConaughey's various lukewarm romantic comedies weren't exactly high art, and both funnymen have shown something more than their usual silly humor on occasion: for Sandler, and Punch Drunk Love, Reign Over Me, and Ferrell, Stranger Than Fiction, and Melinda and Melinda. Though the SNL keep primarily to broad comedy, both are smart and capable. Even though there are millions to be made by sticking to what audiences want, there are legacies to be had if they can find time to jump on roles that let them be funny in a more natural way, like McConaughey's dying schemer in Dallas Buyers Club. Being at turns oblivious and self-loathing is what comedians do on a regular basis for laughs. Letting the audience see the actual pathos that it comes from isn't the most comfortable thing in the world, but start doing it consistently for a while and they start giving you awards.
Matt Damon and Ben Affleck
You might argue that Damon gets plenty of kudos for his acting and Affleck has turned into a respected director and producer with an Oscar to show for it. They don't need a career renaissance. In some respect, that's true. The Good Will Hunting wunderkinds have become Hollywood elite. That said, Affleck's track record as an actor still has as many misses as hits on it (Gigli, anyone?) and Damon falls back on familiar ground more often than not. How often do you watch either of their performances and think, "Man, he's really showing me something new!"? The beauty of what McConaughey has done is that in challenging himself, he challenged our expectations for him. Damon and Affleck could both use some of that. Taking the role of Liberace's lover, opposite Michael Douglas, in HBO's Behind the Candelabra was a nice departure for Damon, but he needs to put himself to the test on a bigger stage and with more at stake. Just as McConaughey found another type of character from his native Texas to play, it might be time for Damon to find a character from Boston that can't be described as "street tough."
As for McConaughey's Dazed and Confused costar, Affleck really just needs to put himself in the hands of directors other than himself that are interested in making him work, the way that McConaughey did with William Friedkin and Martin Scorsese. He doesn't have to lose 47 lbs. for a part like McConaughey, but he needs to lose the self-awareness and fully immerse himself in a character. How great would it be to see Affleck go "all in" on a character like McConaughey did in Friedkin's Killer Joe? He is proven he's a good director… it would be nice to see him live up to the same standard as an actor.
We all know, thanks to that acceptance speech, that McConaughey looks up to his future self. His peers would do well to use the Oscar-winner's past to come up with a whole new future of their own.