We Did It, Internet! Charlie Hunnam Drops Out of '50 Shades of Grey' Adaptation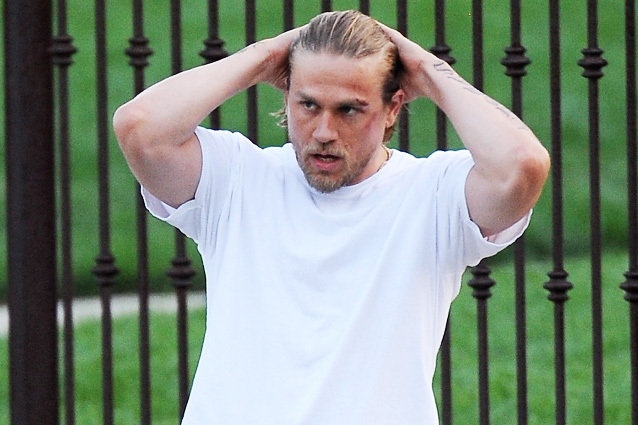 WENN
To the delight of several obsessive Tumblr pages and message boards across the Internet, Charlie Hunnam has dropped out of the hotly anticipated 50 Shades of Grey film adaptation.
According to a statement from Universal Pictures obtained by The Hollywood Reporter, "The filmmakers of 50 Shades of Grey and Charlie Hunnam have agreed to find another male lead given Hunnam's immersive TV schedule which is not allowing him time to adequately prepare for the role of Christian Grey."
Hunnman, who was slated to play the handsome and domineering Christian Grey in the upcoming film, does have a hefty TV commitment under his belt. He is the star of FX's biker drama Sons of Anarchy, but this small screen role didn't prevent him from starring in this year's Pacific Rim, so his sudden departure from the project is at least a little bit suspicious. According to a tweet from Matt Belloni of The Hollywood Reporter, Hunnam really dropped out due to "cold feet," and his TV schedule had nothing to do with his ability to play the role. 
Hunnam and costar Dakota Johnson were announced as leads for the project in early September, leading to a torrent of backlash from fans of the book series, proclaiming that neither actor was right for their respective roles. Fans clamored for different actors that better fit the images of Christian Grey and Anastasia Steele that they have spent hours sculpting in their imaginations. The tide of disappointment had even led to some fans signing a petition to oust the two actors — one of these petitions reached over 80,000 signatures. 
As such, for many fans, this news is a cause for celebration, and some corners of the web are undoubtedly uncorking bottles of internet champagne and toasting each other to a job well done. These fans will probably continue to pester other actors that want nothing to do with the project, but now with even more vigor, typing in unison, "One down, one to go!" in a fury of clacking keyboards.