Chevy Chase and Beverly D'Angelo to Return for 'Vacation' Reboot — REPORT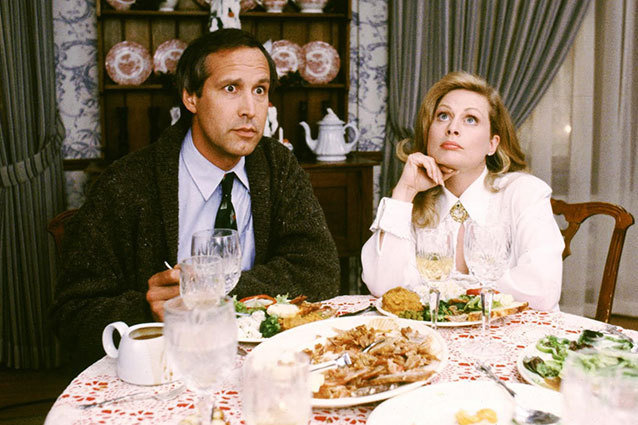 Chevy Chase and Beverly D'Angelo might be traveling down that holiday roooo-oooo-aaaa-d one more time. According to Variety, the Vacation stars are in talk to reprise their roles as iconic 80s couple (and, okay fine, the 90s if you count Vegas Vacation, which you definitely shouldn't) Clark and Ellen Griswold. 
The two would meet up with their now-grown son Rusty (played by Ed Helms having his first go as Griswold kid) and his wife (played by Christina Applegate) who are visiting them during a stop on a road trip. Clark will, no doubt be doing something to "fix" the house and Ellen willing lovingly roll her eyes…but where the hell is Audrey?! Hollywood.com reached out to Chase's rep for comments, but they were immediately available for a statement. D'Angelo's rep told us that the actress is, in fact, in talks. 
RELATED: 'Horrible Bosses' Writers to Direct 'Vacation' Reboot 
While the film — which is being written and directed by John Francis Daley and Jonathan M. Goldstein (The Incredible Burt Wonderstone, Horrible Bosses) — will be a star vehicle for Helms, you just couldn't have a Vacation movie without Clark and Ellen. Even if it is, as Variety reports, just for a cameo. During an interview with Hollywood.com Goldstein assured fans that the upcoming reboot is "a legitimate updating of the franchise." Either way, it's a pretty safe bet that Randy Quaid isn't going to be on board to bring back Uncle Eddie. 
RELATED: Is Ed Helms the Next Chevy Chase? 
[Photo credit: Warner Bros. Pictures] 
---
You Might Also Like:


15 Oscar-Winning Nude Scenes


10 Insane 'Star Wars' Moments You Didn't Notice