Children's Books That Deserve Their Own Movies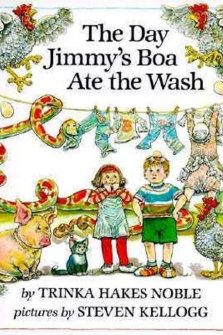 Now that two film adaptations of kid-lit classic Cloudy with a Chance of Meatballs are bonafide box office hits, Hollywood should be back at the well, seeking out the next family blockbuster. We're shocked that some of our favorite childhood reads have yet to be optioned and CGI-ed into marketable films. For your consideration, here are five such tiny tomes we hope get the adaptation treatment someday soon.
Sideways Stories from Wayside School by Louis Sachar
The Wayside series, like other books on our list, was adapted for a TV special. But the weird and wonderful world of that absurdist middle school has the potential to be magic on the big screen. Fitting in every detail of all the 30th-story students would be impossible, but we demand at least the inclusion of Sammy, a kid who turned out to be a dead rat in a raincoat, and Jenny, who wears a motocycle helmet and has a dog named What.
The Day Jimmy's Boa Ate the Wash by Trinka Hakes Noble
Reading Rainbow graduates will remember the tale of Jimmy's escaped pet. The book details the madcap events of a very chaotic school field trip and definitely calls for a big-budget animated feature.
Love You Forever by Robert Munsch
This one is a no-brainer. The ode to motherly devotion would inspire massive ticket sales to its weepy fans and might even have some Oscar potential with the right casting. Paging Meryl Streep.
The Amelia Bedelia Series by Peggy Parish
Tom Hanks's name has been attached to this project for several years, but we still don't have the Amelia Bedelia movie the world so desperately deserves. May we suggest Melissa McCarthy as a wild card to play the confused housekeeper?
Superfudge by Judy Blume
Generation Y would come out in droves to see a skillful adaptation of Judy Blume's story of sibling rivalry. And it would make a star out of the unknown kid chosen to play Fudge, the world's most annoying little brother.
More:
See Katniss and Gale in 'Mockingjay' Set Photos
Almost Forgotten Jim Carrey Roles You've Loved
Fantasy Casting the Supporting Characters in 'Fifty Shades of Grey'
---
From Our Partners:


40 Most Revealing See-Through Red Carpet Looks (Vh1)


15 Stars Share Secrets of their Sex Lives (Celebuzz)