When Christmas Makes a Cameo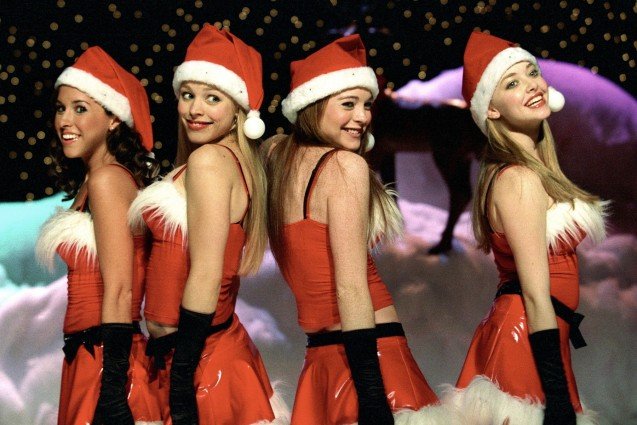 Paramount via Everett Collection
So the holiday season isn't over, but you've already exhausted your holiday entertainment library. What to do? First, watch Love Actually a second time. (Hugh Grant and the Pointer Sisters, guys.) Then turn to these regular old movies that just happen to host some of the best Christmas scenes in film. Finally, congratulate yourself for being so gosh darn resourceful.
The guys show up to a post-heist Christmas party with new coupes and gals draped in furs. Jimmy is not pleased. "Are you stupid or somethin'? What's the matter with you?" Sounds like the holidays to us.
The deliciously '90s and saxophone-drenched New Year's Eve scene may be flashier, but we prefer this understated gift exchange between the figure skater and the hockey player. Kate, because she's insufferable, gives Doug an unwieldy copy of Great Expectations. Doug, because he's falling in love with her anyway, gives her his lucky jersey.
Featuring Christan Bale in novelty reindeer antlers; a pot-bellied pig named Snowball; and a very PC Reese Witherspoon telling everyone to have a "Merry X-Mas!"
The Plastics perform a sexy dance for their school's holiday show; Amy Poehler still manages to steal the scene.
Harry Potter and the Sorcerer's Stone
Who wouldn't want to pull on a Weasley sweater and spend Christmas at Hogwarts? The Great Hall looks even more magical than usual and a festive John Williams score follows everyone around. Plus, Harry getting his very first presents from his new friends gets us every time.
Not a scene, perhaps, but we can't snub a cameo by Peter Jackson as a demented Father Christmas.
Brian is just Brian, so this scene may not actually count as a Christmas one. But the Monty Python classic is one of the most hilarious movies of all time, so we actually may not care.
Puppies!