Coen Brothers' 'Inside Llewyn Davis': 1960s Greenwich Village, Plus a Cute Cat — TRAILER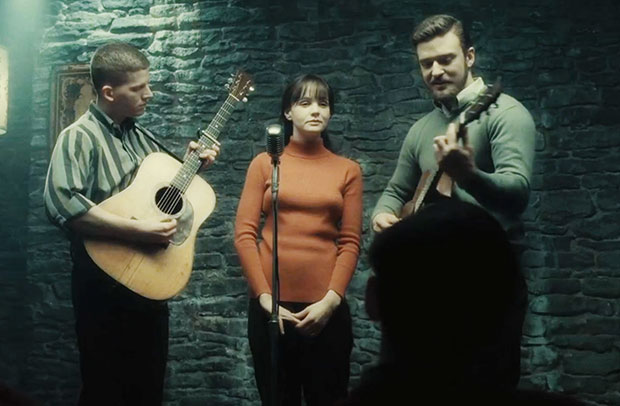 Fear not, fans of Joel and Ethan Coen. You won't have to wait much longer for their follow-up to True Grit. Inside Llewyn Davis is coming soon, and now it's even got a folky little trailer to tide you over.
Based loosely on Dave Van Ronk's memoir, The Mayor of MacDougal Street, which was published after his death, the film follows singer-songwriter Llewyn Davis (Oscar Isaac) through the murky waters of the Greenwich Village folk music scene in the 1960s. But if that's not enough of a hook, Llewyn brings along a pretty cute cat for the ride.
Alongside Isaac in the cast is Carey Mulligan, who seems right at home in the iconic place in space and time that brought us Bob Dylan, as well as Van Ronk and the Mamas and the Papas. Justin Timberlake, Garrett Hedlund, John Goodman, and Adam Driver of Girls also star.
Inside Llewyn Davis doesn't yet have a release date, but it's likely that we'll see it picked up for distribution in 2013. After all, who doesn't love a classic story of trying to make it in New York?
Follow Kelsea on Twitter @KelseaStahler
[Photo Credit: Studio Canal]
More:
Kathryn Bigelow: Oscars' 'Best Directors' Didn't Need to Be a Boy's Club
Oscars 2013: How To Watch All The Nominated Films
'Argo' Nabs Best Picture Globe, Could Oscaar Be Next?

Manti Te'O Comes Clean About Girlfriend Hoax