CollegeHumor's First Film 'Coffee Town' Stays True to the Site with Funny People and Offensive Jokes
The moment we've all been waiting for is finally here — CollegeHumor made a feature film, and it's called Coffee Town. The movie is written and directed by Brad Copeland (Arrested Development) and stars Glenn Howerton (It's Always Sunny in Philadelphia), Steve Little (Eastbound & Down), Ben Schwartz (Parks and Recreation), Adrianne Palicki (G.I. Joe: Retaliation) and Josh Groban (Crazy, Stupid, Love.). So, basically everyone we know from everything we watch.
It centers around Howerton, Little, and Schwartz, who are three friends who spend most of their time in the titular coffee shop, which is in danger of being run out of business by an incoming bistro. As such, Howerton decides to rob his hangout. If the bistro executives think the location is in a bad neighborhood, they won't convert the coffee shop (that's just good sense!). Meanwhile, Palicki plays Howerton's love interest, and Groban plays the sarcastic and spiteful barista. Jake Johnson also makes an appearance as a vengeful ghost (we're not yet sure how that one works into the story).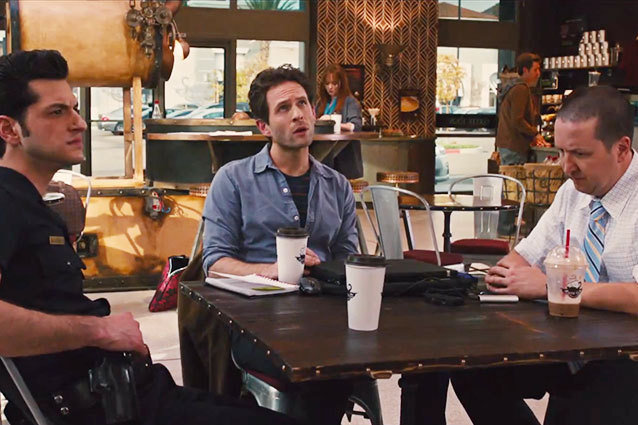 If the trailer (and CollegeHumor's reputation) is anything to go by, the film will be filled with penis jokes, gay jokes, Down syndrome jokes, and most likely a few other inappropriate jokes. That might not align with your tastes, but if you're still curious, there are a few things to bank on: We already know the cast can do comedy. And if all else fails, Groban has the voice of an angel, so focus on that.
Follow Jordyn on Twitter @jordynmyah | Follow Hollywood.com on Twitter @Hollywood_com
More:
Patton Oswalt Dominates the Internet
Simon Pegg and Nick Frost Translate 'Star Wars'
TV Stars Establish "Spoiler Ettiquette"
---
From Our Partners


Stars Pose Naked for 'Allure' (Celebuzz)


Which Game of Thrones Actor Looks Least Like His Character? (Vulture)