Chuck Palahniuk Announces More Mischief, Mayhem, and Soap in Graphic Novel Sequels to 'Fight Club'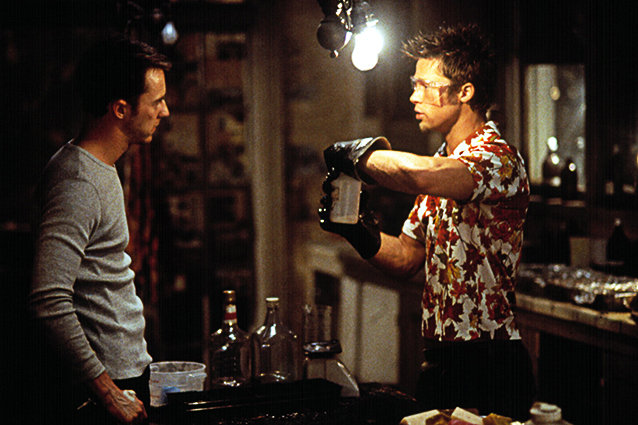 If this is your life and it's ending one minute at a time, then you might as well have something good to read. Luckily, Chuck Palahniuk has got your back. The author, whose iconic Fight Club novel was adapted into the modern classic starring Edward Norton, Brad Pitt, and Helena Bonham Carter, revealed at Comic-Con this weekend that a series of graphic novel sequels will continue the story 17 years after the original book's publication. 
After announcing the follow-up to his 1996 novel in San Diego, Palahniuk later confirmed the news in a tweet linking to an announcement on his fansite ChuckPalahniuk.net. The author says he is currently working on a "dark and messy" story with "artists and creators from Marvel, DC and Dark Horse" to create "a series of books that update the story ten years after the seeming end of Tyler Durden." This time, however, the story will be told from Tyler's perspective as he prepares to launch a come-back on the oblivious "Jack." Meanwhile, Marla and Jack's marriage "has run aground on the rocky coastline of middle-aged suburban boredom." When Tyler kidnaps the couple's little boy, "Jack is dragged back into the world of Mayhem."
Although a contractual obligation may prevent Palahiuk from launching the sequels "earlier than 2015," we're crossing our fingers that more mischief, mayhem, and soap will follow in a Fight Club 2 film immediately after. 
Follow Lauren On Twitter @Lopay92 | Follow Hollywood.Com On Twitter @Hollywood_com
More:
'Avengers' Actor Clark Gregg Takes Quick, Satirical Jabs At Blockbusters In 'Trust Me'
Comic-Con: From Excitement To Disappointment
Comic-Con 2013: Can't Miss TV
---
From Our Partners


Battle of the Bikini Bodies (Celebuzz)


Complete Guide to Strippers in Movies and TV (Vh1)