All Of Our Hopes for San Diego Comic-Con 2014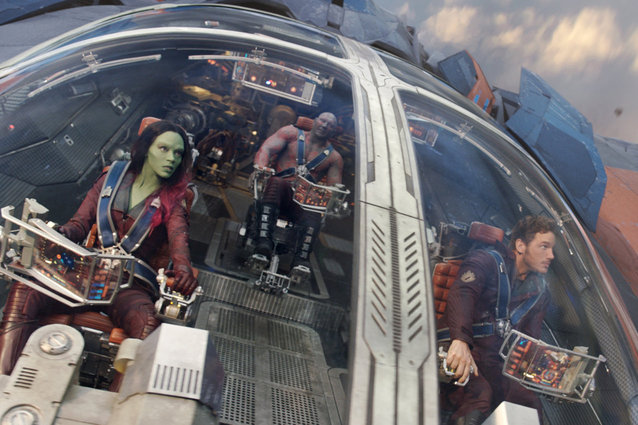 Walt Disney Pictures/Marvel
San Diego Comic-Con is nerd culture's second Christmas, and every year the annual ode to all things geek gets bigger and better, with film studios jostling each other for the biggest moment of the weekend. This year, the con's legendary Hall H will likely be the home of some game-changing reveals, dizzying sizzle reels, and exclusive trailers that may just be worth the dozen or so hours of waiting on line to get in. Here's a look at what we're expecting from the big film studio panels at Comic-Con:
Warner Bros. 
Jupiter Ascending: The Wachowskis' latest, Jupiter Ascending, was supposed to make landfall this summer but was delayed just a few weeks away from its expected release date and sent to February — which is basically Hollywood's graveyard for lackluster films. This year's con has to be all about assuaging fears and ensuring fans that the film isn't a complete disaster. Showing a lengthy, eye-popping sequence from the film would be a great way to keep expectant fans at ease.
The Hobbit: The Battle of the Five Armies: As it turns the bend toward the final film in the franchise, The Hobbit series is pretty much in cruise control. We know what to expect from Peter Jackson's last hurrah in the Tolkien-verse but flames can still be fanned. We're hoping for some new footage for the upcoming film and more, since Jackson will be in attendance.
Mad Max: Fury Road: We've seen some dusty set photos from this post-apocalyptic epic, and the cast looks appropriately dirty and world weary, but what we really want to see is some footage. Since the film is set to release next May, a trailer of some sort is surely imminent.
Batman vs Superman: Dawn of Justice: Curiously absent from the list of films showing at the Warner Bros. panel, Dawn of Justice  is the biggest question mark of the con. Can Warner Bros. really walk into Hall H without a bit of Batman up their sleeves? We're gonna go with no. We're betting the studio is saving something huge for a giant payload of hype to end their conference with. If not, then Marvel has already won Comic-Con – if you believe in the notion of winning these sorts of things. Considering we've already seen glimpses of Affleck kitted out in the Bat Suit and the new Bat Mobile, we're gonna need something pretty cool.
Marvel 
Avengers: Age of Ultron: Marvel's Avengers sequel is bar-none the biggest film at the con, and since the film has been shooting for months at this point, and the cast is descending on San Diego for the event, there's definitely going to be something big showing. If not, expect San Diego to be scorched to the earth in the ensuing fan rage.
Ant-Man: After losing longtime director Edgar Wright and a very worrying scramble to find a suitable replacement, Ant-Man, formerly Marvel's most promising film, is looking worse for wear. Some fans even swore off the film entirely the second Wright was jettisoned from the project. Some serious damage control is on the bill this year. The studio needs to show something tangible, like a costume or some early footage, to get the hype machine rolling again.
Guardians of the Galaxy: Since Guardians is so close to release, some Hall H faithful are expecting a screening of the film. We're doubtful that Marvel will preview the entire movie, but we are expecting to see a lengthy preview of the film. Perhaps something like the 17 minutes of the finished film shown to journalists earlier this month.
Everything Else: Sure, Marvel is king of the mountain now, but keeping that title means keeping everyone happy in the near and distant future. Marvel should add a couple more pin-drops to their map of Phase 3, and announce some anticipated films like Black Panther  and Captain Marvel, but also dish about  upcoming projects like Thor 3 and Doctor Strange.
20th Century Fox
X-Men: Apocalypse: Since Days of Future Past just dropped earlier this summer, we're not expecting a whole lot on the X-Men side of things, but the studio would be remiss if they didn't at least hint at something X-Men related, especially given the great post-credit sequence at the end of the last film.
Fantastic Four:  With its oddball casting, Fantastic Four might be the most heavily scrutinized superhero film to appear at the con. Since shooting has already begun, Fox needs to prove to fans that they know what they're doing. Some test footage from the project would be great.
Everything Else: Everyone's making huge, interconnected franchises these days, and we wonder if Fox will put it's own hat in the ring. Even though their list of properties is pretty scant, the promise of a sprawling blockbuster universe might be too appealing to resist. Can there be a X-Men/Fantastic Four meet-up? Stranger things have happened. Otherwise, also expect additional news and clips from Let's Be Cops, The Maze Runner, The Book of Life, Kingsman: The Secret Service, and hopefully, a first trailer for Hitman: Agent 47.
Paramount
Teenage Mutant Ninja Turtles: The film is basically out at this point, so there really isn't much to do besides add some last minute fuel to the hype machine. The film does have its share of detractors due to Michael Bay's involvement and a mixed reaction to the new turtle designs. An early screening to Comic-Con attendees might win the film some brownie points with fans.
Interstellar: This is one instance where less is most certainly more. Christopher Nolan's mysterious space adventure is probably the year's biggest question mark, and that's the way things should be. Universal should keep its cards close to its vest and let the enigmatic nature of the project be its own marketing tool. The Nolan pedigree will likely brig in a big audience. A new trailer would be fine, but lets keep the plot points to a minimum.