The Definitive List of Body Swap Movies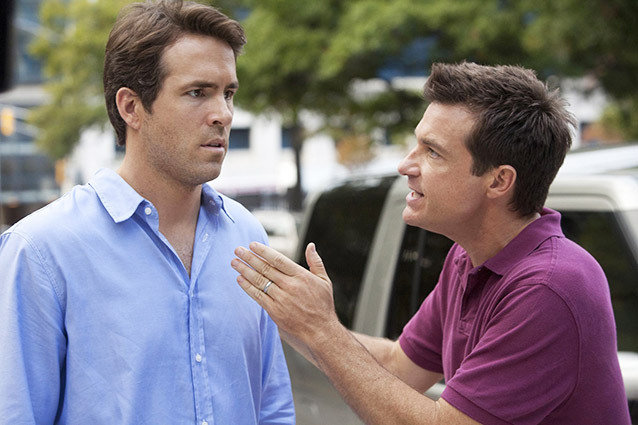 Universal Pictures via Everett Collection
Oddly enough, the body-swapping genre has been one of the most consistent in Hollywood. This somewhat campy story tradition focuses on two characters, often a parent and child but occasionally friends, swapping bodies unexpected, leading a comedy of errors to ensue. It may be hard to believe that this entire genre began with an 1800s novel titled Vice Versa. People might also not connect the countless Freaky Friday remakes with an actual children's book by Mary Rodgers. This genre may be slowly dying as people's interest in magic requires teenage wizards or shiny vampires. However, there have quite a number of films that have played to, played with, or played against this popular trope.
Here's some of the most famous, and forgettable, Body Switching Movies:
Freaky Friday (1976)
Fans of Oscar winner Jodie Foster will remember her as a tomboy in this classic Disney movie. Based on the popular kid's book, Foster's character swaps places with her housewife mother (Barbara Harris) after the two simultaneously wish to switch places (Boom! It happens just like that). This was before the days of assigning rules or logic to magic. That may be why it's only the one Freaky Friday and not a franchise. Prepare yourself for the inevitable Thowback Thursday movie.
Like Father Like Son (1987)
Dudley Moore is best known for his role as Arthur. However, he and the now controversial Kirk Cameron starred in this body swap comedy. The two ingest a bizarre South American potion and switch bodies. This film was released in theaters but has a distinct made-for-TV feel. It's also a lot darker and less fun than you'd expect from the genre. It's one of the few non-Hallmark channel acting roles of Cameron… though that isn't saying much.
Vice Versa (1988)
This film doesn't credit the classic Victorian story but is a modern retelling of the father/son body swap novel. Fred Savage switches places with his uptight father (Judge Reinhold) after the two conveniently yell they wish to swap places while holding a Buddhist statue. Savage is great as at playing the outspoken adult despite his diminutive stature. Reinhold was also pretty childlike in his role in Beverly Hills Cop, so this isn't much of a stretch. There are also great appearances by Swoosie Kurtz and Jane Kaczmarek.
18 Again! (1988)
George Burns stars with Charlie Schlatter in this comedy that is a little twisted. 81-year-old Burns switches places with his 18-year-old grandson, putting his life at risk, and allowing Schlatter to do a convincing old-timey accent. Don't confuse it with Zac Efron's film 17 Again… although that's its own kind of body swapping film.
Prelude to a Kiss (1992)
People may forget this Alec Baldwin/Meg Ryan romantic drama. Based on a play of the same name, Ryan goes against type as a misanthropic eccentric who falls in love with Baldwin's lonely conservative. It channels Dharma & Greg until the film makes a sharp turn. At the couple's wedding, Ryan gets a kiss from an old man and becomes a different person. You guessed it: they switch bodies. The film then goes on an existential journey about life, love, and youth. Despite being a little depressing, it had surprisingly great performances by Baldwin and Ryan.
Freaky Friday (1995)
In this remake, Shelley Long and Gaby Hoffmann play the mother daughter duo that switch bodies because of matching magical necklaces. In the book and original movie, the mother is a married homemaker, but in this film Long plays a divorced workaholic.
Wish Upon a Star (1996)
Disney also released this other Freaky Friday-themed kid's movie. A young Katherine Heigl plays a high maintenance pretty girl (sound familiar?) whose younger sister, played by Danielle Harris of the Halloween franchise, wishes on a star to see what the former's life is like. The two learn, through really high-stakes magical roleplay, to appreciate how tough one another has it. It's a halfway decent movie but pales in comparison to the two other Disney bodyswap films.
Face/Off (1997)
This film takes a darkly, starkly real take on body swapping. FBI Agent John Travolta literally has his face taken off and attached to the head of his mortal enemy, played by Nicolas Cage. Despite the implausibility of face swapping and the fact that no one points out the vast differences in their bodies, this action movie is amazing. There's a ton of suspense, a lot of campy fun, and some prime crazy Nic Cage.
Virtual Sexuality (1999)
This British romantic comedy really plays with the genre. A persnickety virgin goes into a machine and designs the man of her dreams. The problem, after an explosion, she wakes up in his body. Talk about loving yourself. This film is fun and focuses on the interesting dating differences between men and women, so the "magic" of body switches doesn't get too distracting.
The Hot Chick (2002)
If Mean Girls never happened this, might be the role that Rachel McAdams would have been remembered for. She plays a Regina George type who, via a magic earring, swaps places with a thief played by Rob Schneider. Let's just say that Schneider has definitely made worse. It also features Anna Farris and Tia and Tamera Mowry.
Freaky Friday (2003)
This film established Lindsay Lohan as a teen icon. The Parent Trap was a great remake, but this new edgier, raspier Lohan is the girl who went on to rule the early 2000s. It also was Jamie Lee Curtis' unofficial Activia audition. The actresses play the same feuding mom and daughter that swap bodies after opening up magic fortune cookies. If you haven't seen this classic, check it out to remember when Lohan became a star.
It's a Boy Girl Thing (2006)
This forgettable film is on Hulu if you doubt it ever existed. Kevin Zegers, best known for the recent Mortal Instruments movie, and Samaire Armstrong, who is on Resurrection, swap bodies and genders in this incarnation. This film blends the body-swap with the popular gender-bender genre. This means a ton of going into the wrong bathroom jokes.
The Change-Up (2011)
Just a few years ago, when Ryan Reynolds was everywhere, this film was a pit stop on his journey out of the limelight. He plays a wild bachelor who switches places with his married best friend (Justin Bateman). The film feels like lesser Happy Madison rather than a great comedy, despite the talented men at the head of the cast.