'Crouching Tiger, Hidden Dragon' Desperately in Need of Sequel, Apparently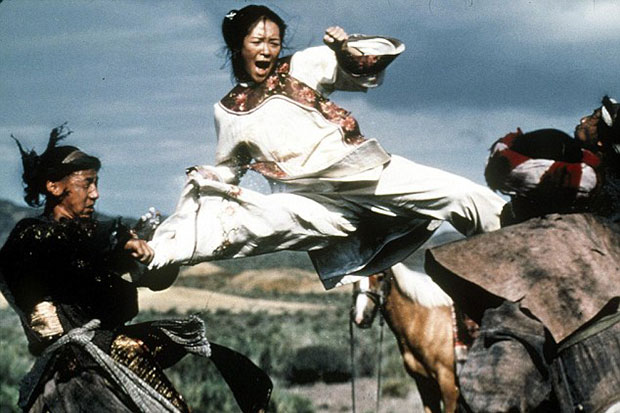 Here we go again! One of my favorite (and by favorite I mean least-favorite) things the big ole Hollywood machine can do: sequelize and franchise everything. And since The Weinstein Company and Miramax penned a deal allowing them to do such a thing back in 2010, no movie is safe. You might've thought "eh, we're nearly three years out from that deal: [insert favorite movie here] is probably safe." And well, we hate to break it to you, but you might've thought wrong.
Because here comes the sequel you maybe forgot you wanted (or possibly don't!): Crouching Tiger, Hidden Dragon. The acclaimed 2000 Chinese film picked up a bevy of awards (I believe the technical term is "all of the awards, ever, jeez") when the Ang Lee made its way into the hearts and theaters of critics everywhere. So it's no surprise that Harvey and friends would want to capitalize on that sort of success, but, ugh, do we have to? Whatever happend to leaving well enough alone?
It seems as though Weinstein and Sony don't particularly care either way, as Deadline is reporting that filming is already slated to begin in May. The film, based on a series of books by the author Du Lu Wang more commonly known as the Crane-Iron Series (of which there are five), will continue to be set in Asia. As for the story? Well, the project already has a script from John Fusco and is courting director Ronny Yu to helm the production, said to be based on the series' fifth book Iron Knight, Silver Vase. It will continue to revolve around the character Yu Shu Lien (originated by Michelle Yeoh), and while it's not clear which actors will reprise roles, some are expected to do just that. "This introduces a new generation of star-crossed lovers, and a new series of antagonists in a battle of good and evil. … I found characters from the second and third books in the series to create a most interesting stew while being as true to the source material as I could be," explained Fusco.
No word on if the sequel will be titled Pouncing Tiger, Visible Dragon, but there's always hope.
What do you think of the sequel news? Excited or over it? Sound off in the comments below!
[Photo Credit: Sony]
Follow Alicia on Twitter @alicialutes
More:
J.J. Abrams Directing Next 'Star Wars' Movie — REPORT
Amy Poehler and Adam Scott Reteam in Excellent Divorce Comedy 'A.C.O.D.'
Joaquin Phoenix Reunites with His 'Master' Paul Thomas Anderson for 'Inherent Vice'

Manti Te'O Comes Clean About Girlfriend Hoax