Dakota Fanning Vs. Elle Fanning: Which Sister Reigns Supreme?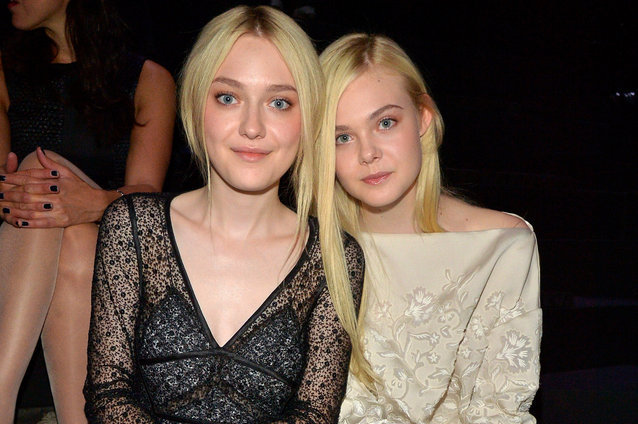 Dominique Charriau/WireImage
If you're a filmmaker looking for a young, blonde Hollywood darling to star in your next project, the first place you look is usually the Fanning household. So it makes sense that when Charlize Theron optioned the rights to Susannah Calahan's memoir Brain on Fire: My Month of Madness, she picked Dakota to star in it. According to Deadline, the actress will play Calahan in a story that follows her year-long battle with an autoimmune disease that resulted in brain inflammation, paranoia and seizures. As of right now, there are no writers or directors attached to the project yet, but with two big names already on board, the film shouldn't have any trouble attracting interest. 
Brain on Fire is just the latest high-profile project on Dakota's slate, and her upcoming releases include the eco-terrorism thriller Night Moves, the Errol Flynn biopic The Last of Robin Hood and the Richard Gere vehicle Franny. However, she's not the only Fanning with plenty of attention-grabbing films hitting theaters soon, as Elle is bookending the summer with Maleficent and The Boxtrolls. It's clear that in the battle of the blonde Hollywood starlets, the Fanning sisters reign supreme, but what about the sisters themselves? When it comes to a sibling showdown, which Fanning ends up on top? We've decided to put them to the test, and put Dakota and Elle head to head in five key categories in order to determine which Fanning would win this sibling showdown.
Breakthrough Role: 
Though both Dakota and Elle have been working since they were small children, they started gaining attention at different points in their careers. Dakota's big breakthrough role came at age seven, when she starred opposite Sean Penn in I Am Sam, a role that quickly lead to her becoming Hollywood's go-to child actress. Elle played a younger version of Dakota's character in that film, but she didn't manage to break out herself until she starred in Super 8 at 12. While it did help her gain the industry's attention, it didn't manage to catapult her to the same heights that Dakota's turn in I Am Sam did.  
Winner: Dakota
Career Highlight: 
Though she's since starred in many attention-grabbing films, Dakota's biggest project to date still remains her breakthrough film, I Am Sam, for which she became the youngest actress to ever be nominated for a Screen Actors Guild Award, as well as the youngest member of the Academy of Motion Pictures Arts and Sciences, which admitted her in 2006. Elle, however, seems to be hitting her stride now, with her buzziest film yet, Maleficent, arriving in theaters later this month. Since it's a summer blockbuster, it seems unlikely to get the kind of awards coverage that I Am Sam did, but it has established her as one of the hottest actresses currently working, which means plenty of big opportunities are headed her way. 
Winner: Elle 
Career Lowlight: 
Every actor has one or two terrible films under his or her belt, and the Fanning sisters are no exception. For Elle, it was Daddy Day Care, one in a long line of Eddie Murphy-fronted flops, and one of her first movies. For Dakota, it was The Cat in the Hat, the strange adaptation of the classic Dr. Seuss book. And while neither film will be remembered for its quality, at least Daddy Day Care didn't give the world the terrifying image of Mike Myers dressed as a giant anthropomorphic cat. If he didn't haunt your nightmares for years afterwards, you have a sturdier constitution than we do. 
Slightly Less of a Loser: Elle 
Famous Directors: 
Both Dakota and Elle have worked with some major Hollywood players, and despite their young age, they've each got several films with prestigious directors under their belts. One of Elle's breakout roles was in Sophia Coppola's 2010 film Somewhere, where she played the daughter of Stephen Dorff's washed-up Hollywood actor. Incidentally, Elle was also in Twixt, one of Francis Ford Coppola's least revered pictures. Dakota's most famous director was Stephen Spielberg, who helmed the 2005 remake of War of the Worlds, in which Dakota played Tom Cruise's daughter. Though the Coppola family's films are often held in high esteem, the combination of Somewhere and Twist doesn't quite manage to outrank Spielberg, who is regarded as one of the biggest, most influential directors in cinematic history. 
Winner: Dakota 
Fashion Contracts:
The Fanning sisters have established themselves as major fashion players in recent years, and have become fixtures at fashion week and have appeared in ads for several big fashion houses. Elle's first major campaign was for Marc Jacobs when she was 13, and she has since gone on to be the face of Miu Miu and appear in ads for J.Estina alongside her sister. Dakota has appeared in 2 campaigns for Marc Jacobs, including her infamous ads for his Oh, Lola! perfume, which were banned in the UK, as well as playing muse to houses like Uniqlo, Rodarte and Prada. 
Winner: Dakota 
Overall Winner: Dakota, with three wins to two. 
Of course, with Elle gaining more and more attention and both sisters lining up big projects for the future, the Battle of the Fanning Sisters is still anyone's game. Dakota did have a head start, after all. Let us know your thoughts below!