Danny Boyle Experienced Some Crazy Hypnosis Hijinks in Preparation for 'Trance'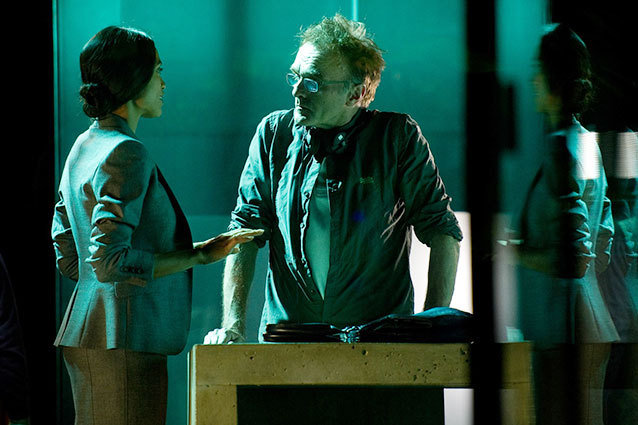 Sometimes the greatest thrill while watching a film is not knowing what the f**k is going on at first glance. And that is definitely the sort of initial thrill one has when experiencing Danny Boyle's newest film, Trance. A return to the roots of his filmmaking, this stylish crime thriller with a totally mental set of twists (pun intended) is really a study of the word "trance" in every since.
The film's director, Danny Boyle, believed that this multi-sensory exploration is what make the film feel exactly like the characters in the film. "You're trying to make every element of the story … to illustrate trance, really. You're trying to make everything reflect on that." The literal and metaphorical trance you as a viewer experience is certainly a risky one — the story pivots on the unreliable narrator at its heart, Simon (James McAvoy), and the lengths that he went to save not only a painting, but perhaps himself. His virtuosic predisposition to hypnotherapy and its controls provide a higher-stakes backdrop than you initially realize during the £27 million Francisco Goya painting heist at the film's onset.
RELATED: 'Trance' was Simon's 'Own Personal Horror Movie'
"Once you go through the initial set-up … the film is a series of trances, where you are taken into trance — whether you know it or not," explained Boyle. "Sometimes you know it, sometimes you might not know it. Which takes you to the landscape of the mind."
A good mind is a terrible thing to waste, and the minds at the heart of Trance are fascinating. Like Inception before it, Trance has an intimacy to it that heightens the terror of control that hypnotherapist Elizabeth Lamb (Rosario Dawson) has over Simon, and — to a lesser extent — his criminal cohort Franck (Vincent Cassel). For Boyle, such a landscape was necessary to his story. "That hundred billion neurons that are firing all the time," are so intrinsic in human nature, explained Boyle. Which brings the audience into a terror that at once feels alienating but not entirely impossible, either. Once in the mind, the real terror begins. "And there you are, and what are you going to do. Terrible damage can be done."
RELATED: Rosario Dawson Goes Full-Frontal in 'Trance'
And that, Boyle believes, is because this sort of control is entirely possible. "There are 5 – 10 percent of the population are extremely suggestable. Which means you can sort of … [do] anything with them, really." And while the thought sends chills up the viewers' spin, it creates an uncharted and thrilling backdrop for a film. "That's sort of wonderful for a storyteller, really … Inside the mind is infinite, there are infinite stories there to tell once you find a root in."
Boyle was not about to create the film without the assured convinction that he knew this sort of control was possible. So he went out and found himself some hypnotists, spoke to those with experiences, and happened upon the story of one stage hypnotist who "got four members of the audience up on stage, [and] put them in trance."
RELATED: Rosario Dawson: Not Your Typical Femme Fatale
Only something went terribly wrong and when the hypnotist, after putting his selected volunteers into trance, "walked off stage and hit … a black scaffolding pole as he went to get one of his props … and it literally knocked him unconscious. So they stopped the show, the stage managers came on stage, but they couldn't get these people out of trance. They couldn't break the trance of these four people!" So what happened? "Fifteen minutes later he woke up and brought them out of trance, and it proved that they were the virtuosos … they actually are among us, the ones that want to change." Sounds like the sort of terrifying thrill that anyone would love to tell (and watch). And Boyle agrees, adding "it's a great subject for a movie, you know?"
Trance opens in the US on April 5, 2013.
Follow @alicialutes on Twitter
---
From Our Partners


Jessica Alba Bikinis in St. Barts (Celebuzz)


Pics of The Rock Making Things Look Small (Vulture)