A Rundown of DC's Superhero Film Schedule, from 'Batman V Superman' to 'Green Lantern/Flash'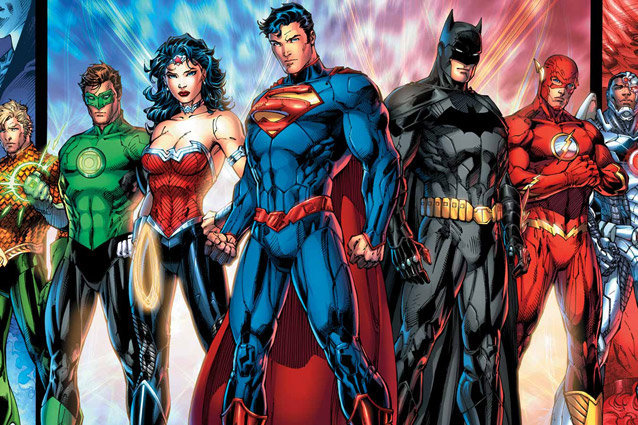 DC Comics
Between Marvel's ever-expanding cinematic universe, Sony's tangled web of Amazing Spider-Man characters, and the way Fox keeps rolling out X-Men films, Hollywood is in the middle of a veritable superhero onslaught. However, NikkiFinke.com reports that things are only just getting started, with DC and Warner Bros. planning to roll out their own interconnected series very soon. In addition to Batman Vs. Superman: Dawn of Justice, the studios are working on a Justice League movie and solo films for Wonder Woman and Shazam, as well as a Flash/Green Lantern crossover and yet another outing for Superman.
Warner Bros. was set to officially unveil the plans at this year's Comic-Con, along with new details about the upcoming Sandman film with Joseph Gordon-Levitt and a tentative release schedule that would take them well into 2018. According to the site, the studio has been working on this for some time, and even delayed the release of Batman Vs. Superman so that it would better fit with the rest of the planned universe. With so many films lined up for such a short period of time (expect at least two DC films a year for the next four years) it can be a little difficult keeping track of everything on the slate. We've run down everything we know about the upcoming DC/Warner Bros. universe, along with the reasons you should get excited about them. Although it is kind of hard to be enthusiastic about two Man of Steel sequels.
Batman Vs. Superman: Dawn of Justice
Release Date: May 2016
Who's In It: Henry Cavill, Amy Adams, and Laurence Fishburne will all reprise their roles from Man of Steel, and will be joined by Ben Affleck as Batman, Jeremy Irons as Alfred, Jesse Eisenberg as Lex Luthor and Gal Gadot as Wonder Woman.
What We Know About It: Plot details are still being kept under wraps, but it will feature Superman facing off against a "older, worn-down" Batman in some capacity. The film's also supposed to be both a follow up to Man of Steel and a prequel for the Justice League movie, so Wonder Woman and Cyborg will be involved in some capacity, although thus far it's not known how much screen time they'll get.
How Excited We Are For It: Anything that gets fans as riled up as this film has is definitely worth seeing. As of right now, though, it's hard to predict if it will live up to all of its hype.
Shazam
Release Date: July 2016
Who He Is: Originally known as Captain Marvel, Shazam is the altar ego of sports reporter Billy Baston, who was given magical powers by an ancient wizard who wanted Billy to help people. When he says "Shazam!" he is transformed into a super-human with powers from six mythical heroes: wisdom from King Solomon, strength from Hercules, stamina from Atlas, the power of Zeus, courage from Achilles, and speed from Mercury.
What We Know About It: Not much. A Shazam film was rumored to be in the works until recently, when Peter Segal (who was on board to direct) left the project, citing the difficulties of turning Shazam's story into a film. Nobody was expecting it to turn up on the schedule, especially with such a close release date.
How Excited We Are For It: It's hard to be excited about a project that nobody saw coming, but we're definitely intrigued to find out more. However, if this is indeed the secret DC character that The Rock has been hinting at recently, we're officially on board.
Sandman
Release Date: December 2016
Who's In It: Joseph Gordon-Levitt is set to produce the project, and is also rumored to be starring as Dream.
What We Know About It: To start, it has nothing to do with the other comic book movies that Warner Bros. is working on. The film, which is based on Neil Gaiman's wildly popular series, has been in development for 25 years, but this time Gaiman is involved in production, which is a good sign. However, the script is being written by David Goyer, which could cancel out some of that goodwill.
How Excited We Are For It: Cautiously optimistic. The release date is the biggest sign of confidence we've seen so far, but there are still too many elements up in the air for us to to completely drop our guards.
Justice League
Release Date: May 2017
Who's In It: Thus far, we're guaranteed to see Affleck, Cavill, and Gadot as Batman, Superman and Wonder Woman, respectively, as well as Ray Fisher as Cyborg. The studio has yet to cast the remaining team members, although Matt Damon and Jason Momoa have both been rumored for Aquaman.
What We Know About It: It will be DC and Warner Bros' answer to The Avengers, so expect lots of action, explosions, and angst. It should also be connected to Batman Vs. Superman in some way, but that's all that's been revealed thus far.
How Excited We Are: We're going to have to see Batman Vs. Superman first, but we're definitely looking forward to this one. Hopefully, the studio will use this as an opportunity to add some much-needed levity to the dark, gritty universe they're currently building. What's the point of a superhero film without the wisecracks?
Wonder Woman
Release Date: July 2017
Who's In It: The only one we can say for sure is Gadot as Diana Prince a.k.a. Princess Diana of Themyscira a.k.a. Wonder Woman.
What We Know About It: Next to nothing. DC and Warner Bros have wavered for so long on making a Wonder Woman movie that we have no idea what to expect, although we do have very high hopes.
How Excited We Are For It: Are you kidding? We'd buy tickets now if we could. Fans have been clamoring for a Wonder Woman movie for so long that it's hard not to be a little skeptical about its chances of actually making it into theaters, but until we hear otherwise, we're just going to enjoy knowing that a Wonder Woman film is finally on its way.
Flash/Green Lantern
Release Date: December 2017
Who's In It: Though the DC universe technically already has a Green Lantern in Ryan Reynolds, they haven't hinted at whether he'll be reprising his role, or if they're looking in a new direction (probably the latter).
What We Know About It: Again, next to nothing. We don't even know which iteration of the Green Lantern will be part of the team. It would make sense to continue with Hal Jordan, but if they're looking to differentiate this Lantern from Reynolds', they might be better off choosing a different alter ego.
How Excited We Are For It: Not very. The last Green Lantern film was terrible, so we don't have a lot of confidence that this one will be better, and we can get our Flash fix with the upcoming CW show, so we won't be marking our calendars for this one just yet.
Man of Steel 2
Release Date: May 2018
Who's In It: Cavill, of course. We also wouldn't be surprised to see Adams, Fishburne, and Diane Lane come back, since they've all signed on for Batman Vs. Superman… unless any of them faces a grim fate in that film, which isn't too unlikely.
What We Know About It: It will most likely deal directly with the events of Batman Vs. Superman and Justice League, although we are suprised to hear of this "official" Man of Steel sequel, considering Warner Bros. has been billing Batman Vs. Superman as such for some time now.
How Excited We Are For It: We're in favor of anything that promises to get the memory of the first Man of Steel out of our head. Here's a chance to fix your mistakes, Warner Bros.