Did 'Sin City: A Dame to Kill For' Wait Too Long?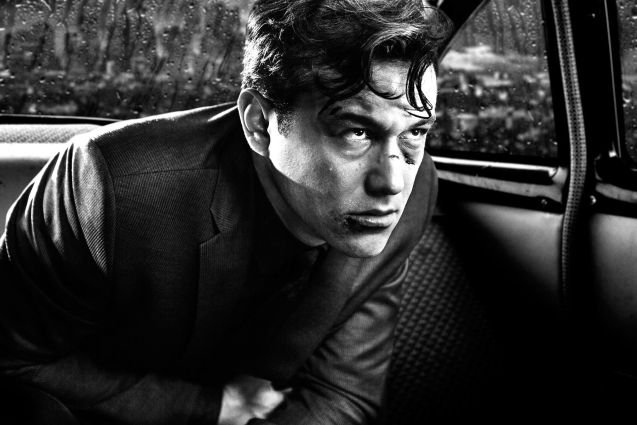 Dimension Films
Nine years isn't such a gap in comparison to the time it took to make prequels like Star Wars: The Phantom Menace, Rise of the Planet of the Apes, and Prometheus, but it still feels like we've been waiting forever for a Sin City sequel. The first film shocked audiences with a cutting edge cinematic style and a sexy, violent trip through a beloved comic franchise. This prequel has suffered some major losses to the cast and a general loss of buzz from the original. So we're wondering if waiting a decade has actually harmed the upcoming new movie.
First off, casting. Sadly, Brittany Murphy and Michael Clarke Duncan have passed away since the release of Sin City. The lengthy delay in filming cost the film these actors and quite a few more. Dennis Haysbert will be taking over the golden-eyed role of Manute. But can he play a convincing villain if his voice makes people want to double check their insurance rates? Devon Aoki's model good looks and silent intensity were immortalized in the character of Miho. She's been replaced by former Real World star Jamie Chung. Chung has been action-ish in Sucker Punch and Once Upon a Time , but she also starred in the utterly horrible Dragonball: Evolution. Eva Green plays the highly coveted role of Ava Lord. She's not the worst choice but is a bit of a downgrade considering Angelina Jolie or Scarlett Johansson could have had the role. Finally, Michael Madsen has been replaced by Ari Gold himself, Jeremy Piven.
Additionally, the buzz may have all but faded. Die hard Frank Miller fans will come out for the film regardless of the questionable casting and the long delay. However, a lot of the major excitement riding off the first movie has dissipated. Sin City was monumental, but films that have come since and borrowed the same ilk, like Watchmen and Sucker Punch, have done poorly in theaters. In the last nine years, stars like Jessica Alba, Mickey Rourke, and Rosario Dawson have lost a lot of their A-list appeal, lowering their grade to the likes of Good Luck Chuck, Iron Man 2, and The Zookeeper respectively.
The casting may be less exciting than the original but Joseph Gordon-Levitt has joined the cast. A Dame to Kill For is also one of the most exciting and intricate stories of the comic book franchise. It's also the entire driving force behind Clive Owen's character in the original film. Only time will tell if the film will be as great as the original. However, the geek appeal will definitely draw some butts to seats.
Has nine years left you indifferent or dying to see the sequel?